Making hand-made jewelry is such a rewarding hobby. It is a stress reliever and a rather enjoyable hobby. Besides, you can also turn it into a business.
Whether it is for a business or purely a hobby, while crafting hand-made jewelry, you need to maintain a few things. Here are a few tips that can help you out regarding that.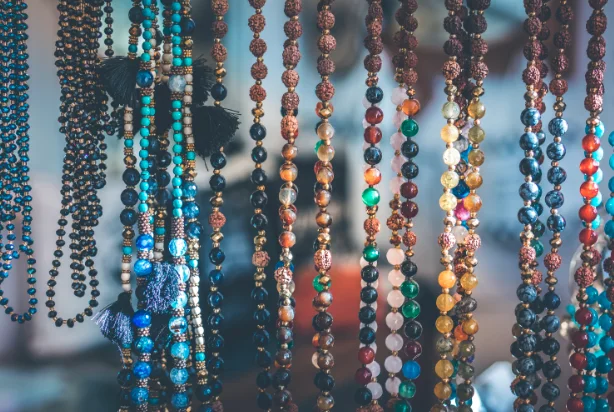 Get Small Gemstones in Unique Shapes
Hand-made jewelry does not always have to be simple and cheap. You can spend money on gemstones like natural diamonds or even rubies or sapphires. However, go for smaller gemstones in different shapes. The small shape will allow you to play around with the fitting. The shape of the stone will let you get creative with the design.
If you have a fascination for sapphire jewelry, exploring Leibish's loose sapphire collection is an excellent idea. At Leibish, you will find a variety of sapphire stones in different shapes and sizes. Plus, you can rest assured that your gemstones are authentic and available at the best prices.
Be careful while working with gemstones. These may not be that expensive, but they are surely valuable. Maintain caution around them, especially when trying to fit them into your jewelry.
Invest in Quality Tools
Never try to save money by buying cheap tools. It is a decision you will regret later on. If you buy a cheap pair of scissors and they break after one use, imagine how much more it will cost to replace them multiple times. It also takes longer to cut materials with poor-quality blades or clippers, and this can affect the overall quality of your work.
The best tool for each job is different depending on what you want to do with them. You should invest in at least one high-quality pair of pliers and scissors before starting any jewelry project. They last twice as long since they are very durable. Invest in other quality tools like wire cutters, files, tweezers, pushers (to help remove stones), flex shafts (for polishing metal findings), etc.
Get The Right Wire
Here are a few things to keep in mind while choosing the wire.
Wire thickness: This is one of the most common terms used in jewelry making but also one of the most confusing. Most people already know that "thicker" wires are larger than "thinner" ones, but it is more complicated. Wire thickness isn't just about how thick or thin it is-it also refers to its gauge (the measurement in thousandths of an inch). When combined with this number, you will have a full description, such as 18-gauge or 24K gold-filled wire.
Wire gauge: This indicates how thicker each strand will be compared to another size (similarly to how clothing sizes are measured). For example, 24K gold-filled wire has 32 times more precious metal than sterling silver (because there are over 100 times fewer gold atoms per cubic centimeter than silver atoms). The higher the number goes up, the thinner and lighter your piece will get.
Wire type: There are many different types available on markets today, like copper-based alloys like brass or bronze, stainless steel, which contains chromium giving it corrosion resistance properties, and precious metals such as palladium, white gold, platinum, etc. Each material has its own characteristics so keep these things in mind when deciding which type best suits your needs.
Stringing Supplies
If you plan on stringing your jewelry by yourself, you need some supplies. First and foremost are your beads, like pearls, charms, crystals, or whatever suits your fancy. You will also need wire cutters or wire strippers to trim the ends of the wire, so it fits into the bead holes. Then use needle-nose pliers to secure them in place.
You may want to invest in some crimp tubes and/or crimp pliers as well. These tools will help you secure each end of your stringing material with a tight but elegant knot that won't come undone over time and wear.
Quality Findings
Findings are the metal parts of a piece of jewelry that hold the gemstones and other parts together. Findings are available in a wide range of styles, sizes, and metals. The quality of your findings will have a direct effect on the quality of your jewelry pieces.
When choosing findings, first consider whether you want to use sterling silver or gold-plated components. Then choose between items made from brass or nickel silver (an alloy that is often mistaken for sterling but has lower quality).
Next, consider whether you will be using chain links or jump rings to connect different parts together. Then decide which size chain links or jump rings work best for your project.
Finally, look for findings with secure closures like hooks made from real steel instead of plastic ones.
Once you start making jewelry with these tips in mind, you can rest assured that the experience will be enjoyable. You will also end up with some beautiful hand-made jewelry that you can wear or even start a business with.