Blogging can be anemotionally rewarding endeavor, which is why so many people spend their limited leisure time writing about their passions.For bloggers who blog for the sake of blogging, the act of writing provides creative fulfillment, while those who are in it for validation enjoy their own rewards by growing and maintaining an audience.
But quality blogs require a major investment of time, and to manage a truly valuable publication is to spend several hours a day researching content leads, perfecting posts, curating images, distributing content, engaging with audience members, and the list goes on. In short, to do it with professional polish, you need your blog to be a significant source of income, because you're not going to be able to keep your day job.
Monetize Blog with Building Brand Authority
That's where monetization comes in. You're probably shaking your head, picturing invasive, manipulative and irrelevant banner ads that make a blog look cheap and unappealing. It's true that many monetization solutions are bad news, and you're wise to be skeptical. If you run with the wrong ones, you're likely to end up turning off your audience by giving them the sense that you're only after their money. The damage that some of these monetization tools can cause is major, as your blog's brand reputation hinges on trust and maintaining a position of expert authority.
However, there are plenty of ways to monetize your blog that don't involve selling out and compromising on trust. In fact, some monetization platforms add real value to your blog that your readers will appreciate. Try these three platforms that won't turn people off and have the potential to significantly add to your brand authority:
Augmented Reading with

Infolinks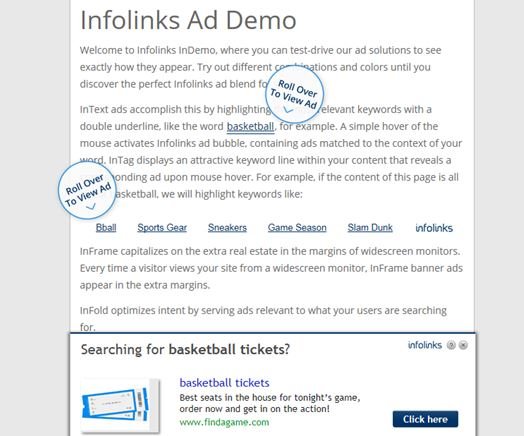 Source: Infolinks screenshot
Instead of adding banners to your blog, which are likely to be ignored by your readers anyway, why not add in-line advertising? Infolinks scans your content to find the most used keywords and matches them with relevant ads, which visitors will see upon rollover.
The unobtrusive ads allow you to circumvent the problem of banner blindness and even add to your pages' stickiness by delivering a more immersive, rich content experience. What's more, the look and feel of the ads is customizable, so you can set it to match the design of your website.
Infolinks is also a great add-on or complementary monetization technic to Adsense, and so it's definitely worth a shot to earn some leftover revenue and ramping up your blog's earnings.
Find Relevant Content Sponsors with PayPerPost
PayPerPost is a marketplace that matches advertisers seeking specific types of content with bloggers who want to write about these topics. You write and publish an article about the topic on your blog, make sure it matches the specified requirements of the gig, and get paid for publishing it.
You will generally be asked to include a link to an external website, so be careful to check that the website and the content of your post are not too off-topic or spammy. (If you are using Infolinks on your blog too, you will want to disable it on the sponsored posts, because PayPerPost advertisers might check your links out and may not be so thrilled to discover a promotion for another company on it.) And don't forget, this is a fully voluntary marketplace, so make sure to only pick up assignments that provide value to your readers.
Get Paid for Consulting with vCita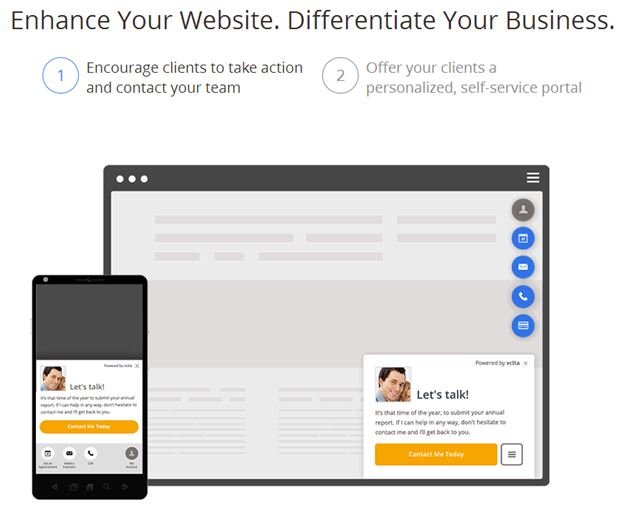 Source: Screenshot vCita
If you offer consulting services related to your blog content, make it easy for clients to sign up, schedule a consultation and reimburse you for your time via vCita. A basic customer relationship management system is available for free, and paid plans are reasonably priced.
When a user reaches your website, he will or she will see a sidebar widget or a pop-up offering the option to chat with you or book an appointment. He or she can then choose a specific time and upload any necessary materials for you to review prior to or during the session. vCita even offers its own integrated VOIP product, as well as solutions for invoicing and accepting online payments. Because this platform lets the customer do the scheduling, but always within the availability parameters you set, it's perfect for turning your blog into a marketing channel for a side business.
Read: Getting Started With Pay Per Click
Monetization Doesn't Have to Hurt Your Brand
In the age of content marketing, all brands are publishers. So if you are already a publisher, you might as well also be a brand that operates like a business. Use any of these three platforms, or a combination of all three, to start earning money from your passion.