You will fall in love with Kashmir's beauty and charm because it is a land of pure paradise. This land is known for its beauty which one can never tire of.
Kashmir offers everything a visitor could ask for during a memorable vacation. Whether you travel on Shikaras and spend some time there, or you stroll through the Apple gardens of Srinagar with your beloved, or you float away on a boat in the mesmerizing Dal Lake, everything about this city is extraordinary.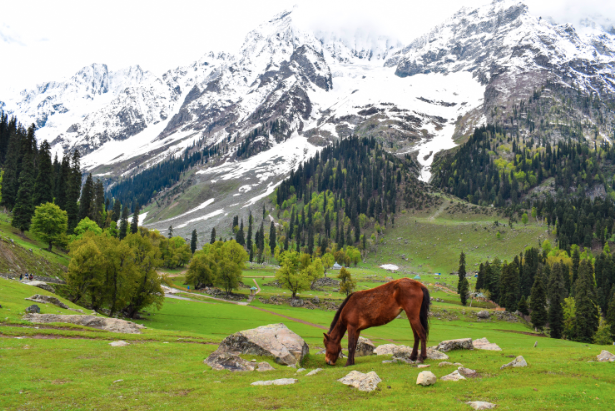 Travel enthusiasts looking for advice on what to do in Kashmir should read these Kashmir travel tips that we have compiled for you.
Know When To Visit Kashmir As Per Weather
If you are travelling to Kashmir, we recommend choosing the right weather. In spring and summer, you will fall in love with Kashmir's weather due to its cheerfulness. As long as you don't mind chilly weather and lots of snow, you can also visit Kashmir in the winter.
Choose Your Trip Package Carefully
We recommend that you carefully pick your tour package. For a smooth trip to this paradisiacal land, it would be wise to meet with a travel agent to inquire about Kashmir Tourism so that you can plan your trip ahead of time and avoid any last-minute hassles.
Suppose you inquire about everything and get a Kashmir tour package. In that case, you will be able to experience a well-organized and comfortable trip without having to worry about arranging anything on your own.
The agents will handle everything for you, so you can relax. You might think so, but if you're more interested in spontaneity, adventure, and wandering, then you can just take off with your backpack and embrace the unexpected.
Carry All of Your Required Documents
It's also a good idea to have all of your relevant paperwork and identification with you. In Kashmir, these will be required. Please bring all of your proofs with you to Kashmir, including your tickets, visas, licenses, and any permissions.
In Kashmir, there is a lot of military security, therefore you may require these documents and confirmation of identification in some circumstances.
Carry Sufficient Cash
When you travel to Kashmir, you should carry enough cash with you. Additionally, be sure to take your credit card and ATM card with you. Furthermore, we encourage that you take careful care of your personal possessions. There are some crowded places in Kashmir where pickpockets can also be found, so be extra vigilant.
Travel Light While Visiting Kashmir
We recommend that you pack lightly when you want to visit Kashmir and wear clothes that are suitable for the weather there during the season you plan on visiting Kashmir.
You should make sure to bring along some warm clothes so you can wear woollen, casual clothes, etc. Kashmir is a freezing location, therefore carry some warm gear with you.
Carry-All Your Essentials
While travelling to Kashmir, it would be wise to take all your necessary items with you. The toiletries you bring can include sunscreen, moisturizer, shaving kit, and anything else you might need for a comfortable stay.
Take Necessary Medicines Along
While travelling to Kashmir, you must carry a first aid box. We recommend that you bring all of your medicines with you. This should include taking medicines, anti-nausea medications, bandages, antiseptics, anti-allergic medications, etc. Since people are prone to falling ill at a new place, it is very important to have these items available.
Some Optional Kashmir Travel Tips
The above seven tips need to adhere without fail. However, you can opt for other tips as described below for added convenience during your travel.
Read All The Tourist Guidebooks: To learn more about the traditions and customs of a particular place, we recommend reading through the tourist guidebook and talking to the locals. If you need any information about something, we suggest you talk to the appropriate authorities.
People can get into difficulty if they do things incorrectly, therefore if you need any information, we recommend that you contact the appropriate authorities. You will learn a lot more about Kashmir with this travel tip!
Have Knowledge About The Currency: As in all of India, Kashmir's country code is +91, and its currency is the rupee. You should also be familiar with the rupee, as 1 rupee equals 100 paise, and 70 rupees are equal to a US dollar. Coins in the denominations of 1, 2, 5, and 10 Rupees are available, as are paper notes in the denominations of 10, 20, 50, 100, 500, and 2000 Rupees. If you plan to go to Kashmir, we recommend bringing an adequate amount of money with you and not taking any alcohol or drugs with you. You can avoid legal trouble by not using drugs in Kashmir.
Make Sure To Visit All Tourist Hotspots: While in Kashmir, you should make a point of visiting all of the tourist hotspots, such as Pahalgam, Srinagar, and Gulmarg.
The views around Dal Lake are gorgeous, and we recommend you spend a wonderful time boating around it. Kashmir's shikara rides are worth experiencing. As you begin your shopping in Kashmir, you might be interested in buying Pashmina shawls and trying the local dishes.