We literally live in the world of content creators where content creation has become the most desired job for many. Video creation is an integral part of content creation and as far as video editors are concerned, Wondershare Filmora 11 has been a hot favorite among many.
Users who love the simplicity of the software use it casually for multiple purposes. Undoubtedly, there are very few video editors that can pull off this commendable feat of providing the most advanced video editing features while also making sure that the process is understandable and straightforward.
Wondershare Filmora Video Editor – Powerful Video Editing Tool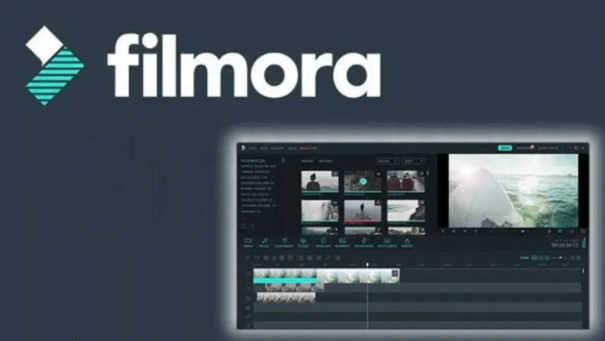 Filmora 11 is a video editor platform that has won several awards for letting you create the most stunning videos without having to go through any complicated edits. It is a light-weight software that has some of the basic configurations for the PC, with the help of which you can create videos seamlessly.
This video maker is designed with the best audio and video editing features like audio ducking, motion tracking, keyframing animations, and color matching. The best part of working with Filmora 11 is that it eliminates all the complexities from a majority of its features. You just have to drag and drop them on your video to be able to add them.
Filmora 11 video editor is extremely sweet as a company to offer its users both paid and free versions, much unlike its competitor platforms like Adobe Premiere. The free version has every single feature that you get in the paid version. So, you won't be deprived if you don't buy the software.
Detailed discussion on the useful features of Filmora 11
Are you a video editor who wants to begin the journey of creating video content for your personal YouTube channel? If yes, and you're looking for a cheaper and easier way than Adobe Premiere, Filmora 11 is the best option for you.
Or are you searching for a platform that helps you design stunning videos that are social media share-worthy? No matter what your requirements are, Filmora 11 is there to help you with everything.
Let's discuss some of the best features offered by this tool to figure out why Filmora 11 is the most appropriate solution for you.
VIDEO EDITING
As you start using Filmora 11, you can import the video clips to the platform and also download the best stock videos from the platform.
The process is very simple as you only need to drag and drop the videos into the area or tap on the '+' sign on Sample Video and add it to the storyboard. This is where the fun begins. Here are the most unique video editing features offered by Wondershare Filmora Video Editing tool.
Motion Tracking
Motion Tracking is undoubtedly one of the finest features of Filmora 11. Thanks to this feature that you can track a definite moving object in your clip. As you track the motion of that object, you can then add images, text, or other objects that will also follow a similar movement.
Doesn't that sound cool? Select that moving object with the help of the tracking tool and allow it to analyze the motions of the object.
Color Match
Another unique feature offered by Filmora 11 video editing tool is the color match option. This feature lets you be consistent with the colors that you use in your videos and make the video look stunning and finely polished.
Select any reference video and right-click on the other videos and choose 'Color Match'. Next, tap on Comparison View and choose a frame that seems suitable.
Keyframing animations
Would you like to add more movement and character to your videos? If yes, resort to this option of keyframing animations. You can create the most stunning and intriguing animations in your videos. Choose your video and click on 'Animations'. Next you might click on any of the in-built animations or design a new one.
Miscellaneous video editing features
There are more to video editing than just the above-mentioned ones. They include Compositing, Transform, Lens Correction, Stabilization, and much more. To find out these features, you need to double-click on the respective video on the storyboard.
The settings of each of these features can be even customized. Apart from these features, animations can be added to your videos using green screen.
AUDIO EDITING FEATURES
Audio Ducking
One of the latest features of Filmora Video Editor is audio ducking. For all those high-volume audio files, now there is a solution for you.
Thanks to this feature that you can minimize the volume of all your audio files at different points in your video and instead add and highlight the voiceover and the audio of the video. In Filmora 11, the audio ducking feature is automatic, unlike other tools.
Audio Mixing
Filmora 11 has been designed with an in-built audio mixer, with the help of which you can modify the distribution and volume of your audio all across the video. You can alter the audio all over the video. With audio mixing, you can alter the audio distribution from the left and right speakers based on the preference utilizing the feature.
EFFECTS AND SPLIT DUAL SCREEN
Effects
With this feature, it is possible to add several visual filters and effects to your videos with the pre-defined effects offered by Filmora 11. Choose the effects that you want to add and tap on '+' to add it to the portion of the video you wish to. There are loads of options to select from like Overlays, Filters, LUT, and Utility.
Split Dual Screen
One more cool thing offered by this video editing tool is its split dual-screen capability. With this feature, you can split your screen into various formations like picture-in-picture. It also allows you to add multiple videos on both sides of picture-in-picture to give it a more engaging look.
Filmora 11 – What are the new changes?
Before we move on to what the latest version has in store for its users, it is important to realize how important and solid is the base of Filmora 11 in this world.
Due to the features arms race, more and more software companies have started adding features at a rapid pace. On the contrary, the downside is that each time, there's a new feather added to the cap of the software company, they should add access to the feature and offer controls for it.
The success behind Filmora 11 is because it will be successful in striking the balance between keeping it simple and offering features and tools that an average user can use. Wondershare Filmora's latest 11 version will be out on 18th February, 2022 and it will have versions for both Windows and Mac. Keep reading to know more on the new features.
FX Plug-ins: You can explore some of the best and the most intriguing visual effects from NewBlue FX and Boris FX.
Auto Beat Sync: With this new version, you can easily design a video that's perfectly in sync with your music selection, automatically generate videos and add the desired special effects.
Wondershare Drive: This allows the sharing and uploading of project templates, project documents, and also the exported videos.
Masking: The user interface has been rejuvenated and optimized to support all kinds of masking key frames.
Speed ramping: Now you can adjust the speed of your video with enhanced control of the keyframes. Increase or slow down the speed of your videos to create the best cinematic effects.
Auto synchronization: It is possible to automatically align video and audio captured through various camera in a similar scene.
Stock Media: With this new version you can browse more than 10 million stock video files. With the royalty-free stock media, you can even explore more.
Steps to make video-in-video effects with Filmora Video Editing tool
Add the video clips
Click on 'Import' to browse the folder that contains the files and choose the videos you need. This is a video-in-video software that offers an album to let you manage added videos so that you can gain access to video editing.
Apply video-in-video effect
Drag and drop a background video to the first video clip and then drag one more video you wish to insert to track on the background video track. In order to alter the position of the PIP video, drag the handle inside the preview window and drag the sliders to alter its position, size, or direction.
Save and share your video
Once you're satisfied with the resulting video, click on 'Export'. Sharing offline or online, you can get the best option. For instance, if you wish to publish the video online, click on the tab that reads 'YouTube' and fill in the details of your account.
Filmora Pricing
FilmoraPro is compatible with both Windows and Mac. Wondershare Filmora 11 is free to use. However, the pricing plans start at $89.99/Year and the lifetime subscription costs $144.99. You can also buy Effects & Plug-ins start with 18.99$/Month. Wondershare Filmora 11 is definitely better than KineMaster, which is quite complicated to learn and understand.
Conclusion
Filmora 11 is one of the best upgrades of the Filmora Video Editor. In spite of offering a wide range of features, they have been successful in focusing on the simplicity of the software. This is why Filmora has been able to attract thousands of clients.