Brazil is one of the largest countries in South America that lies between the Equator and the Tropic of Capricorn. This is a huge country with more than 4500 miles of coastline that stretches over the South Atlantic and the favorable tropical climate makes sure that the people living on the coast can enjoy the sand and sea under the blue skies. Once you visit Brazil, a suntan is guaranteed and this is especially true in places like Rio de Janeiro.
The Best Beaches In Brazil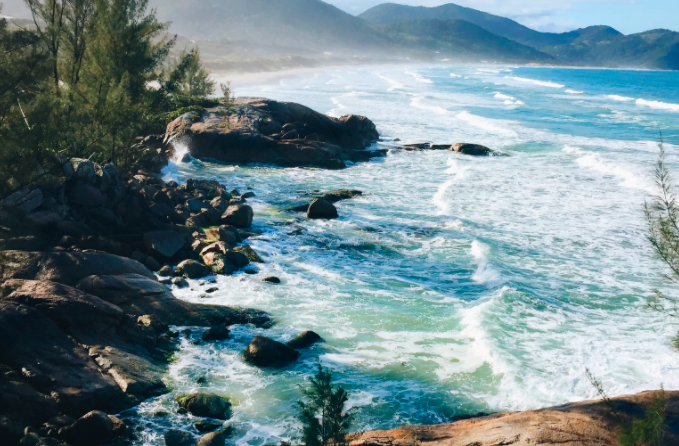 Brazil has got a large coastline with several small islands, coves and pools and it is said to be a holidaymaker's heaven. Here is a list of the 15 best beaches of Brazil.
Copacabana Beach, Rio de Janeiro
Copacabana beach has spread all over the world and there are very few beaches that are known worldwide like this one. It is a 2.5 mile of sand stretch and hence there's no doubt that it is an extremely busy beach.
You can enjoy the pleasures of traveling along with mingling with the locals of this place. Most tourists begin their Brazil vacation in Rio and this is certainly the first beach they visit.
Ipanema Beach, Rio de Janeiro
The older generation is familiar with the name Ipanema from the 1960's hit movie song that was sung by Astrud Gilberto. Even though they've never been to Rio, they have definitely heard the name of this beach.
This is a splendid sand stretch that is often crowded and it is set below the twin peaks, the Two Brothers. The beach is flanked by stylish bars and restaurants and there are lot of activities to try.
Praia do Espelho, Trancoso, Bahia
The contrasting difference between Espelho and Rio de Janeiro couldn't be starker. If you had to define remote, Espelho could give you the best example. It is a stretch of 15 miles from Trancoso in Bahia. The mesmerizing pools along with the clear blue sea add to the perfect setting of this sandy beach.
Praia do Sancho, Fernando de Noronha
Praia do Sancho lies on the tropical island of Fernando de Noronha and this place has always won the vote of people to be called the best beach of Brazil.
This beach faces the west o Brazil and not out to the large Atlantic Ocean. The green vegetation and rocky cliffs add the essence to the picturesque setting of blue waters and sand. It is a reserved area and people are not permitted for swimming.
Lopes Mendes Beach, Ilha Grande
This is a 2mile stretch of sand below two mountains, the 350-meter Morro dos Castelhanos to the left and the 760 meter Morro do Ferreira to the right.
This place is suitable for all, from small children to families to surfers and swimmers. It is an undeveloped area with no restaurants or kiosks or bars and hence there is no nightlife to enjoy.
Praia do Forno, Arraial do Cabo
This is another beach that lies in a cove in Arraial do Cabo, a picturesque setting below slopes and that which is accessed through long trail by boat. The sea water is clear and warm and the sand is white.
This beach attracts families throughout the holiday period who come to dive, fish underwater and snorkel for watching the coral. The restaurants here offer the best oysters and seafood.
Praia do Campeche, Santa Catarina
Praia do Campeche is located south of Florianopolis in Santa Catarina State, Southern Brazil. The beautiful clear and sand waters contrast perfectly with green vegetation.
The sea may sometimes swell up at times but there are lifeguards who are always there to help the swimmers. The sea is usually safe for swimming and also for snorkeling. Fishing can also be a fun activity.
Santos Beach, Sao Paulo
Santos Beach is one hour distance from Sao Paulo. It is a 3.5 mile stretch of sand that has a lovely garden inland of the beach that runs its entire length.
Santos is the largest possible harbor in Latin America but the presence of this harbor doesn't distract the locals and tourists from enjoying their hangouts. It is a perfect beach for couples, families and youngsters.
Praia de Pipa, Rio Grande do Norte
This fishing village lying near Natal in Rio Grande do Norte is a favorite among the locals from nearby Recife and it is ideal for weekend break. The setting of this place is lovely with pink steep cliffs, sea and forest.
There are sand dunes that are held by green vegetation and you can explore them if you wish to do so. The nightlife is vibrant and casual.
Ilha De Tinhare, Cairu, Bahia
This is a series of lovely beaches on the island of Tinhare in Bahia. They range from small sand stretches with some of the best tourist attractions. Surfers enjoy the lovely waters and also those who wish to dive or explore the pools. For action on land, you'll get the best restaurants and bars that have lots to offer.
Porto de Galinhas, Recife
Porto de Galinhas lies to the south of Recife and this beach has regularly featured in the best tourist magazine of Brazil. It was once a simple fishing village but the reef pools have made it great for snorkeling and swimming.
Praia dos Carneiros, Recife
This lies north of Recife and it is a beach that is close to Tamandare. There is a rather great stretch of beach and wetlands where you can wander for several miles in perfect peace. Here's you'll get the best boat tours and you can also get boats for rent.
Caraiva, Porto Seguro, Bahia
Bahia is a state full of fishing villages and great beaches among which Cavaiva is one of them. It is 30 miles to the Porto Seguro which are relatively unknown. Vehicles aren't permitted and hence the only sounds are the bays of mules and peaceful waves. This is a local form of transport.
Taipus de Fora, Marau, Bahia
Taipus de Fora is located on Marau Peninsula in Bahia and it has become famous for its snorkeling. At low tide, the reef pools are there that are filled with tropical fishes. There is plenty of sandy beaches and you can easily find areas where there's no one around.
Porto da Barra, Bahia
This beach in Salvador is the capital of Bahia and it faces to the west. Hence it is a place that you should visit along with your camera to capture the beautiful sunset. It is a popular place for weekend breaks from Salvador and you can expect it to be fairly busy.
Praia do Cassino
Praia do Cassino (Casino Beach) is one of the longest beaches in the world and is located in the southernmost of the Brazilian coast, on the South Atlantic Ocean, in the Rio Grande do Sul state. It is the longest uninterrupted sandy seashore in the world.