Cambodia is one of those countries that need to be explored more. However, it has so much to offer and is affordable for Indians to travel.
Has it got you wondering how to get a visa for Cambodia?
The good thing is you are at the right place. So let us get into the topic of Cambodia visa for Indian citizens and see what the Cambodia tourist travel visa requirements for Indians are.
Let's begin:
Do I Need to Get a Cambodia Visa for Indians to Enter the Country?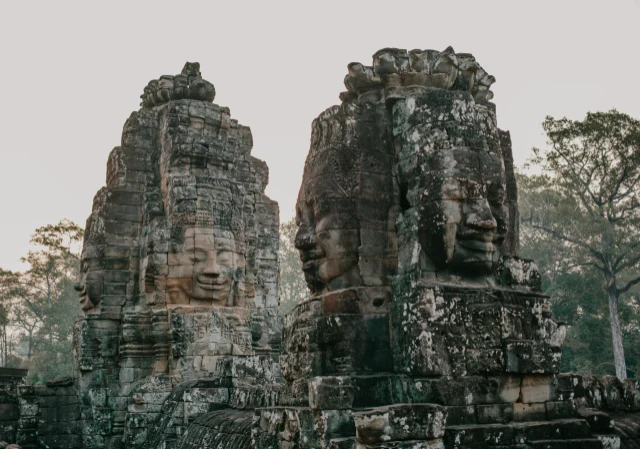 Unfortunately, all Indian passport holders need a visa to be able to enter the country. Therefore, a Cambodia visa for Indians is necessary. It can either be a sticker visa on your passport or an electronic document.
This means there are a few ways to get a visa for Indian nationals. For example, you can get a visa online on the eVisa portal, through the embassy, or can get it at the port of entry in Cambodia.
You can apply for a Cambodia tourist visa for Indians online that allows a single entry and is valid for 90 days which allows you to stay in the country for 30 days. However, you can apply for a visa that is valid for longer through the Cambodian embassy.
What Are the Requirements for Getting a Cambodian Visa?
Well, so let's see what the Cambodia tourist travel visa requirements for Indians and what documents you must gather are.
Make sure you meet the following Cambodian visa requirements regardless of whether you apply at the embassy, online, or at the port of entry:
You must have a valid passport that has a minimum validity of 6 months.
You must also have passport-size photos that were taken recently in the last 6 months.
You must have your travel itineraries for Cambodia, such as return flight tickets, proof of hotel bookings, and any tours that you will go to.
You must have proof of identity for Indians that is issued by the Indian government, such as your

ADHAAR Card

,

PAN card

,

Voters ID

, etc.
When applying through the embassy, you must have proof of residence in India, such as your electricity bill, rental agreement, etc.
When traveling internationally, travel or medical insurance valid in your destination country is always helpful.
You can also provide a cover letter that explains your trip to Cambodia.
Also, a letter of invitation can be helpful if you have friends or relatives in Cambodia.
Make sure you also have your covid vaccination certificate.
One thing to keep in mind when applying online for your Cambodia visa for Indian citizens is that documents must be scanned in either JPG, JPEG, PNG, or PDF format and less than 2 MB.
What Are the Different Types of Cambodia Visas for Indians?
Fortunately, with all the different application methods, there are also several different types of visas. Also, these visa types depend on the purpose of your stay and visit to Cambodia.
So, to give you a general idea, here are some of the visas for Cambodia that Indians can apply for:
Visa type T or a Cambodia Tourist Visa that allows you to travel to the country for tourism purposes
Visa type E or a Cambodia Business Visa that allows you to travel to the country for business purposes
Visa type K, or a Cambodia Khmer Visa, is available to people born in Cambodia but who have a foreign passport or whose parents are Cambodian
Visa type C or a Cambodia Courtesy Visa is available to registered NGOs.
Visa type B, or a Cambodia Official Visa, is available for official assignments in Cambodia.
Visa type A or a Cambodia Diplomatic Visa, this visa is available for diplomats conducting government work in Cambodia.
However, for the sake of the blog, we will mainly focus on the visa type T or the tourist visa.
How to Apply for a Cambodia Visa as an Indian?
The visa application for a Cambodia tourist visa cannot get any easier, especially if you apply on the eVisa portal.
Just follow these simple steps and get your visa in no time:
Start by visiting the official website to apply for the eVisa.
Click on the 'Application' tab on the main menu bar on the website.
Complete the security verification by entering the code displayed on the screen
Now you can start the online application form by uploading your passport copy and digital photograph.
After uploading the documents, you must fill out the application form with personal details, passport details, and your travel details.
Lastly, you will see a section where you must upload your travel documents, health insurance, vaccine certificates, etc.
Next, you must review and pay the relevant visa application fees.
You must then submit your application.
After submitting, wait 3 to 5 days for the visa to be processed.
Once your eVisa application is processed and approved, you will receive an email with the approved eVisa. You must print the eVisa and carry it with you to Cambodia.
What Is the Cost of A Tourist Visa In Cambodia?
Depending on the visa you want to apply for, the Cambodia visa price for Indians will differ.
For example, suppose you apply for a Cambodia tourist visa for Indians on the online portal. In that case, it will cost you USD 30 and a processing fee of USD 6, making a total of USD 36 or approximately INR 3000.
When applying for a visa to Cambodia online, make sure you have your credit card or debit card handy for the visa fees. You must also remember that the visa fees are non-refundable.
Whereas the visa fees at the embassy might be different.
Is There Cambodia Visa on Arrival for Indians?
Well, I have some good news for you! Indians can apply for a Cambodia visa on arrival.
The application process is relatively easy too, but the only issue is that process can take very long at the port of entry, and there is no guarantee you will get your visa on arrival approved.
You will also have to take your document while traveling to Cambodia for the visa application. In addition, you must also carry USD 30 cash, approximately INR 2500, in case there is no credit or debit card available at the airport.
How To Get Your Passport Ready for Traveling to Cambodia?
Before you apply for your visa, make sure you meet the travel passport requirements in Cambodia. And here are a few things you need to keep in mind:
Make sure your passport is valid for at least 6 months when you arrive in Cambodia.
Your passport must have at least 2 blank pages if you apply through the embassy.
However, you will also need bank pages for the entry stamp on your passport.
If your passport is close to expiry, make sure you apply for a new passport before the visa application.
Now You Are Ready to Travel to Cambodia!
And that is all that you need to know about the Cambodia visa for Indians.
Make sure you apply for your visa in advance to receive the approved visa intime. Also, have all the necessary documents ready with you to travel to Cambodia.
Finally, you are ready to apply for the visa and start planning your trip to Cambodia!