With a massive DVD collection of your favorite movies, you are all set to have an amazing holiday. However, you are in for a shock as due to minor negligence some of those are no longer in pristine condition and are therefore skipping sectors.
WinX DVD Ripper vs HandBrake
This is a nightmare that every DVD collector fears; losing their valuable collection amassed over a period of time, without having a backup. It is therefore essential for you to have a digital backup of your favorite DVDs to ensure that your movies are always protected.
However, this is easier said than done, as many DVDs are encrypted or copy protected like those of Disney. Despite the presence of a number of software for ripping DVD on the internet, it is difficult to choose the best option to create a copy of your valuable collection.
WinX DVD Ripper (winxdvd.com) and Handbrake emerge as favorites beating the likes of others. But, the choice between these two is a difficult one to make.
1] Ripping DVD with WinX DVD Ripper Platinum
Ripping your DVD has never been easier than this. All you need to do is download the WinX DVD ripper application from the official link (https://www.winxdvd.com/event/dvd-ripper.htm). Load your DVD into the DVD drive of your computer and follow these simple steps.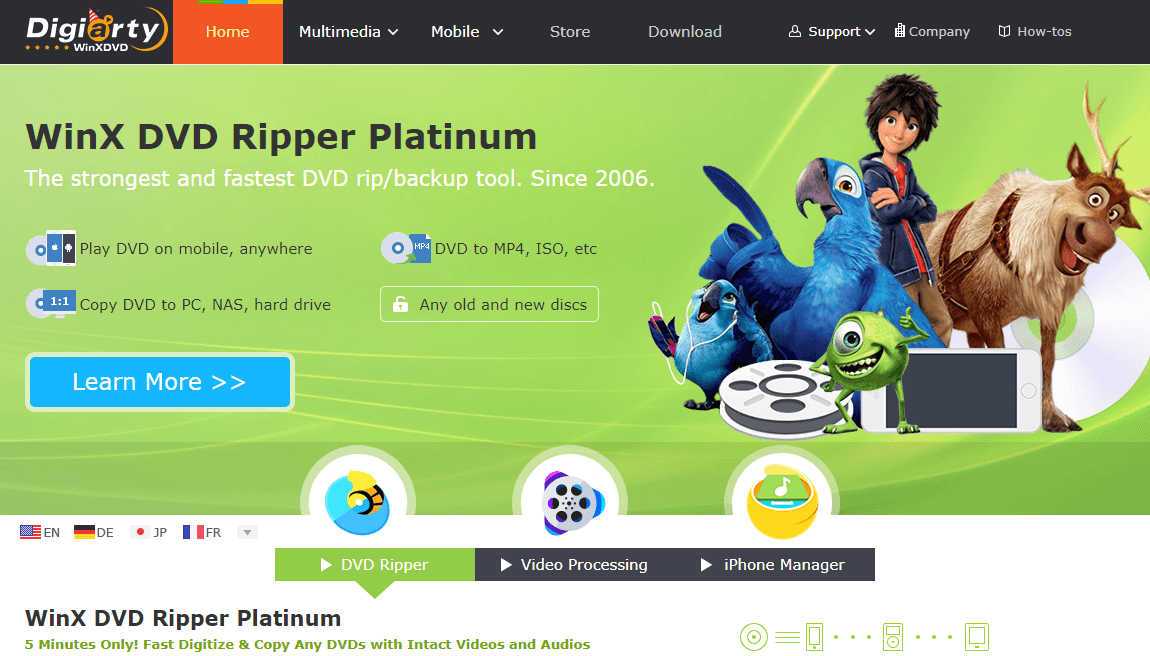 Select the disc option.
Select the output type (MP4, MP3, ISO image, AVI, MPEG etc.).
Click the 'Run' button to start the process.
2] Ripping DVD with Handbrake
Another popular option for creating DVD copies is Handbrake. Post download and installing of the programme, install libdvdcss for decryption of DVD CSS protection. Load the DVD and follow these steps.
Search the file you want to copy.
Select the pre-set for output preference.
Click 'Start' button to initiate the procedure and wait for its completion.
3] WinX DVD Ripper Platinum vs. Handbrake
Though a number of DVD ripping software are available in the market, there is a tie between WinX DVD Ripper Platinum and Handbrake. However, it can be clearly stated that WInX DVD ripper wins hands down. The various advantages associated with it include.
It supports a number of DVD formats including homemade, damaged, commercial, ISO images, DRM protected DVDs, Japanese DVDs, workout DVDs, 99-title DVD Discs etc. while Handbrake can rip only unprotected and non-encrypted DVDs.
WinX DVD Ripper supports a large number of outputs like AVI, MP3, MP4, MPEG, WMV etc. while Handbrake oppers only MP4, MKV, and M4V sometimes.
It is the only DVD ripper that has level 3 hardware acceleration i.e. it has the ability to rip discs at full hardware accelerated speed producing a quality image with low file size.
It requires considerably less time to rip a DVD without compromising its quality. Where Handbrake copies at 297 frames per second, taking around 11.5 min to rip a DVD, maintaining only 70% picture quality and a 6 GB file; WinX DVD rips a DVD at 355 frames/second and takes 9.5 minutes to copy a DVD with 98% accuracy and size of mere 1.24 GB! The results can vary depending on your computer's processor speed as well as your DVD drive speed.
No extra plugins are required while using WinX DVD Ripper, however, Handbrake needs them.
You can copy a DVD to hard drive as a MPEG-2 file or an ISO image without compromising on the quality using WinX DVD Ripper. 5.1 Channel AC3/DTS Dolby audio is available for later burning. In case of Handbrake, DVD can be ripped and stored as an ISO file but a backup of DVD does not take place without a loss in quality.
WinX puts less strain on your computer compared to any other DVD ripping software, thereby making it a popular choice in the long run.
If you are offered a choice between Handbrake and WinX DVD Ripper for creating a copy of your DVD, the latter wins the case. While the former is good when you are ripping a general DVD; WinX DVD Ripper Platinum can rip even protected DVDs. You can download WinX DVD Ripper Platinum from the official website for a seamless DVD ripping experience.