Smart TVs are hot cakes in recent times, You can easily spot a smart TV in most of the places which, without any doubt, hold all the strength to be the center of attraction.
Other than offering an appealing design, smart TVs also bring many benefits to the users. The main reason for the popularity of smart TVs is the fact that people have now realized the benefits that they can get with a smart TV.
Despite this, many people still doubt the need for having a smart TV. Wait, are you one of those?
Well, if you are still not familiar with the reasons for which you should buy a smart TV, then what are we here for?
Here we have shortlisted 4 reasons you should not miss out on buying a smart TV. Along with these reasons, also checkout smart TV buying guide by UNIC.
So, without any delay, hop in and let us explore the reasons that would excite and convince you to buy your own smart TV.
Reasons to buy smart TV
1] Internet Connectivity
Gone are the days, when the TV only had some limited content to portray. No, you are not anymore compelled to watch the same old channels on your TV.
The world of entertainment for TV has now expanded and all thanks to Internet connectivity.
Almost all the smart TVs are now available with an in-built Wi-Fi system with which they can easily connect to the Internet and offer you a whole new world of entertainment. There are tons of entertainment options that a smart TV can offer you with the help of an Internet connection.
This is not it, a smart TV enabled with an Internet connection can also provide you with enough options for games and apps.
If you are a game lover and want better graphics and picture quality while gaming, then smart TV is your thing. Even if you don't like gaming, thanks to all the pre-installed apps and the possibility to add many others, you will never get bored or out of entertainment options with your smart TV.
Now, isn't this something that we all look forward to in our smart TV for entertainment?
2] Attractive slim design
No matter if you ever can get rid of that unwanted fat or not; your TV has certainly shed those extra pieces of baggage. The attractive slim design of smart TV is the next thing which can certainly be one of the reasons to buy it.
It can be said that when it comes to looks, smart TVs are the clear winner over everything. All the smart TV options are now offering its users with one great attraction in their design – thinness.
So, if you are limiting yourself from buying a smart TV because of the not so spacious space at your place, then it is time to re-think your decision. Your slim smart TV can certainly make its place through that.
Along with offering a slim design, smart TVs also offer some additional features in their designs like a curved screen, a glass screen, etc.
With smart TVs, you can get real quality in terms of viewing experience and also showcase an attraction to all your friends and loved ones. Isn't it a hot deal to buy?
3] Home theatre experience
For all the movie lovers who don't get much time to fulfill their desire and liking, smart TV is your thing. Do you know your smart TV can offer you an unmatched home theatre experience without compromising on the quality?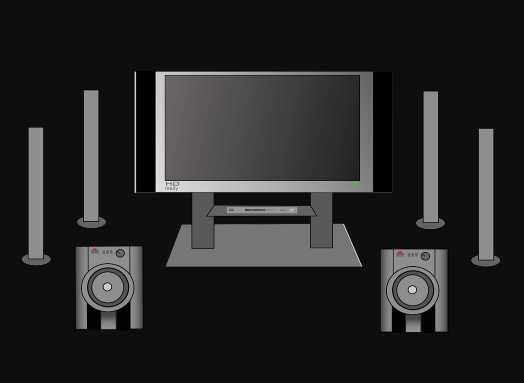 Yes, you read that properly!
The big screen, great and quality picture display, unmatched and dynamic sound, and easy customization, smart TVs are a real blessing to offer you the best experience for all your movies.
Moreover, you don't really have to go anywhere else other than your smart TV. Simply customize the settings, play your favorite movie and that's it – you are all done to enjoy a complete package of entertainment without any hassles.
You can also enhance your experience by combining your smart TV with an additional soundbar and woofer set for getting an amazing sound quality that will make you fall in love with the home theatre experience.
4] Social media and intelligent search
What can be the point of having an Internet connection in your smart TV, if you cannot access social media on that?
The present time smart TVs have all the power and potential to offer you all the needed access to the social world. You can easily check all your social media profiles on your smart TV with many more facilities.
Buy a smart TV and experience the feeling of being smart with the social world with minimal hassles and complexities.
Continuing with some more amazing features of smart TV, you also get the benefits of intelligent search. Thanks to this intelligent search feature enabled in the smart TV, you can easily search for the required show, even if you don't know its name.
The intelligent search feature of the smart TV is enabled with many amazing search filters to offer you with the most appropriate choices and options as your search results.
Final thoughts
There can be no better conclusion that specifying that smart TVs are no more a luxury to the people, but they have become an integral and a necessity for them.
The great picture quality, unmatched sound, useful features, and many other entertainment options are all encouraging factors to buy a smart TV.
There can be many reasons why you need a smart TV but above are just the 4 attractions to convince you for your next buy. So, don't keep waiting and embrace your place with an attractive and appealing smart TV.
If you need any help with the selection or buying a smart TV, then please do comment below and get in touch with us. We are always ready to assist you with the best possible help.
You may also like.