Roses of different varieties look beautiful when they are fully grown. Their fragrance is heavenly. They are available in tons of categories for you to grow in your garden. With a lot of choices, it's always hard to choose the right one.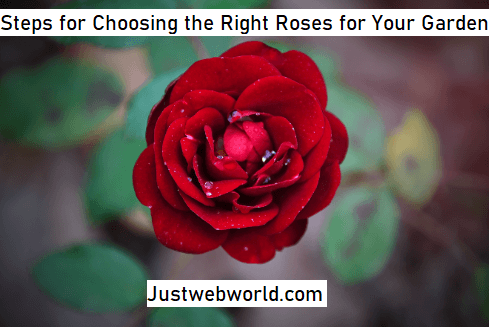 To help you choose the best roses for your garden, you should consider the following 8 steps before ordering them.
1] Choose roses of your favorite color
First, you need to choose the color that you like the most. Buying roses of your favorite color is the first thing you need to do in choosing the right roses as you will be pleased to see your garden each time if it is associated with your favorite color.
2] Choose the perfect height
The next thing you might want to consider is choosing the perfect height of the roses that will suit your garden. If your roses are higher than your garden's area, they might look a bit unattractive. Therefore, it is advised that you should consider the final growth height of the roses you are about to buy.
3] Choose the fragrance that suits you
Certain strong fragrances might invoke an allergic reaction to you. Hence, make sure to consider the roses that have dim fragrance as compared to the others if you are allergic to fragrances.
4] Choose the amount that suits your needs
Consider the size of your garden before buying roses for planting them there. Proper exposure to sunlight and air is a must for the roses to grow healthy. Choose the roses that are enough for you. Don't overload your garden with them. This might result in poor health of the roses due to lack of air.
5] Choose the ones that can be cut
If you are planning to make bouquet form of your roses, then you will surely need to cut them. Some roses can be cut without being affected. While others' petals start falling apart if they are cut. You need to make sure the roses you are choosing for your bouquets can survive the cutting or not.
6] Choosing other plants
You should also consider the other plants that you will be keeping in your garden. Some plants can damage the rose's ecosystem. Therefore, while choosing roses for your garden, also choose other flowers and plants that are perfectly suitable to be kept with the roses in the same garden.
7] Consider the climate of your area
Keep your climate in your mind as well for your roses to grow healthy, mature, and perfect. If you are living in an area where it snows for almost six months a year, you might want to choose the roses that can bear the cold climate and survive in it. If the temperature of your area is humid, choose the roses that rarely get affected by diseases like black spot.
8] Consider the time you will spend in maintenance
Another thing that you need to consider is the time that you can dedicate to your garden daily. If you have loads of leisure time, you can choose the roses that require high-maintenance. Numerous categories of roses require a lot of maintenance but are highly fragrant and beautiful.
But if you are a busy person and can't give much time to your garden, consider the forever roses that can grow easily without much maintenance. Some old varieties of roses, often known as landscape roses will do the trick for you if you are a low-maintenance person. Otherwise, you should buy the hybrid teas or floribundas if you can properly manage time for your garden daily.