The Middle Eastern Emirate of Dubai is popular for its luxury travel destination but it is also home to snowy-white and fine-sand beaches. These beaches are located on the warm, aqua blue Persian Gulf that turns into a true destination for beach-lovers.
Best Beaches In And Around Dubai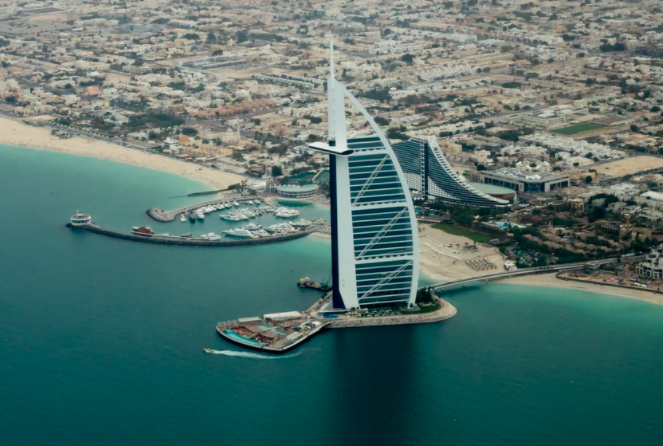 Due to the intense summer temperatures of Dubai, there are many who visit the beach post dinner and into the night. Dubai is an emirate within the nation of United Arab Emirates and offers visitors some of the best vacation destinations. Here are 20 best beaches of Dubai.
Jumeirah Beach
The Jumeirah Beach is one of the most visited beaches in Dubai and it is revered for its white sands with fine and soft granules that will make your feet sink in. You will love the view of the Burj-Al-Arab of Dubai and this is one of the most marvelous sights of this Jumeirah Beach. This beach promises you a perfect tropical holiday.
Kite Beach
Kite Beach is located through the Al Manara Road junction and this beach has been perfectly named. The beach sees several tourists throughout the year who visit this beach particularly for kitesurfing. This beach is also friendly and is home to several tourists throughout the year.
Al Sufouh Beach
It is really tough to find out the most tranquil beaches of Dubai unless they are owned privately. Tourists rush to these beaches as they're eager to try water sports, relax or just swim. Al Sufouh beach gives you that perfect tranquillity that you're looking for. There are several themed parks in Dubai around this beach.
Sunset Beach
The fourth in this list is the Sunset Beach which is also a wonderful beach in Dubai. This beach is well-known for its soulful surrounding and its beauty and the best thing about this beach is that it offers you a direct view of Burj Al Arab. This is the city's most shot shoreline and offers you a perfect sunset view.
Mercato Beach
Mercato Beach was frequented by locals and it was considered as a hidden gem. There are bean bag and tables to sink into and the artificial lighting of this place will make it perfect for people who read beyond daylight.
Burj Beach
It is said that the beaches of Dubai are the most enchanting places in Dubai that you can visit with your family. One such beach is Burj Beach and once you take a stroll down this beach at Umm Suqeim, you'll soon feel settled in the open environment.
JBR Beach
When you're in Dubai, one more beach that you wouldn't like to miss is the JBR beach. Jumeirah Beach Residence or the JBR is an amazing spot for shoreline lovers who are settled calmly in Dubai Marina.
Al Mamzar Beach
This is a beach loved by adventurers, honeymooners and explorers. This is known to be a hidden gem that you should discover whenever you're in Dubai. The beach park has a nice aura and it has a great picturesque landscape. This beach is adorned with blue sea water and green shades of coconut and palm trees.
Aquaventure Beach
Aquaventure Beach is said to be the perfect location for water-based adventure activities in Dubai. This is a pretty beach is hugely famous among the locals and the tourists for housing this adventure park called the Aquaventure. It features a wide range of adventure activities that is apt for visitors of all age groups.
Black Palace Beach
One more beach island that is a must-visit for you in Dubai is this Royal Island Beach. One of the city's mystery places is Black Palace Beach and it lies within an area that is hardly noticeable.
Ghantoot Beach
Your Dubai trip won't be complete without exploring this beaches and one such beach in Dubai is the Ghantoot Beach. This is a private shoreline that is situated on the edges and it is run by Golden Tulip Hotel. Entrance to this shoreline costs nearly 100 Dirhams.
Royal Island Beach
This club beach is the first one to open its doors to the public on Dubai's World Islands. The resort covers an area of 40,000 square meters and is home to an array of international beach restaurants in Dubai, swimming pools, long beach areas and chalets.
Open Beach
When you visit Dubai, there is one more beach that is a must-visit for you. This beach is known as Jumeirah Open Beach or Russian beach and it is certainly the best place for you in Dubai. It is not far from the famous shopping outlets of Dubai.
Public Beach
Jumeirah Public Beach is one of those beaches of Dubai that are famous among locals and tourists alike. This beach guarantees you the most fun-filled experience along with a wide range of activities and facilities.
Azure Beach
Dubai is a great destination for beach lovers who prefer escaping the hustle and bustle of the city to witness the most splendid sights. This is a designed beach area that depicts the best luxuries across Dubai.
Marina Beach
This is scenic during the day and it gives a surreal view post sunset with the reflection of towering buildings across illuminating waters. Marina Beach is one of the most sought-after beaches of Dubai.
Barasti Beach
You can spend your days lounging on the beach and your nights dancing and drinking on the beats of music. This is a must-visit beach in Dubai for your next vacation. It is popular for its wildest party scene and is the only beach where they serve alcohol.
La Mer Beach
La Mer Beach is the chicest entrant in the beaches of Dubai and it is a scenic shore to kick back as you stare towards the Arabian Sea. The long stretch of sea line receives its theme from the marine life.
Nikki Beach
Nikki Beach has transformed the way tourists can experience beaches in Dubai by adding the best strokes of entertainment and fun. This is the first beach club in the city and it is included in the Nikki Beach property.
Cove Beach
The Cove Beach shines bright in the Bluewaters Island and the experience that you get here will enhance your overall experience of the city. Cove Beach is one of the fanciest beaches of Dubai.