The Bora Bora islands located in the South Pacific has always been synonymous with honeymoons and it is one of the top priority choices for a new couple provided they can afford it.
Most couples who have already visited this island believe that this is undoubtedly the most beautiful island in the world. Whenever you think of the overwater bungalows and the luxury resorts in Bora Bora, there's no other place that can ever top your list.
Best Bora Bora Overwater Bungalow Resorts For Honeymoon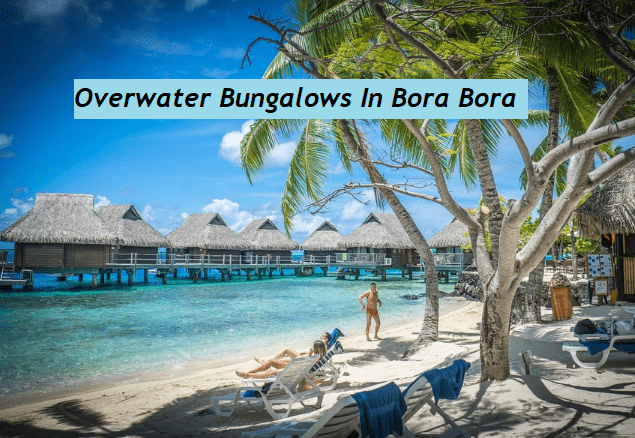 Once you visit Bora Bora, you'll find a minimum of 20 hotels, half of which have overwater bungalows. Overwater bungalows usually extend to the blue lagoons and give you an extremely memorable experience.
If you're all set to visit Bora Bora, it is indeed tough to determine which overwater bungalow is the best. Here are few names.
Le Taha'a Island Resort and Spa
Despite not being actually located on Bora Bora, it is worth mentioning as most of their bungalows give you direct views across the water. The overwater suites are of 969 square feet each, thrice the size of a hotel room.
Each has a king-size bed along with a sofa bed in the living room. This hotel owns 5 bars and restaurants and several excursions and activities. It's a top choice among honeymoon couples.
Otemanu Overwater Bungalow at Four Seasons Resort
Can you imagine lying on the bed with a view of South Pacific's most famous landmark, Mt. Otemanu? Yes, this fantasy is going to be a reality at the Four Seasons Resort!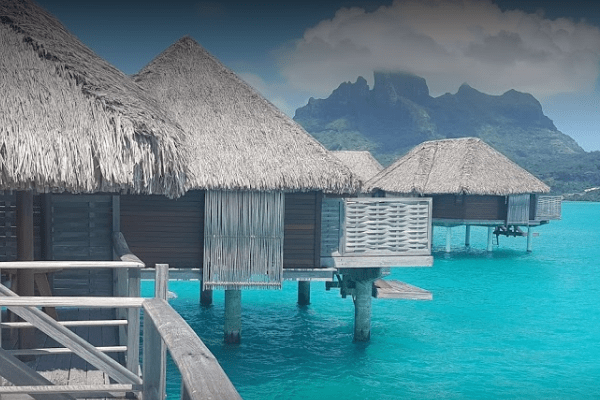 Four of its overwater bungalows offer you 1576 square feet of contemporary living inspired by Tahitian lifestyle, enough sleeping space, a private pool wrapped by sunrays and a bathtub with a panoramic view. These bungalows are perfect for two adults and 2 kids who can sleep on pullout sofa.
Sofitel Bora Bora Marara Private Island Resort
The Sofitel chain is respected internationally and they operate 2 resorts on Bora Bora which are located across the lagoon. You can access this private resort by a short boat ride and hence it is definitely secluded.
This is an exclusive resort for two with 31 total rooms in 20 overwater bungalows. Sofitel Bora Bora Marara Private Island Resort is small and perfect for the couples.
Regis Bora Bora Resort
This is set on a stretch of islands that collectively offer you a splendid view of Mt. Otemanu. The St. Regis Bora Bora resort provides opulence and luxury while keeping back a strong flavour.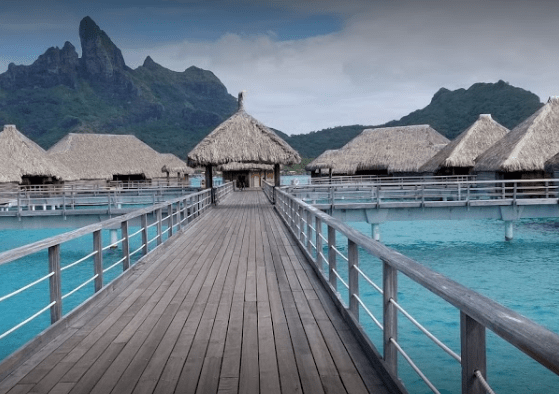 Both the on-land and overwater bungalows offer huge spacious rooms decorated with natural wood and mind-blowing interior decor. They also have two big pools with swim-up bar.
Tahiti Resort and Spa
Located pretty close to Fa'a'a International Airport, the Intercontinental Tahiti Resort & Spa is a famous resort that is located on the shores of a lagoon.
If you love well decorated rooms, you'll love this as they feature a nice range of interior decoration with modern conventional styles and views of gardens over the lagoon. The main features of the pool are swim-up bar and waterfalls in an adjacent area.
Le Meridien Resort Bora Bora
One more resort that belongs to an international French chain is the Le Meridien Bora Bora resort. This resort too is accessible by a boat and has the exclusive feeling that the guests are residing only with their partner.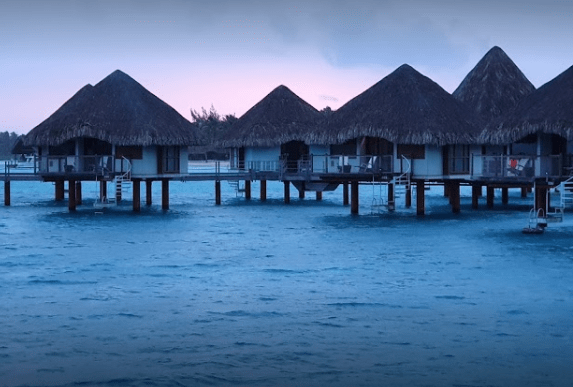 Each of the overwater bungalows has a section of glass floor through which the guests can experience sea life while sitting on their couch. However the room rates are pretty high due to the amenities offered.
Conrad Bora Bora Nui
The Conrad Bora Bora Nui resort is one of the most popular hotels in South Pacific as it is secluded at the tip of an islet that is located farther from the Bora Island.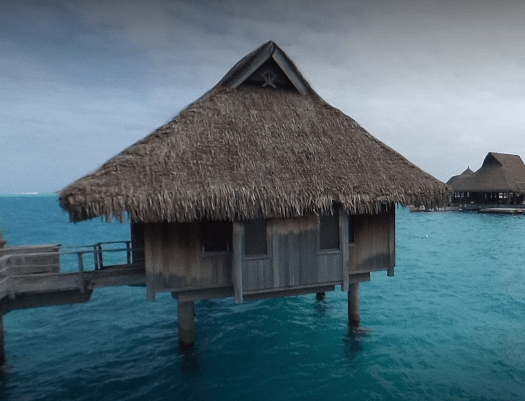 This is not just touted to be one of the finest hotels in this region but it has also featured few episodes of Kim Kardashians show. The Conrad Bora Nui is a huge resort that is extensively spread out. Guests have to move around the golf cart in a bicycle and it is an extremely private resort.
InterContinental Bora Bora Resort and Thalasso Spa
They run two luxury resorts and this one is the newer and bigger one. It has got a comfortable spa attached but the feature that'll satiate you the most is the design of the rooms. The overwater bungalows are huge and they have a bigger bathroom so that the guests can pamper themselves before they step out of the room.
The rooms are more than 1000 square feet and they include a private terrace with splendid views.  The most affordable bungalows also offer a dazzling view.
Four Seasons Resort Bora Bora
If you're familiar with the Four Seasons name, you will be aware of what to expect. They have over 100 overwater suites that are unbelievably spacious.
One of the most modest and luxurious among them is the one that is of 1080 square feet. These overwater suites all have their private pools on the decks as if the ocean right below isn't enough. There are bar and restaurant options as well.
Manava Beach Resort and Spa Moorea
Manava Beach Resort and Spa offers the guests a chance to indulge in Polynesian resort. This stay in the island is on the northern shores of the Mo'orea Island in French Polynesia.
Though the numbers of rooms are limited, you'll never get any dearth of privacy. There are 90 gardens and rooms, overwater and beachside bungalows and each room has both a ceiling fan and an air conditioning. The infinity-edge pool is something that you'll simply die for!
Therefore, if you've long been planning a dream vacation to Bora Bora, make sure you never miss staying at the overwater villas mentioned above. More so, if you're a honeymoon couple, be ready to experience the best stay of your life that will be etched in your memory forever.
You might like.