Apple provides iCloud service using which you can store documents and images. The iCloud service will be helpful if you would like to save internal storage space of the iPhone.
However, there will be scenarios where you would be forced to delete iCloud from your iPhone. This will happen if you forget password or would like to delete the account to create another account. Can you delete iCloud account without depending upon a password?
Yes. You can surely delete an iCloud account without using a password. You should note that the deletion of iCloud account without password is fairly easy if you are working with iOS 8 or later. In this article, we will examine the various ways by which you can delete iCloud account without password.
Method 1: Using Settings to delete iCloud account without password
To delete iCloud account without password, you need to navigate to the Settings and press on iCloud. You will be prompted to provide the random number as password when you tap on the iCloud platform. You just need to provide any password and press done.
The iCloud will prompt you that the password is not correct. You need to press OK and Cancel. You will be redirected towards the iCloud page. The next step is to press Account and erase the description ad press the done button.
You will view the main iCloud dashboard without the password field. Apple will deactivate find my phone functionality. You need to scroll down and press delete button to finish the process.
Method 2: Erasing iCloud account permanently
You should note that all the removed data can be recovered easily from your iPhone. It is possible to recover deleted files from your iPhone using third-party software tools. You should be very careful because your data is prone to leaks causing serious privacy issues.
The software programs are designed to permanently erase your iPhone data. This method is helpful if you would like to sell your old smartphone.
Your data will be completely destroyed in such a way that it can't be recovered by anyone. You just need to establish connectivity with your PC and the data will be safely deleted from your iPhone.
Method 3: Resetting iCloud Account without Password
It is possible to modify iCloud account without deleting it completely. You can remove old data and change the iCloud account by navigating to Settings and pressing the iCloud option.
You need to select either sign out or delete option and confirm the action. Also You should provide your Apple ID password if you are switching accounts.
The iOS provides you with two options. You can either erase all data or keep the data inside the device. You have to provide the new Apple ID and password for the new account.
If you are unable to remember the iCloud password, you won't be able to purchase tracks from the iTunes store or login to the iCloud account. According to Apple, you can reset the Apple ID password using three ways.
It includes email, password, security questions, two-factor authentication and two-step verification. You should retrieve the password to reset your Apple ID before deleting your iCloud account.
Method 4: Disabling iCloud account on Mac
You can either modify iCloud settings or disable iCloud using Mac. Firstly, you should note that all the data will be erased after the successful completion of the process. This includes all files, images and synced items.
To disable iCloud account on Mac, you should select the Apple menu after booting Mac and navigatetothe System Preferences. You need to click on iCloud and select the option that need to be deactivated. This will help you to retain data while disabling specific features.
If you would like to disable the iCloud account completely, you need to visit the Apple menu and select System Preferences. The next step is to open iCloud and sign out. The Mac will prompt you to confirm the action. The account will be disabled upon confirmation.
Method 5: Deleting iCloud account on Windows
You can easily delete iCloud account on Windows. You are going to delete the iCloud account. Hence, you should capture full backup of all the files inside your iCloud. It is not possible to recover data after deletion.
The first step is to open Control Panel from within Windows and locate the dedicated iCloud control panel inside it. You should select sign out option to delete account. After that, you can uninstall the iCloud software from your computer. You will be prompted to delete the iCloud account on Windows.
If you select Yes, the iCloud tool will be uninstalled and the account will be deleted. You can't recover any files from the account after that.
iPhone specifications
The Apple iPhone 8 features a 4.7-inch LED IPS display with a resolution of 1334×750 pixels. On the internals, the iPhone 8 is powered by an Apple A11 Bionic processor, 2GB RAM, 64GB/256GB storage, 12MP rear camera, 7MP front-facing camera powered by a 1821mAh battery.
The system is pre-loaded with iOS 11 upgradeable to iOS 11.4.1 operating platform.The phone is resistant to water via IP67 technology and you can immerse the device up to 1m for 30 minutes. The camera offers support for PDAF, OIS alongside quad-LED flash.
You will be able to capture FHD videos at 30/60/120 and 240fps. Apple also released iPhone 8 Plus with advanced specifications such as increased storage and dual camera sensors.
You will find two camera sensors on the rear using which you can capture stunning images and videos. Moreover, the battery capacity is higher in the Plus variant when compared with the standard version.
Conclusion
Just like your iPhone, the iCloud account is extremely important. This is because you can store plenty of files and other crucial data inside iCloud. You can easily recover the data stored inside the iCloud using any other iOS device.
If you are using multiple iOS enabled devices such as iPad and iPhone, you can fetch the data stored inside iCloud using both devices. The concept is you just need to store data once for easy recovery at the later stage. You need to perform regular maintenance of the iCloud once in a month to ensure that the disk space is not accumulated.
You can't store data beyond the allocated limit. However, the default space is sufficient for ordinary users who would like to store images. There can be circumstances where you need to delete iCloud account without using password. We hope this article helped you in your quest to the iOS journey.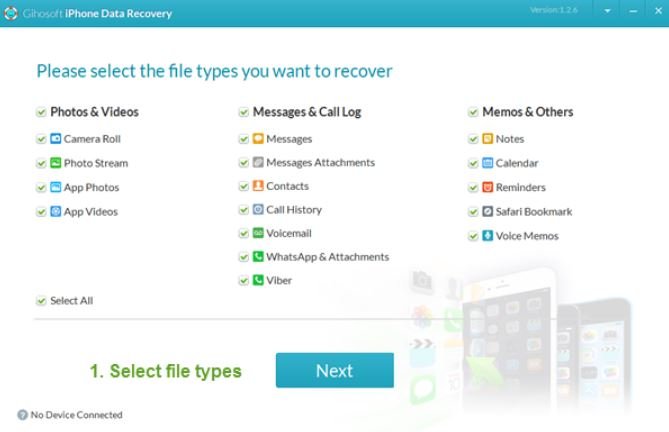 If you lost videos from iOS Camerall Roll which are nowhere to download again, you can use Gihosoft iPhone Data Recovery to get back deleted videos from iOS device including iPhone, iPad and iPod Touch.
Gihosoft Free Android Data Recovery can help you easily recover lost data such as photos, videos, contacts, text messages, WhatsApp & Viber chats from Google Pixel/XL or other Android phones effortlessly.