Setting up an iPhone is very exciting but it becomes really difficult for every iOS users to transfer files, iBooks, music, photos, videos, podcasts, mobile apps and also voice memos. Difficulties such as backup issues which gets corrupted, issues related to system compatibility, iTunes etc, requires additional helps from experts or else tutorials provided by YouTube. But now, things have become simpler with IOTransfer where you can set backups for your files and transfer the files without any trouble.
Transfer Music between iOS Devices and Computer (IOTransfer)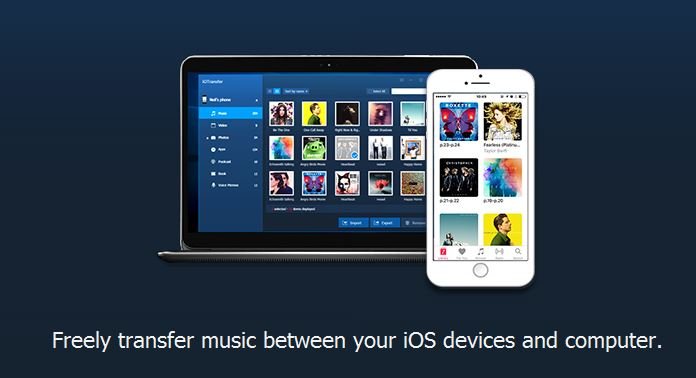 1) What is the meaning of IOTransfer?
IOTransfer is an all-in-one iPhone manager, through which files can be transferred to Personal Computers or any iOS devices within few seconds is known as IOTransfer. Just install the iOS device on your Pc or mobile and your downloading and installation becomes very convenient.
For instance, you purchase a new iPhones and wish to get the file transferred from your earlier iPhone, or if you want some of the music or video files transferred from any of your friends' mobile, in such cases by installing the IOTransfer software, you may easily transfer any data or file from any device in no time.
2) What are the setup steps?
There are 3 setup steps wherein in just 3 clicks you can easily sync to PC, iTunes and device. You simply have to use a USB cable to connect your iPhone and your setup procedure is complete.
3) Detailed Review
Things became simpler with IOTransfer, and after installing it in your device, file statistics and name of your iPhone would start reflecting. IOTransfer UI is the simplest software and you need not go through the entire manual nor would you require any sort of technical knowledge to use it.
The layout of UI is blue in colour, and in just 3 clicks all your files, images, iBooks etc can be transferred, be it small file or a large file. Its upgraded version also supports French language and works superb with iOS 10.3 as well.
1) Features
There is a lot of flexibility to transfer any of the music, Audiobook, video, iOS photo gallery, ringtones, contact list, TV shows from iPhone to PC, Windows, MAC or any other device for backup. You may organise playlist or create a new one, browse any information of file and even delete any music or video list by using it easily.
Some of its key features are:
Converts videos and music files to the compatible format automatically.
Manages the contact list of iPhone completely be it managing import, edit, deletion etc.
Transfer all files from music to contacts transfer in 3 simple steps.
Filters and quick search of photos, videos etc easily.
Supports all latest updates.
Can create or add photos to your album.
Manages and transfer apps conveniently.
Can connect and sync multiple iPhone devices to a PC.
Works well with iOS 10.3
Without syncing iTunes, it can import iTune playlist to the library of iPhone.
2) Advantages and Disadvantages
Apart from the benefit of transferring unlimited files and data in your PC or iOS device, there are many other advantages and disadvantages linked to IOTransfer software, such as:
Advantages
You need not read the entire manual nor do you require any technical knowledge for using it.
Insightful UI.
Sync all files and data across PC and iOS devices for free.
Easy to transfer and works faster and quicker.
Hassle-free installation.
It works best on Mac and Windows Pro.
Tips and help can be gathered from documentation.
3) Disadvantages
• A PRO version software is required if you wish to transfer files in bulk by updating the software.
• Theme remains intact, cannot be changed.
Donwload IOTransfer now to try this free iPhone management software. How did you download files to your iPhone and iPad? If you aren't then now you can download files to iPhone.
There are numerous iPhone Transfer free software available in the market which easily allows the users to transfer or import files from their iPhone to any other connecting devices easily by connecting the USB cable. But when we compare them, IOTransfer software proves to be the best software and each and every iOS users should definitely have them in their MAC or PC.
Online tips and help documentations prove to be a boon for the free users, as they are able to save ample amount of energy and time while managing the iOS data transfer and creating backups during the up-gradation of iPhone or OS. 🙂