People swear by their phone. Everything is handled by the smartphone including making projects, handling emails, capturing photographs, editing them and handling social media. All contacts, appointments, mail, snaps, etc. are stored on the phone too.
Any mishap happening to your phone can result in loss of data which can be nothing short of a modern-day horror!
Accidental deleting of data may cause you to lose your mind. iPhone is one of the most popular offerings from the Apple brand, with many users across the world.
Anyone who has ever used an Apple product swears by the technology and the products. However, any malfunctioning in your iPhone can result in accidental data loss. People looking for data recovery software can rely on PhoneRescue for recovering any kind of data loss.
Salient features of PhoneRescue
Despite the presence of several data recovery software, PhoneRescue has emerged as the best option for iPhone users.  There are various reasons for the popularity of the software, including.
They have one of the highest success rates with 100% secure recovery of your data.
You can get a complete backup of everything stored on your phone using this data recovery software.
Despite the presence of several data recovery software, PhoneRescue has got quite many followers since it is extremely easy to use. With just 3 clicks, you can easily recover all your lost data. You do not have to be tech-savvy to be able to recover your data using this software.
Finding data lost in the pile of thousands of files is difficult, but not with PhoneRescue. The software is extremely fast in finding and recovering lost data.
The software uses custom-design technology to safely recover any iOS data including photo, contacts, messages, etc.
What makes PhoneRescue a success?
With its immense use in the past 3 years, PhoneRescue has helped millions of iOS users effectively recover any data they have accidentally lost. Any data loss under any condition can now be easily recovered using this software. The next generation of the software offers numerous advantages.
1] Data salvaging from your iPhone
The PhoneRescue software is built on a No-Data-Loss technology. Thus, any data which is deleted is not gone forever but can be recovered using this software within a matter of seconds.
2] Pick and choose your deleted items
You can preview your deleted data to select which photographs, messages, and contacts before recovering any deleted items. Even encrypted and damaged data from iTunes backup can be recovered.
3] Recover from iTunes backup
With PhoneRescue, you get access to data and files stored on iTunes backup. You can also retrieve any item without deleting any data on your iPad or iPhone. With the use of ForceRestore technology, PhoneRescue has unique access to corrupt backups, eventually letting you preview and recover data expertly.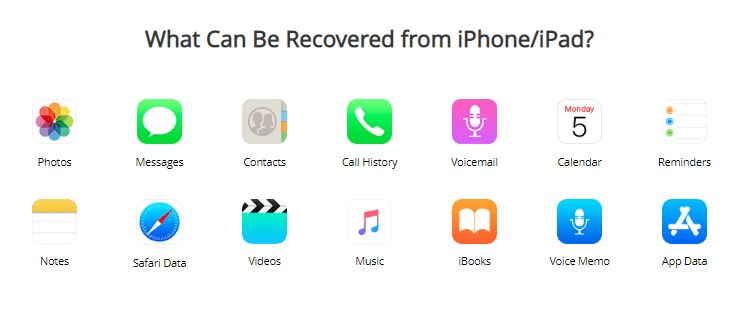 4] You can rescue your iPhone too
PhoneRescue is an iOS expert. It not just recovers any lost data but can rescue your dead iPhone too! It is capable of fixing iOS crashes and can revive your iPhone with merely 1 click. This data recovery software is the first which supports iOS 12 and macOS Mojave.
5] Restore data from iCloud
Data recovery in iPhone is revolutionized with PhoneRescue with recovery possible even from iCloud. With latest and advanced technology, you can get specific data restored from iCloud instead of getting the entire iCloud backup. This results in you saving a lot of time and data space.
6] Unparalleled working speed
With faster recovery speed, chances of recovery are high. PhoneRescue created innovative Thunder-Extraction technology to boost the working speed. You can rescue your lost data with PhoneRescue before it is overwritten and gone forever.
7] Latest technology
PhoneRescue makes use of the latest technology to get completely secure, easiest and fastest data recovery.
8] Excellent compatibility
The software is compatible with Windows OS (Windows 10, 8 and 7, Windows XP, and Windows Vista versions) Mac OS (OS X 10.11, 10.10, 10.9, 10.8, macOS Sierra, macOS High Sierra and macOS Mojave) and iOS (iOS 12, 11, 10, 9, 8, 7, 6 and iOS 5) while also supporting various iPhone, iPad and iPod series.