Android smartphones are growing in popularity and now more than 80 percent of smartphone users are using the Android operating system.
With most Android users switching devices every 18 months to 2 years, transferring content from one device to another can be a daunting task.
Android phone text messages and music can be particularly tricky to transfer from one device another, which is why we reviewed the Droid Transfer app which promises to make this task simple.
How to transfer Android SMS and sync Android to iTunes
Droid Transfer is a Windows based software tool which helps you connect your Android device with your PC and backup music, messages and other files from your Android phone to your computer and restore them to your new Android phone. You can transfer your Android phone content using either a WiFi connection or a USB connectivity.
1] Droid Transfer Features
Here are some of the Droid Transfer app features highlighted in this article…
An Excellent Message Manager – Droid Transfer lets you manage your Android messages effectively on your PC. The app will backup you Android phone messages to your computer and lets you restore messages to another Android device from this backup. You can even choose individual conversations you'd like to backup and move to your new device. Messages can also be exported to your PC in multiple formats like Text, PDF and HTML and images, emojis and the videos sent through the messages will also be saved. You can also print your messages if you need them for your reference, or even a  court case.
A Complete Music Manager – Droid Transfer is also a complete music manager for your requirements. You can transfer the music seamlessly between your PC and phone. The tool can also be used to sync your iTunes library with your Android phone. That would enable you to transfer music between your Android phone and your iTunes library on your PC and also stream your content wirelessly through your PC.
Easy to use Picture Manager – View all your photos on your PC in full size. Deleting your photos or copying them to your PC is much easy either through wireless mode or through the USB connection.
Apart from that, it can also handle the contacts and calendar items on your phone and import them to Outlook. That would make it an excellent Android file management tool with all the features packed in a single package.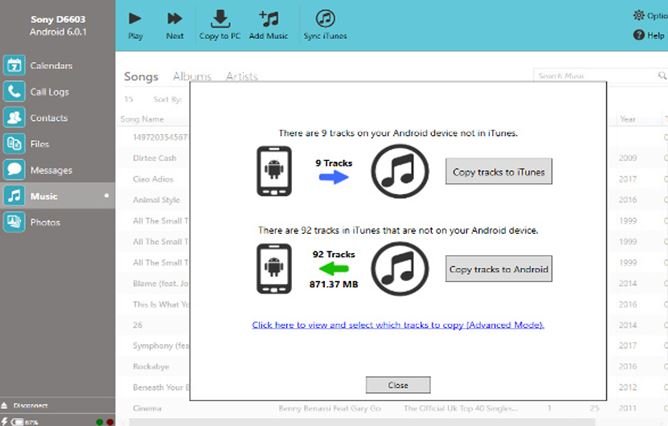 2] Pricing
Droid Transfer is available both as a free trial option and as the Pro service. The free trial lets you transfer your call logs and calendars, also 50 of other file types can be transferred  including music and images. If you want to transfer files beyond that number, you can opt for the paid version.
The paid version is available at $ 20. You will have no restrictions in transferring any of your content with ease across your Android and computer.
The software works with a companion Android application also aptly referred to as Transfer Companion that you would need to install on your Android device.
The Concluding Thoughts
Droid Transfer is indeed an excellent service that lets you function seamlessly for an effective file transfer including the messages, music, calendars and call logs.
There are other software applications  that can transfer other types of content, but none offer as comprehensive a solution and a complete way to backup and restore all  your Android device content and file management.
Go give the trial version a go today and let us know what experience you had with the app!