There's no doubt when we say that the nationwide lockdown has confined us to our homes but at the same time it is also true that it is getting boring at times. What are the ways in which you can keep yourself engaged?
How are you supposed to best utilize your time so that you can stay entertained? Watching movies or web series is certainly one of the best things that you can do in order to feel mentally enriched.
Best Indian Hindi Web Series to Watch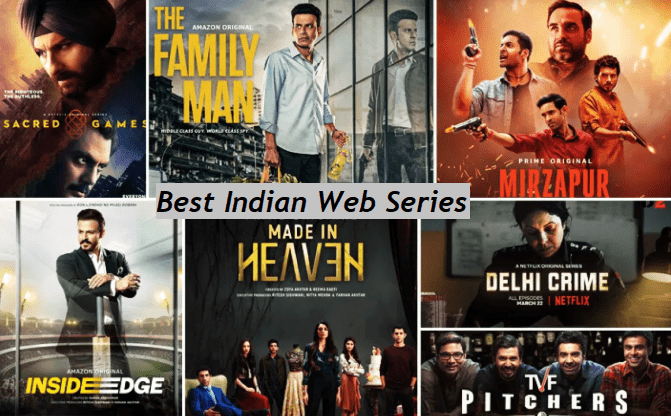 With the proliferation of online streaming platforms, you'll never fall short of things to watch. Here are the best Indian web series to watch during your quarantine period.
Permanent Roommates
As the protagonists Tanya and Mikesh transform their long-distance relation to a live-in relation, they start becoming permanent roommates.
This is not only the first ever most successful web series in India but it also initiated the trend of rom-coms in the Indian online space. You can also watch Permanent Roommates on TVF Play as well as on YouTube.
Kota Factory
Kota Factory is touted to be one of the best online shows in India and it is shot in Kota's student city. The storyline shows a 16-year old student named Vaibhav who is all set to crack his IIT exams.
Normally, in other shows, you'll find young adults following a restricted lifestyle to navigate through the path of success but this story celebrates the life of a student with all its special activities.
The character of Jeetu Bhaiya, played as Jitendra Kumar has been loved and admired by viewers. This series is also available on YouTube and TVF Play.
Sacred Games
Both Nawazuddin Siddiqui and Saif Ali Khan, through their web series, Sacred Games, helped our country become a global force in the periphery of web series. Saif Ali Khan plays the role of a police officer, Sartaj Singh.
On getting to know about the exact location of Ganesh Gaitonde, a criminal overlord, he starts chasing all over Mumbai. This game of chase gradually becomes a cat-and-mouse game. There are two seasons available on Netflix.
Made in Heaven
Zoya Akhtar, the director of this web series has probably ended up making one of the flagship Indian shows. The story is on an Indian event management company, the job of which is to marry off couples.
Made in Heaven gives you different episodes when they get in touch with a Mumbai pilot or someone from the snobbish Delhi Princess, the Tamil Brahmin from South India and the crazy jovial people from Jaipur. This is the only Indian English web series that has pulled off really well without sounding overdone.
The Family Man
The creators of this web series are DK and Raj and you'll get to stream The Family Man on Amazon Prime. Manoj Bajpayee plays the lead role. The story is about Srikant Tiwari, an intelligence officer who is striving really hard to strike off the balance between work and personal life.
TVF Pitchers
This is yet another famous name that has been created by Arunabh Kumar in association with The Viral Fever. You get to see five episodes in the first season. Initially when only the first season could be streamed, you would watch it online on TVF Play.
Apart from TVF Play, this web series can also be watched on YouTube.  It deals with the story of all the business meets of four friends – Arunabh Kumar, Jitendra Kumar, Naveen Kasturia and Abhay Mahajan.
Little Things
Kavya and Dhruv are in a live-in relationship and the storyline of Little Things comprises of the small issues that the couple face while living with each other. With the progress of the movie, there is a certain amount of maturity that evolves into their relationship.
Though their problems and issues loom larger, yet they become able and mature by then to solve and handle their own issues. YouTube released the first season of Little Things and if you feel intrigued with this story, you can start watching the other seasons on Netflix.
Mirzapur
As soon as you finish watching Sacred Games, you will definitely be in a mood to watch something very similar to it sooner or later. Now that you've watched Sacred Games on Netflix, this is the time to shift to Amazon Prime where you can get Mirzapur, one of the best web series in India.
This story is set in the textile and garment industry and it speaks about a mafia boss who has a family of his own. This is a tenacious thriller drama that has got some deep characters along with the most unexpected twists and turns.
The dialogues are pretty rare and you may not have ever heard them in Bollywood before. There are several revered actors of the film industry in this web series.
Sarabhai vs Sarabhai
This show was initially aired on Star TV One but then it wasn't as relatable as it is now. It was a rather well-written script which spoke of an upper class family which tried their best to cater to the nuances of middle class audience.
In 2017, Hotstar tried to bring it back but sadly, the netizens were busy watching other shows like Modern Family and Chernobyl. If you wish to spend your time watching a highly entertaining series, Sarabhai vs Sarabhai is the one for you. It will remain live in your hearts even after years.
Breathe
If India had to give competition to Breaking Bad, Breathe is undoubtedly the best web series. The character Danny Mascarenhas is played by the extremely talented R. Madhavan. His flawless performance should bag him the award of the Father of the year.
Madhavan is seen to perform some crazy feats for his son who just has 6 months of life. His son, Joshi has to undergo lung transplant as that is the only way he can live. Madhavan is responsible for breathing life into his character.
Therefore, now that you're locked down in your homes to fight the COVID-19 pandemic crisis, why not engage yourself in watching the above listed Indian web series? Start streaming and get on board.
You may like.