Knowing how to download YouTube videos can come in handy in many different situations when you want to enjoy YouTube offline without worrying about internet connectivity. It is also possible that you might want to learn how to download videos from YouTube, so you can enjoy them on different devices, such as your laptop and smartphone.
You must have come across many different platforms that claim to be reliable YouTube video downloaders. However, choosing one specific platform that can fulfill your YouTube video downloading requirements in an efficient manner can be challenging.
In this article, you will get to know about the various aspects of iTubeGo YouTube Downloader and how it can help you download YouTube videos.
What is iTubeGo YouTube Downloader?
iTubeGo YouTube Downloader is a highly popular HD video downloader. It allows you to download HD videos from numerous websites like Dailymotion, Facebook, YouTube, and many others.
The cross-platform compatibility of iTubeGo YouTube Downloader makes it stand out from the other video downloaders. You can use iTubeGo on various systems, such as Windows, Mac, and Android.
Top Features of iTubeGo
iTubeGo is a reliable and efficient software to use to download videos from various video streaming platforms. There are many useful features and functionalities of iTubeGo that make it the best video downloader currently available in the market.
The top 7 features of iTubeGo are:
Comprehensive Support
With the rapid rise of the video streaming industry, you are likely to come across video content on numerous platforms on a regular basis. In such a situation, it is understandable that you might want to download the video from YouTube, Facebook, TikTok, Vimeo, and many other sites, including adult sites.
Instead of using different video downloaders for various sites, you can rely on iTubeGo to download from 10,000+ popular video websites.
Support for 20+ Output Formats
The format in which you are downloading a video also has a significant impact on the quality of your streaming. The good thing is that iTubeGo has comprehensive support for all types of major output formats.
You can use iTubeGo to download videos in formats like MP4, MOV, WMV, AVI, FLV, MKV, HEVC MP4, HEVC MKV, and 3GP for iPhone/iPod, iPad, Android Phones and Tablets. You can also use iTubeGo to download audio in various formats like MP3, M4A, MKA, WAV, AAC, FLAC, AIFF, and OGG.
HD Video Downloader
In order to enjoy offline videos, you would want to download them in HD quality. This is possible with the help of iTubeGo video downloader as it allows you to download YouTube video 4K. You have the option of setting videos in various qualities, such as 360p, 480p, 720p, 1080p, 2K, 4K, and 8K. Therefore, you will be able to enjoy the videos in high quality after downloading them with iTubeGo.
Download YouTube Playlists, Channels, and more
Do you want to download an entire playlist, channel, or album with a single click? It is possible with iTubeGo!
By using iTubeGo, you don't have to go through the lengthy process of downloading each and every video from a YouTube playlist or channel manually. Instead, you can easily copy and paste the link of the channel to download YouTube Playlist and get all of the videos in a single click. All of the videos of an entire channel can be downloaded quickly with a single click.
Quick Downloader
If you have ever used a YouTube video downloader, you must have realized that such downloaders are extremely slow. They take a lot of time to download a single video, and the download can even get canceled due to unknown errors.
You will not face this kind of slow downloading with iTubeGo. In fact, the download speed of iTubeGo is ten times faster than the other video downloaders. Hence, you can fully rely on iTubeGo to download a video or an entire playlist quickly in HD quality.
Cut YouTube to MP4, MP3
iTubeGo allows you to cut and download a certain part of the video. This is a highly useful feature for people who want to download a specific part of the video and do not want to overburden their system with large files of unnecessary video content.
Download YouTube Subtitles
YouTube videos have subtitles in different languages to make the streaming process enjoyable for you. Subtitles also play an integral role in making sure viewers can enjoy video content from all over the world without worrying about language barriers.
iTubeGo allows users to download YouTube videos with subtitles so that they would not have to worry about finding and downloading subtitles from other sources.
How to Download YouTube Videos to MP4 4K on PC/Mac?
iTubeGo YouTube Video Downloader is a user-friendly tool that anyone can use to download YouTube videos in 4K by following these steps.
Step 1: Download and Install iTubeGo on your computer
First of all, you have to download iTubeGo from official website of the platform and install it on your computer.
Step 2: Copy YouTube video URL from the address bar
Open the YouTube video that you want to download and copy the video URL from the address bar.

Step 3: Set the output format MP4 and Quality 2160p
You have a lot of options to choose from when it comes to setting the output format. If you want to download the video in the best possible quality, you can set the output format as MP4 and quality as 2160p.
Step 4: Paste YouTube video URL to the software
Paste the URL of the YouTube video that you want to download and start the download process.
Step 5: Download the YouTube video directly.
Other than copying and pasting the video link, you can also download the video directly by using the online browser of iTubeGo and accessing the video that you want to download.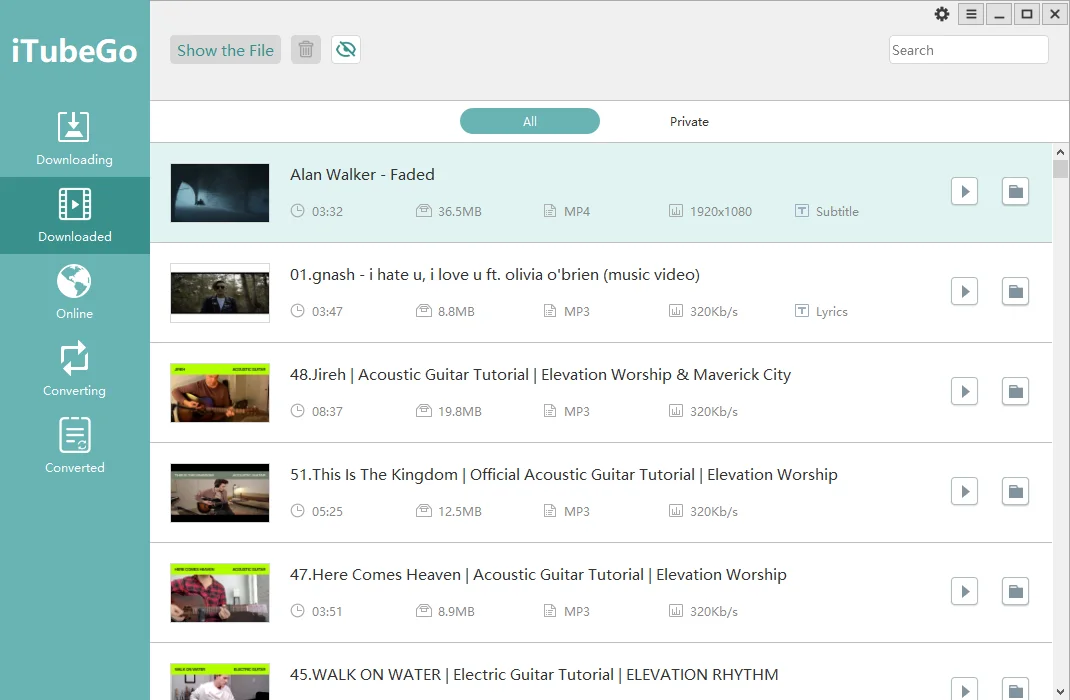 iTubeGo Pricing
iTubeGo offers various pricing plans to support different types of users. These pricing packages are:
1-Month Plan that costs $9.95.
1-Year Plan that costs $24.95.
Lifetime Plan that costs $29.95.
Family Plan that costs $39.95.
You can get these packages at a significant discount of 20% by using the code ITUBEGORE20.
Conclusion
In short, iTubeGo is the best software you can get for downloading videos not only from YouTube but also from many other video streaming platforms. You can even rely on iTubeGo to download and convert YouTube to MP3. Therefore, you should definitely use iTubeGo to fulfill your requirement of downloading videos and audio.