Ever since the time YouTube came into existence in the year 2005, there has been a huge transformation in the way we watch content. This trend has never shown a sign of slowdown and hence YouTube gradually became the world's second most popular search engine after Google.
Most Popular YouTube Channels In United States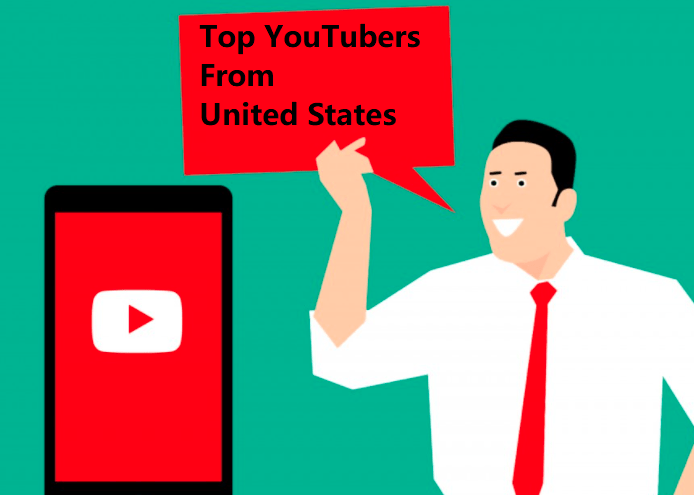 This staggering growth of this platform has led to the birth of a new generation of YouTube celebrities who have become popular only by leveraging the audience that they built through YouTube.
YouTube became such a platform that 'being a YouTuber' started becoming a career option. There are several such YouTubers who people love to watch and interact with. Let's take a quick look at the top 10 YouTubers in the USA.
PewDiePie
PewDiePie is the online name of Felix Arvid Ulf Kjellberg, who is a Swedish YouTube game commentator and a very popular personality. People know him for his 'Let's Play' game, vlogs, commentaries, rants and challenges.
Being highly successful with his content, he obtained the position of the most-subscribed YouTuber on this search engine platform.
He has more than 64 million subscribers and hence takes the first spot in the list of the best YouTubers in America. He began his YouTube channel by playing Micecraft and later on developed it into a lucrative business.
Dude Perfect
Dude Perfect is the name of an YouTube channel that is formed by five men named , Cory and Coby Cotton (twins), Cody Jones, Garrett Hilbert and Tyler Toney. They were all high school basketball players and also roommates at the Texas A&M University.
This YouTube channel has more than 32 million subscribers and hence stands at the second spot in the list of the most popular YouTubers in America. This channel shows content that is mostly related to sports entertainment. Their content depicts different trick stunts and shots cut and set with upbeat music.
Dude Perfect – YouTube Channel.
Smosh
Smosh is an American comedy YouTube channel that was at first created by Daniel Anthony Padilla and Andrew Hecox. After spending more than 10 years working with each other, the duo parted ways in 2017 June.
If you don't know what SMOSH is, it is a multi-faceted enterprise that is linked around its main YouTube channel and it is also a highly trafficked website.
The channel includes top chart musical endeavors, record-setting channel spinoffs, merchandising brands, theatrical exhibition and mobile gaming apps. They have more than 24 million subscribers.
Ryan Higa
Ryan Higa is also popularly known by his other username 'Nigahiga' and he is an American comedian, an actor and also a YouTube personality. As per Ryan, the name of this channel is a combination of 'Niga' that means 'rant' in Japanese and the last name is 'Higa'.
He has another secondary channel with the name Higa TV where he keeps posting behind-the-scenes videos and video blogs. This channel has more than 21 million subscribers and hence takes the fourth spot.
Markiplier
Mark Edward Fischbach has been given the online name of Markiplier and he is also an American YouTube personality. Besides being a successful YouTuber, he is also a songwriter and a singer. He is a specialist in 'Let's Play' videos and most of his games are survival horror video games.
This man is well known for his sensationalized commentary in video games where you can hear him screaming, yelling, cursing and sometimes even crying! He also makes vlogs to communicate with his audience and has gained 20.8 million subscribers.
Jenna Marbles
Jenna Marbles is a pseudonym for Jenna Nicole Mourey who is an American YouTube personality, a comedian, a vlogger and an actress. She uploads a new video on her YouTube channel every Wednesday or Thursday. With 18.1 million subscribers, she is deemed to be a pioneer for women on YouTube.
Marble is not just a digital-only star and hence her fans are always taken by surprise whenever they open her YouTube channel. She was one of the first creators to make it big on this platform.
JennaMarbles – YouTube Channel.
Logan Paul Vlogs
Logan Alexander Paul is an American director, actor, screenwriter, YouTube personality, white collar boxer and rapper. It was through his videos that Paul gained fame and those were shared on Vine, a former online video service.
He is the owner of two YouTube channels and he uses his official channel to upload short films and comedy clips. The other one is used for uploading daily vlogs. He has more than 18 million subscribers and hence takes the seventh spot in the list.
FBE
FBE or Fine Brother's Entertainment is an American media company which was founded by the brothers Rafi Fine and Benny Fine, who are both media entrepreneurs. The FBE is well known for their React Video series.
If you visit their main channel, you'll find a multitude of series thereby creating some good scripted narrative and a notable reaction series that even brought him awards. With more than 17.5 million subscribers, this channel stands at the eighth spot.
Liza Koshy
Elizabeth 'Liza' Koshy is an American YouTube comedian, an actress and a television host. She is half-Indian and half-American. She started posting the best comedy videos on Vine platform and later on in 2013, she started her channel with the pseudonym 'Lizzza'.
In her videos, you will see her quick pace, loud facial expressions and her tenacity to look as ridiculous and funny as she can. However, she also posts some videos where she talks on serious issues like stress, anxiety and the pressure of handling internet trolls. Such discussions make her even more accessible to her viewers.
RomanAtwood Vlogs
Roman Bernard Atwood is an American YouTube personality, vlogger, prankster and also a vlogger. In spite of having a main channel where he features all his prank content and comedy content, he is well known for his vlogs where he posts updates on his life and how he spends his life on a regular basis.
He focuses on vlogs where he showcases himself carrying forward his daddy duties to his sons Kane and Noah and daughter, Cora. With more than 15 million subscribers, he takes the tenth spot among the most popular YouTubers in America.
Roman Atwood Vlogs – YouTube Channel.