Follow-up emails are one of the most effective automated emails sent by retailers nowadays.
An open rate of such messages reaches almost 60%. And the conversion rate is more than five times better than of any promotional email.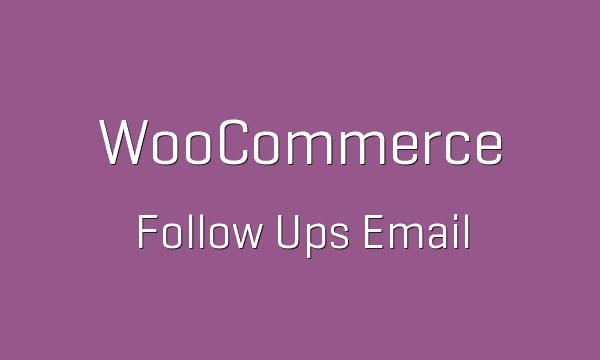 So, this automated workflow is worth your attention and some space in your marketing toolkit.
What is a follow-up email and what are the benefits of it?
A follow-up email is an automated workflow that is sent some time after a customer has completed a purchase at your store. It's also known as post-purchase email.
This kind of email is not the same as order confirmation email, which is sent right after the customer buys your product.
Usually, the time interval between the purchase and the follow-up email is about a week. But it depends on your shipping duration. If the shipping takes longer than a week, sending the follow-up email at the same time makes no sense.
It's optimal to send it in a few days after the customer receives his/her product from you. In other words, be sure your customer has tried your product but hasn't forgotten about it yet.
The benefits, that a follow-up email can bring you, are obvious:
It gives you a quick way to get feedback about your products that a customer has bought.
It helps to build a strong relationship with a customer and turn them into brand advocates.
It helps to convert one-time customers into repeat customers.
It generates extra sales.
Now, let's move to the best practices and tips, how to master your follow-up emails.
Before starting our follow-up journey, make sure your email service provider offers automated email workflows.
Step #1. Set up an automated follow-up email workflow
If you want to be efficient, you have to assign sending your WooCommerce follow up emails to your email service provider. This process should be automated.
Why?
Otherwise, you will have to manage an extensive Excel sheet with all the sold items, customers and dates recorded.
Are you ready for this?
I guess, no. So now please check if your ESP really provides this kind of automated workflow.
It should look similar to the example below.
The delay after the purchase can be a week or two, or even more.
One cake baker has set up the follow-up email that is sent after a year. So if the customer has bought the cake on Nov 10th, he/she will get the email on Nov 10th next year.
The copywriting says something like: "Hey, your occasion is coming. It's time for the cake again!" This works great. However, during the year, customers have more occasions to buy the cake. Why not take advantage of all of them?
Step #2. Segment your list of customers
When counting the first hundred customers, the customer segmentation is not so relevant.
But it becomes SO MUCH relevant when this number grows up.
For the follow-up/post-purchase emails, the best way to segment your customers is by behavior or transactional history.
Diversify your emails according to the number of purchases.
First-time buyers can receive a different message from the loyal customers that have bought five or even more times from you. For different segments, the different things might work better as an incentive to buy more.
Step #3. Employ catchy subject lines
35% of email recipients open email based on the subject line alone.
The higher open rate, the more clicks, the better are the sales.
So, use the power of the subject line to your advantage. But don't forget that they have to be relevant to the content of the email as well.
The following subject lines can come in handy when drafting your emails.
So, how is it? Do you enjoy?
10% off your next purchase!
Leave a review and get 20$ off
Your recent purchase…
Step #4. Focus on customer needs
A loyal customer is a real fortune for any of businesses. So focus on the long-run approach when you're creating your follow-up emails.
Make sure, your customers feel valued and cherished by you.
Asking for feedback can make them feel that way. Especially, if you use it to improve something on your side.
So you can ask for specific feedback on the actual product, the shipping or packaging, user experience at your store, etc. It will be a very customer-centric approach.
Later, you can highlight the reviews on social media, online store or in your emails. Just make sure that you use them.
Step #5. Always be brief
Your follow-up email shouldn't contain dozens of paragraphs and different offers.
I call it "spray and pray" method. Usually, marketers create endless emails when they don't segment their customers. So they put a lot of different things inside the email and hope that one of those things will hit the right note.
If you segment your customers, you will be able to better target the message and find what would appeal to its recipients.
So write a short targeted message, include action words and bright call-to-action buttons and you'll have a brief and effective message.
Let's look at the Crate & Barrel follow-up message.
This is a short, well-designed email that contains:
a clear head message.
bright call-to-action buttons.
an incentive to buy again.
a coupon with an expiration date (adds some urgency).
Although it's not clear enough whether the recipient is a first-time buyer or repeated one, this email has a great structure to steal.
Step #6. Take your chance to expand your audience and cross-sell
A business is for money making. So how should you use this email to boost your profit?
By sending the follow-up emails you can kill at least two birds with one stone: show a customer-centric approach and offer some products similar to the purchased ones. Also, invite your customers to follow you on social media, or reward for a referral and get new potential customers.
With this email, you're aiming at repeated purchases and the expanded list of customers. Make sure, your deal is great (free shipping, % discount, $ off, even a gift).
Let's see at the Pottery Barn Kids example.
Although this company doesn't use any of incentives, its follow-up email looks great.
Great visuals and a copy-writing.  Pottery Barn Kids company is going for the recommended products angle, and it's a good strategy.
But I do believe that a small motivation would make this email more effective.
These are my guidelines for crafting follow-up emails for your ecommerce site. By following them, you will create a great instrument for building your relationship with customers, getting repeated buyers and turning them into brand advocates.
Share your good and bad experiences with follow-up emails below. Let's discuss and learn from them all together.