Celebrity Big Brother is a reality show that includes television celebrities living in a house from 50 days to 100 days. CBB is a popular concept adapted by several countries production teams.
The show is known for making a "nobody" into a celebrity overnight. There are so twist, turns that opens up the celebrity's true nature, and it can leave a huge mark on celebs career.
The Complete List of Celebrity Big Brother Winners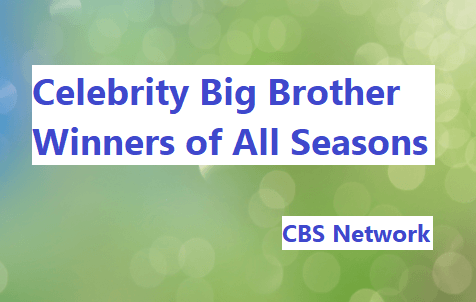 Celebrity Big Brother is not scripted, and it is one of the unpredictable shows on worldwide television. The celebrities come in the show as contestants, and people love to watch popular personalities living a normal life in the house.
The show ends with nominations, eliminations, and public votes. The winner of the show takes home $250,000 to $1,000,000 million to home.
The show is running from 2001, and it has survived for more than 18 series in total. Where the winners and what are they doing now?
Let's find out.
1] Celebrity Big Brother Season 1 Winner: Jack Dee (2001)
The winner Jack Dee is a popular stand-up United Kingdom comedian, and he was a well-known face before CBB. Dee born on 29 September 1961 and he has worked in 30+ television & movies from the beginning of his career. Jack is working in "Bad Move (2017 television show)," and he is playing the role of Steve.
2] Celebrity Big Brother Season 2 Winner: Mark Owen (2002)
Owen signed a solo deal in 2003 and the song "Four Minute Warning" charted in top five hits. Mark started a recording label to work on solo deals, and he reunited to record the album "How the Mighty Fall" in 2005. Owen released the album "The Art of Doing Nothing" in 2013 and is ranked 129 in UK charts.
3] Celebrity Big Brother Season 3 Winner: Bez (2005)
BEZ went bankrupt in 2002, and he accepted the invitation to join CBB in 2003. Berry used the winnings to pay loans, debts, and taxes. Fortunately, he saved a lot of money to improve the London black cab that he drives every day. The happiness did not last long because Mark declared bankrupt again in 2008.
In 2010, he went behind bars after assaulting ex-girlfriend Monica Ward, and she is the mother of his son. Mark spent four weeks in prison, and he was arrested again for breaching a restraining order. The Happy Mondays star is having a financial crisis in life.
4] Celebrity Big Brother Season 4 Winner: Chantelle Houghton (2006)
Houghton is a non-celeb, who goes down in the history of CBB that defeated celebrities for the title. Audience remembers her for having a love angle with Ordinary Boys singer Preston. The pair got attention from the media and people that led to £300,000 deal each with OK! Magazine.
The couple got married in 2006, but they separated in 2007. Ultimate Big Brother series united the pair in 2010. Chantelle and Alex Reid dated for a year, and she gave birth to a child in 2012. Unfortunately, Reid separated with Chantelle for unknown reasons.
5] Celebrity Big Brother Season 5 Winner: Shilpa Shetty Kundra (2007)
Shetty is an Indian female actor, and she is only Indian to win the CBB title. The contestants & housemates Jade Goody, Jo O'Meara and Danielle Lloyd, bullied Shetty throughout the journey.
Audience connected with Shetty during that period and viewers voted for her. Shilpa judged several Indian shows and featured in movies. She married to Raj Kundra (2009) and the couple blessed with a son.
6] Celebrity Big Brother Season 6 Winner: Ulrika Jonsson (2009)
Jonsson is a major television personality, and many viewers have predicted that she is going to win the CBB. In 2017, she Ulrika participated in Celebrity MasterChef and secured a spot in the finals. In 2008, Ulrika married a third husband, Brian Money. The couple blessed with a son in June 2008.
7] Celebrity Big Brother Season 7 Winner: Alex Reid (2010)
Reid celebrated the winning by marrying Katie Price in Las Vegas and the couple divorced in 2011. Alex proposed Chantelle (CBB winner) and the couple blessed with a daughter. Unfortunately, the fighter could not save the marriage, and it ended in 2012.
The fighter announced the retirement in 2011, and he comes out of retirement in 2016 for one fight. The mix martial arts fighter have ten wins, ten losses, and one draw in career record.
8] Celebrity Big Brother Season 8 Winner: Paddy Doherty (2011)
Doherty known for the popular documentary "My Big Fat Gypsy Wedding" won the eight series. Paddy beat Kerry Katona in the finale of CBB S8. He participated in reality show "Celebrity Bainisteoir" to become a Gaelic football coach.
9] Celebrity Big Brother Season 9 Winner: Denise Welch (2012)
The production team decided to run the reality show twice a year in winter and summer. Welch is a theatre performer, and she continued to pursue theatre passion to this day.
Denise participated in "Celebrity Dance" with her husband, but she could not win the dance reality show. After five years absence, she accepted the invitation to host daytime "Loose Women" in 2018.
10] Celebrity Big Brother Season 10 Winner: Julian Clary (2012)
Author & comedian Julian Clary published three novels since CBB, and he took part in the "Strictly Come Dancing" in 2012. Clary judged ITV entertainment series Your Face Sounds Familiar. The ITV channel also starred in some nature documentaries.
11] Celebrity Big Brother Season 11 Winner: Rylan Clark-Neal (2013)
Rylan is the most popular personality participated in the CBB S11, and many predicted that he is going to win the winter season. The X Factor contestants admitted that he is the fan of the show. He is a regular reporter for "This Morning" show.
12] Celebrity Big Brother Season 12 Winner: Charlotte Crosby (2013)
View this post on Instagram

Crosby is a reality show winner before CBB, and he returned to the "North East-set" until 2016. She was featured in two documentary series about herself. The CBB winner decided to transform her physic through GYM work out and diet. Crosby released two exercise DVD and two fitness books after CBB.
13] Celebrity Big Brother Season 13 Winner: Jim Davidson (2014)
Viewers voted Jim to win the CBB title, and it came as a surprise for the house members. The CBB winner surrounded with controversies throughout his career and the invitation from the CBB team did not come as a surprise. Davidson remained silent from the mainstream media since CBB.
14] Celebrity Big Brother Season 14 Winner: Gary Busey (2014)
Gary beat Audley Harrison, and James Jordan in the S14 and the Hollywood Star fought hard to reach in the finale. The Hollywood Star participated in the "Dancing with the Stars," but he could not win the dancing show. In 2016, Busey supported Donald Trump's presidential campaign.
15] Celebrity Big Brother Season 15 Winner: Katie Price (2015)
Reality TV veteran & model Price won the S15. Katie is the ex-wife of season seven winner Reid. Katie appeared in many reality shows including "Loose Women" as a panelist. Unfortunately, Price is very close to bankruptcy and she owes £250,000 in debts.
16] Celebrity Big Brother Season 16 Winner: James Hill (2015)
Hill participated in 2014 "The Apprentice" reality show judged by Donald Trump. The participation in the business reality show earned him an opportunity in the CBB reality show. Fortunately, James won the CBB show along with the prize money & trophy. In 2017, he participated in another reality show "5 Star Hotel (UV TV series)."
17] Celebrity Big Brother Season 17 Winner: Scotty T (2016)
T earned the invitation from the popular reality show, and he won the CBB S17 in 2016. The star of "Geordie Shore" signed to appear in "Just Tattoo of Us" as a presenter in 2018. The producers of the show "Neighbours (2016)" gave him an opportunity to play a cameo role.
18] Celebrity Big Brother Season 18 Winner: Stephen Bear (2016)
View this post on Instagram

Bear had an interesting career before landing the offer of CBB. He worked in Shipwrecked in 2012 and participated in "Ex on the Beach" in 2016. After winning the CBB S18, he got an opportunity to work in "Celebs Go Dating." In 2017, he presented Just "Tattoo of Us" on MTV channel.
19] Celebrity Big Brother Season 19 Winner: Coleen Nolan (2017)
Nolan is a panelist on "Loose Women," and she had an incredible journey on CBB S17. The personality is known for making controversial comments and statements on various platforms. Coleen accepted the invitation to appear in the episode of "Therapy" on Channel 5. Coleen published several novels including "Denial (Pan, 2011)."
20] Celebrity Big Brother Season 20 Winner: Sarah Harding (2017)
Girls Aloud singer Harding won the trust of viewers by displaying bravery, honesty, and staying sober. The viewers questioned her faith because she played a love angle with co-housemate Chad Johnson on television while having a partner outside of the house. Sarah & Chad made the relationship official, but they separated within a few months. Currently, Harding working on a solo album.
21] Celebrity Big Brother Season 21 Winner: Courtney Act (2018)
???????? pic.twitter.com/szrhWHOTDz

— Courtney Act (@courtneyact) April 11, 2019

Courtney Act real name Shane Jenek found fame in Australian Idol. Fortunately, the Australian beauty emerged as the winner of series 20. Jenek signed to appear on Celebrity Juice as a guest. The reality show offered her to become the host of the show "The Bi Life." The reality show "The Courtney Act Show" started in 2018 and Shane is the host of the show.
22] Celebrity Big Brother Season 22 Winner: Ryan Thomas (2018)
Thomas rose to fame after playing the role of Jason Grimshaw in "Coronation Street." Ryan filed for bankruptcy in 2013, and he had £40,000 unpaid taxes. In 2018, Ryan declared the winner of the CBB season 22, and he is spending the money on shaping the career & paying the debts.
Conclusion
Celebrity Big Brother ratings have fallen from average 2.8 million to 2.0 in a few years. It could be the result of airing two seasons in one year. Let us know what do you think about the CBB winners in the comment section below.