Every business requires the support of a PDF software due to various reasons. Sometimes, different employees might have different versions of Word and in the process of opening the file, they might end up making a mess of the layout and formatting.
How to Encrypt and Protect PDF File
PDF documents allow you to build rights management into the file. You can lock a file and grant permission to specific people and prevent the others from editing or printing. The contents of the file can be encrypted. Further, we will discuss how to encrypt a PDF.
There are many pdf editors like Wondershare PDFelement, PDF Burger, PDF-Architect, Soda PDF, PhantomPDF, PDF Editor Pro, Sejda PDF Editor, Hipdf and Nitro Pro Editor. Here we are discuss about the best pdf editor Wondershare PDFelement.
Wondershare PDFelement is the ideal tool to encrypt your PDF file. It includes an amazing user interface and allows you to add password to open files. The permission and security description could be checked under properties icon.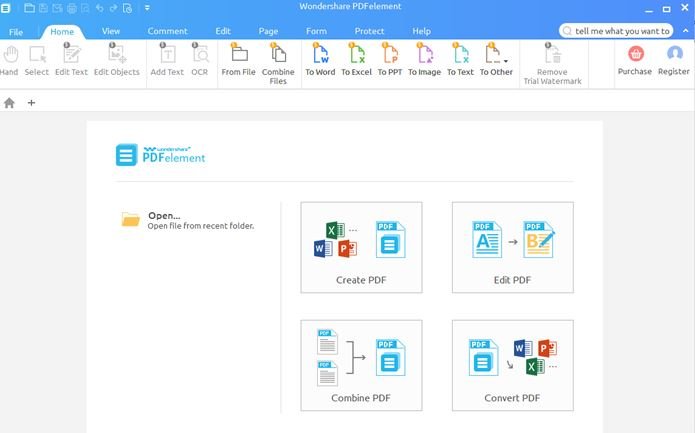 These are the steps involved in encryption with PDFelement.
1. Import PDF Files: After you open Wondershare PDFelement, you're required to upload the PDF documents that need an encryption. To open files on Windows, select "Open" from the bottom left. Choose your desired PDF document and upload it.
2. Get encryption options: After uploading the PDF document to PDFelement, navigate to the main menu bar and click on the "Protect" tab. On the sub-menu which pops up, click on the "Password" button to activate the password security window.

3. Apply password encryption: Mark on "Require a password to open the document" to create your desired password. Re-enter the same password for confirmation. Then, create a permission password under "Require a password to change security settings and access specific functions".
Wondershare PDFelement consists of professional tools that let you edit, combine, transform and organize PDFs. The industry-leading OCR tool deserves a mention as it can turn image-based PDFs into fully searchable, selectable and editable documents.
Optical Character Recognition quickly recognizes text, numbers and images in a PDF and also ensures maintenance of layout. OCR supports over 20 languages. These are some important features of Wondershare PDFelement:
It allows you to add notes, create custom stamps. Strikeout, underline and also highlight text! You could also create a personalized encrypted digital signature to sign PDFs.
You can also extract particular pages from a document to create new PDF files as per your requirements. Multiple file formats like Word, Excel etc. can also be combined. Sensitive images and texts can be permanently removed from your PDF files.
With the presence of headers and footers, your PDF will get a professional and organized look. New pages can be inserted in the middle or existing pages can also be replaced by other PDFs.
You can fill out forms with ease and create customized forms with multiple options. You could also annotate PDFs with sticky note, text box, highlight, free-hand drawing etc. PDFelement for Windows gives you more control over PDFs than you ever imagined! Comprehensive tools allow you to change text and images and easily alter the pages of your PDF.
System requirements:
Operating System: Windows 10/ 8.1/8/7/XP/ Vista.
Processor: 1 Ghz Processor or above.
RAM: 512MB RAM or above.
Available Hard Drive Space: 500 MB or above.
Let's find out what's new in the new version (16th Nov 2016). These are the key features of the latest version of Wondershare PDFelement 5.11.0.
The new interface is optimized, innovative and advanced. The intuitive interface aims at improving user experience.
The spell check support feature helps you write with better clarity.
It supports saving multi-paged PDFs as one single image.
The upgraded OCR can be downloaded easily and at a great speed.
Objects can be moved, aligned and distributed with the aid of alignment lines.
A support was brought in to create and type superscript and subscript; and also to move an object with arrow keys.
It provides for optimized print quality and default zoom settings to make your reading experience much better.
Enhanced support for Variable Text in PDF files is provided.
Improved performance for redaction feature with high accuracy and speed.
Conclusion
Online help is always available if you face any issue with the software. Tutorials are also available to guide you.
Moreover, PDFelement comes without a price tag, which is a huge benefit relatively! It is available for almost all the common operating systems like Windows, Mac and iOS. It is also globally available. The latest version has been improvised in various possible ways to provide a better outcome. So, check it out and see what an organized look your documents get!
Here is good news for you! Now you can have a chance to get the free code ($99.95 value), just leave your comment and become a winner.