With the rapid progression of the Coronavirus pandemic, almost every field was affected. As the contagion does not seem to be leaving soon, many industries have already made remote work a new normal.
Like these industries, maintenance and managing facilities can also go remote. But with so many tasks that involve physical assistance, how would they do so?
The answer is easy – through CMMS software. If you are here to learn more about CMMS software, then stay upright. Here we will talk about the software and how it can help the managing facilities to get going in a post covid world.
What is CMMS Software?
A CMMS software, which also stands for Computerized Maintenance Management System, is an efficient and best preventive maintenance software that assists in asset management, tracking, measuring, optimization, and maintenance accordingly. It is one of the most helpful management facilities for the current situation in the world.
Apart from that, it has some really helpful features. For example, it is used to make, complete, and track the entire work orders, assets, parts, supplies management, and even maintenance reporting through distinct means. In the next section, we have mentioned some of its use for a definite idea.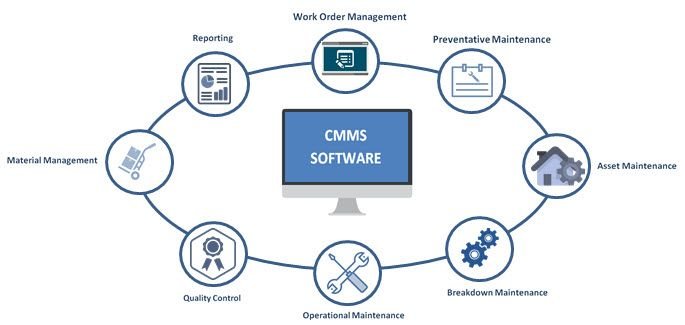 How Does CMMS Software help in maintenance and Managing Facilities?
As mentioned earlier, CMMS software is quite effective in managing everything from work orders to asset management. Here we have mentioned how it solely helps to do so.
Work Order Management
For work orders, the software does the following.
It helps in submitting, filtering, analyzing, assigning the work orders.
After that, it helps to schedule and trigger the maintenance.
It also provides all alerts with work orders and incorporates different entities like checklists, manuals, and noted within the work orders.
Management of Asset
Similarly, it is also useful software for asset management through the following means.
Creating asset hierarchies, profiles, etc.
Know the equipment use and performance.
Creating custom reports on costs, health, and other parameters of assets.
Parts and Supplies management
It also helps in buying, organizing, and using the parts and supplies through the following means.
It helps in assigning limited quantities and purchasing automatically.
And it also provides details for log vendors and any purchases.
It also assists in tracking costs, cycle counts, FIFO, etc.
Another important thing is that it helps in synchronizing inventory records with

ERP

.
Maintenance Reporting
The software is an efficient step towards maintaining reporting by the following means.
Creating audit and maintenance logs.
It also helps in creating reports related to maintenance reports.
Apart from that, it is also efficient in making dashboards to see KPI in the sites
What are the Benefits of Having a CMMS Software in Post Covid World?
2020 has been pretty unfortunate due to the global Coronavirus outbreak. With safety norms like social distancing and lockdown, people certainly have to manage almost everything remotely.
With that being said, the maintenance field is not retained either. But did you know that having CMMS software can be a helpful step towards maintaining a facility in the post COVID world? If you don't, then here we are going to mention some of the benefits of having the software during these distressing times.
Remote Monitoring of pieces of equipment
One of the primary benefits of having CMMS software is remote monitoring. As the imposed lockdown extends with passing times, it's becoming difficult for most of the maintenance facilities to open their offices.
Thus, it gets challenging for them to monitor the equipment and see which ones require fixing. With CMMS software, they can do so without being physically present on the site. It is designed profoundly to provide notifications in case any machine needs extra surveillance or maintenance.
Maintenance scheduled work order requests
Organizations have a management system where everything is arranged through computers or record books. With this contagion, it certainly became impossible for employees to comprehend maintenance schedules and understand work order requests. This resulted in delays in almost everything in the management system.
Thus, in such cases, CMMS software can help users and allow them to know such entities easily. Likewise, they can prioritize the work as per the requirement, and there will be no such instances of checking worksheets or record books for the same. As CMMS programs like cloud-based update the information instantly, every user will be able to access the latest data.
Alerts for Inventory
With CMMS software, one might never face any issues with the stock for maintenance as the software helps in knowing whether all the supplies for cleaning, repairing, and maintenance are present or not.
As soon as one order gets completed, the software eliminates all the used materials from the inventory list. Also, if there is any shortage of inventories, it notifies beforehand. With these features, the facility can stock up accordingly so that no problem occurs in the coming time.
Automatic Key Processes
As most of the work is happening remotely, people who are in higher positions might not provide approvals to the workers. Let's say if the equipment needs to be sanitized; the worker needs approval from managers or supervisors.
That is certainly challenging for the workers. In that case, the CMMS Program can help by setting up a system with all the work orders and their approval. It also has a feature where managers and supervisors get notified of any other work requests. So, with this software, the entire work gets executed easily without any problem.
Other Work
Apart from maintenance schedules, a facility might also need assistance to execute certain processes. For example, they might require proper sanitization and cleaning of the equipment so that it could be used safely without any issue.
In that case, CMMS predictive maintenance software can help by storing all the necessary instructions for executing different processes or work. Also, the employee or workers would have all the information to execute the work precisely. They won't face any issues with the same, even when the entire work is happening remotely.
Conclusion
Hopefully, you got an adequate idea regarding CMMS software and its role in managing and maintaining facilities accurately. It is helpful software that can help to ease the daily business processes. Apart from that, it can help to provide useful insights and ensure productivity and efficiency.