A cloud-based database solution can be delivered as a SaaS (Software-as-a-Service) application or simply hosted in the cloud on a virtual machine. All the data saved in the cloud database can be accessed by applications from any device connected to the network.
Database support services are becoming increasingly popular. They provide several benefits, such as improved innovation and agility, reduced risks, and cost-saving. Once a database cloud provider has been chosen, it is necessary to investigate how to maintain and monitor the cloud computing database.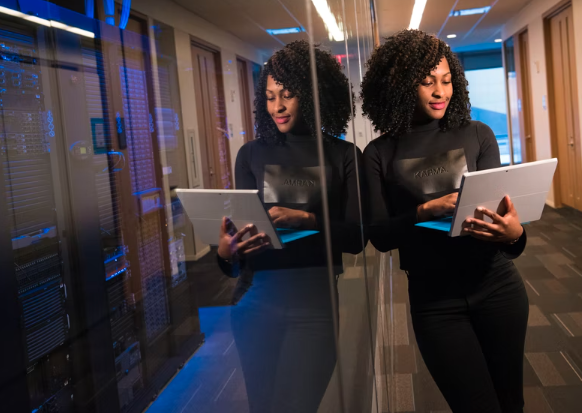 Why Should Businesses Use Cloud Database Solutions?
Cloud computing saves businesses time and money by increasing productivity, enhancing collaboration, and encouraging innovation. Leading firms reap considerable benefits from their cloud expenditures, including increased productivity and employee mobility.
Additionally, they can also time their investments to avoid significant up-front capital expenses and pay monthly as their business scales. It enables them to set up a virtual office, giving them the freedom to connect with stakeholders from anywhere.
Access to the data is becoming much easier with the expanding number of web-enabled devices utilized in today's work environment (e.g., smartphones, tablets).
Here are some advantages that cloud database support solutions can provide to businesses.
Cost Savings
One of the primary reasons why firms embrace cloud-based IT is cost. The cost of establishing and running a data center is very high, and businesses must buy the necessary equipment and engage technicians to set up and manage the center.
Rather than establishing a custom server, which might be prone to downtime, a cloud computing service maintains data without any drawbacks. Businesses that migrate to cloud computing only pay for the services. Prices for business-oriented cloud services remain a monthly expense, but it is a reasonable and predictable cost in many ways.
Quick Provisioning
Rapid or on-demand database provisioning is faster than the days or weeks it could take a physical database to process the same information. This shortens the time to market and leads to further cost savings.
Data Backup Is simple
Data loss can be catastrophic for a business at any time. Whether the loss is caused by natural disasters, power surges, or hardware failure, afflicted businesses are more likely to fail within the same year as the data loss.
While most businesses have data backups in some storage devices, it is beneficial to have additional contingencies in place. By storing vital data in the cloud, businesses can relax knowing that important files are safe even if hardware fails.
Extensibility
Cloud database support services are an apt alternative for enterprises that are constantly growing or have fluctuating bandwidth demands. Because of their nature, these internet-based services expand to the usage with little to no adjustment, allowing organizations to take on larger workloads.
When they require more storage space or features, they can purchase them, and the database consultants will update the package immediately.
Remote Programming Is Possible
Cloud computing enables users to access all types of files and programs as if they are present in the office. Cloud-based applications are more accessible than hardware-based programs since they allow employees to access data from anywhere and continue working on the go, even on mobile devices.
Database consultantsalso allow for increased team coordination by facilitating several groups to continually view and change the same data.
Simple to Implement
As the company's objectives and resources vary, implementing software on-premises can be time-consuming. The cloud database support implementations, on the other hand, are quick and can be implemented in minimal time.
This ease of installation is primarily due to the reduced coding requirements and the programs' simple scaling and tweaking capabilities. As a result, the team may begin utilizing the program and delivering value as soon as possible with the cloud software.
Security
The cloud provides significantly higher security than traditional data centers as it centrally stores business information and data. The majority of top database consultants include a variety of built-in security capabilities, such as security analytics, frequent updates, and cross-enterprise visibility.
Most cloud providers handle some of the most difficult security issues, like preventing unwanted traffic from accessing those machines where the business data and apps are stored. They also ensure that automatic security updates are applied to businesses' systems to keep them safe from the latest known security threats.
Integration
A company that uses the data center needs to refresh its infrastructure regularly to maintain and update the software and hardware. This is an expensive, time-consuming, and repetitive process that consumes significant time and resources. Instead, enterprises can now transfer apps to the cloud at the end of a hardware refresh cycle.
The database consultantshandle hardware and software updates, saving money and time while ensuring regular support to applications by the most up-to-date infrastructure. Cloud services and apps are continually being upgraded and developed to meet the demands of businesses and consumers.
Collaboration Effectiveness
Collaboration in the cloud environment enables businesses to communicate and share more easily than the traditional ways. If a company is working on a project, it might utilize cloud computing to enable employees, contractors, and third parties to access files remotely.
They could also choose a cloud computing model that allows businesses to exchange documents easily with advisers.
Final Words
In recent years, several organizations have incorporated cloud computing into their operations. Companies invest a lot of money creating and implementing software to make their operations run smoothly. Cloud computing allows them to obtain Software as a Service (SaaS) through the internet.
Thanks to cloud computing, several business tasks can now be handled more efficiently on a remote server than on the company's in-house infrastructure.