Thinking about taking your business online, where it can reach a wider audience? You are in the right place! Setting up an online business can be a complex thing to wrap your head around, especially if you are a one-man-army. But with the right steps, it can reap equally satisfying results.
Take Your Small Business Online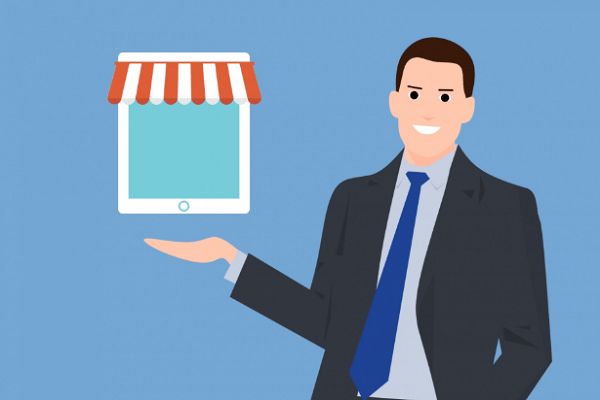 Keep in mind that an average adult spends about 20 hours per week with digital media! Imagine tapping into such a vast consumer base! In this article, we will quickly run through 5 steps to bring your business online.
Domain Registration
When trying to bring your business online, the first thing to do is register for a domain name. A domain name is the address where people can access your site. It is what comes after the www.
When choosing a domain name, you want to make sure that it signifies the idea of your business in a simple and concise manner. Ask yourself: What is the product we offer? Is the business geo-specific? If yes, which location do we serve? Which problem does our product solve?
Ideally, you want to create a domain name that reflects these qualities of your business.
The price of a domain name can typically be between $15 – $25.
However, Registration Sites like GoDaddy offer a range of offers and bundle plans at a much lower cost. In fact, you can also access their Economy Plan (Domain Name+ Hosting Services) for just Rs.329 using GrabOn discounts.
Other Domain Name Registrars include.
NameCheap.
OnlyDomains.
Registry.
BigRock.
Web Hosting Service
Once you have a domain name in place, you need a Web Hosting service. A Web Hosting Service Provider enables your website to be viewed on the internet.
Your Hosting provider will not only provide you with a Website, but also with Website Building tools that will enable you to customize your website. Other things you can expect from your hosting provider include: FTP Access, E-mail Accounts, and Databases.
Some of the best Hosting Providers include.
Hostinger.
GoDaddy.
AWS Web Hosting.
HostGator.
Can't decide which to choose? Check out a list of things to keep in mind while choosing your Hosting Provider.
Designing Your Website
Most of the hosting providers will let you customize your website, so that it fits best with your business narrative. While designing your website, you want to put an effort into choosing the right colors, icons, and fonts for your business.
Colors
Should you go for colors that pop? Or should you stick to more subtle tones? Think about which emotion you want people to feel when they land on your website. Do you want them to feel excited? calmed? alerted? Go for colors that will arouse that emotion.
Whitespace
It goes the same way with whitespace. The gap between elements on your webpage can either alert people, or put them in a more relaxed state. Think about how much gap you want to ideally maintain between all the elements.
Fonts
Check out all kinds of fonts out there, before you start designing. For free and easily downloadable fonts, check out:
DaFont.
Font Squirrel.
Lost Type.
Use & Modify.
The League of Moveable Type.
Icons
Remember, you want to make it easier for visitors to browse through your website. For this purpose, it always helps to use standard icons. While fancy icons can be fun and catchy, they can occupy most of the visitors' attention, leaving very little for your actual content.
Here are some of the websites you can check for high-quality icons.
Material Icons.
Font Awesome.
Flaticon.
Icons8.
Noun Project.
Adding Images
There is no debate on whether or not you need images on your website. You do. But you might not always have the option of adding original images. You may not be able to invest in photography, or the service you provide may not be capturable on camera.
In such cases, you can tap into the ocean of images on the internet. Some of highest-quality stock images can be accessed for free on.
Pexels.
Unsplash.
Pixabay.
ISO Republic.
StockSnap.
Integrating E-commerce
Websites are cool. But selling from a website is feasible only if you have a couple of products, and your customers are okay with ordering them via e-mail or phone.
A better option is to set up an Online Store on your website. You will need to set up a shopping cart, a secure payment gateway, and so much more!
But don't get overwhelmed. There are E-Commerce Platforms, designed for problems just like this! They will help you not only in setting up a complete online store, but also in integrating it with social media platforms.
Additionally, you will be able to sell on Online Marketplaces such as Amazon and eBay, and keep track of your inventory across all the sales channels.
Some of the most popular E-Commerce Platforms are.
Shopify.
BigCommerce.
Squarespace.
Wix.
To know the pros and cons of each of these E-Commerce Platforms, and make an informed decision, check The 10 Best Shopify Alternatives.
Now your business is good to go! It has a unique digital space, and connects with customers across different parts of the world. Go ahead- Create, Market, and Sell!
About the author.
Jagruti Jaiswal is a writer of content, destroyer of ellipses, and religious propagator of oxford commas. Her guilty pleasures include exclamations, emojis, and movies of Timothee Chalamet.