If you haven't figured out by now that the Internet is a highly competitive market, in which you can easily get lost, then you must be an alien or something. I mean, living and running a business in 2020 is practically impossible without the virtual world.
Choosing A Web Design Company In Vancouver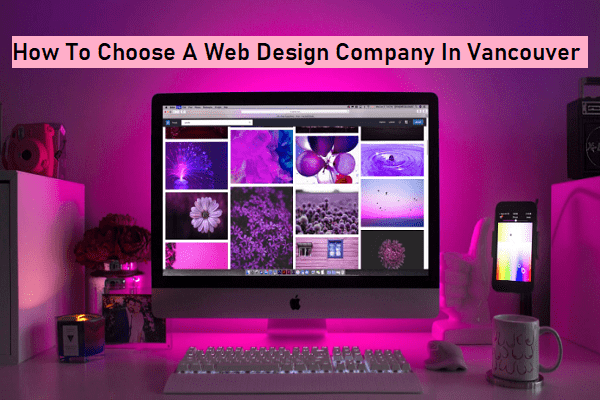 Online marketing allows you to achieve a perfect blend between the real and the virtual. And, I don't mean to impose anything, but you should definitely start using this concept to your advantage.
Learn about the principles of online marketing here: The Three Fundamental Principles Of Online Marketing.
1] Importance Of Websites
If you are at all familiar with the above concept, then you know that getting a website is one of the most significant steps towards increasing your online presence. Sure, it is not the only part, but, let us call a spade a spade here.
What it is that you can possibly do without your own website? If you don't think you need it, then how about you close down your brick and mortar company and try doing business that way?
I am guessing that you don't like that idea very much, do you? Your firm is located somewhere in Vancouver for a reason. People can see it, come inside and exchange their money for your goods and services.
In other words, it is a physical representation, or the "real-world" proof of your very existence. To be even more straightforward, this is your off-line presence.
So, apply the same logic to the online world and you will quickly see the connection. A website is your online proof of existence.
It's where people come to check you out and eventually exchange their money for your goods and services. Do you notice any kind of a similarity here? You must have – unless you are flicking through and not actually reading.
If that's the case, I really advise you to start reading more carefully. Because, I'm just getting to the best part. And do you know what the best part is?
People could be literally anywhere in the world and still be aware of the existence of your company. Your business becomes available to everyone, and not only the people of Vancouver. Read this useful article.
I suppose that you are now aware of the importance of having a website for your company. Consequently, you are aware of the importance of web design.
Great web design services are responsible for increasing your online presence, for allowing consumers to reach you easily and, of course, for building your brand. Thus, the trick is to find those "great services".
2] The Process Of Choosing
After deciding to finally take that step and get yourself a website, you need to choose the right firm to provide you with this service.
Of course, there is also the possibility that you already have a site and a design firm, but you aren't happy with either of those. In any of those cases, it's time to do some searching and find the best choice. After all, I am sure that you want the best for your business.
This process might be a bit tricky, especially for someone who is not well-versed in the whole concept of web design and online marketing in general.
There are so many firms offering these services that you might find yourself rather confused. But, there is no room for panic here. Even if you don't know much, you will still be able to conduct a successful search and make a successful hire. All you have to do is follow a few simple steps.
3] Figure Out What You Need
Even though you might not be an expert on the topic, leaving it all up to a prospective firm generally isn't a good idea. This shouldn't surprise you, since it is only natural that you are the one who knows best what it is exactly that you need.
Therefore, your first step should be to figure out those needs and put them on paper. Of course, you cannot possibly know all the features that your website can encompass until you talk to the expert, but you can definitely know the basics.
Identifying your needs makes the process much easier. When you contact a specific firm, such as IIAS Vancouver website design for example, you can convey all those requirements and ideas to the team and give them a better idea about what it is that they should create for you.
So, it wouldn't hurt to check out a few similar sites on the Internet and take notes about what you like, before contacting any service provider.
4] Determine The Budget
Unsurprisingly, the next step is to determine how much money you are ready to spend on these services. Naturally, your budget is definitely limited to a certain amount and you might be tempted to find a way and stretch a dollar.
However, I don't think it is a good idea to use the cheapest service, because it will probably not be so good.
Remember, set a specific budget, but don't be afraid to go a bit over it if necessary. The one thing you should never compromise is quality.
Find a good balance between the quality and the cost. That's the only way to stay satisfied both money-wise and website-wise. Don't take my word for it, but I believe that's the whole point, isn't it?
5] Check Out Their Previous Work
When you are looking to hire someone for playing such an important role in the overall success of your business, you do want to know if they have done that before. If they haven't, then you might as well hire that cousin who knows a little something about computers.
Okay, I might be exaggerating a bit here, since you have probably searched for reputable companies from the very beginning.
Speaking of reputable, you should definitely check that out for yourself. Take a look at some of the previous websites they have built. Portfolio is of great importance.
If what you see doesn't appeal to you, then keep on searching. But, if you like their work, feel free to talk shop in more detail and finally hire your web design firm.
You might like.