Do your sales teams and marketing teams get along? What about the finance department? Do they have issues with departments in your organisation because they don't want to spend money?
Is there a disconnect with those out face-to-face with customers and those sitting in the office behind a laptop? Tried team building events but it didn't help? These issues are common and it's due to a lack of centralized communication and an understanding of what crutial role each department plays in an organisation.
When data is captured across every channel possible in an organisation and that data is taken and reported on in a meaningful way, everyone benefits and the company can make better decisions for growth. There is greater transparency that allows the marketing department to introduce strategies that support the sales team better.
The bookkeepers and accountants can see the logic in investing in sales and marketing strategies. The office-dwellers can have greater awareness of the work done by the front-line and everyone wins.
When there is a misunderstanding, division and a lack of appreciation across departments, gaps in understanding appear and that's what causes the greatest leaks in your retail sales. The secret is in the data and making that data meaningful for your organisation so better decisions are made.
The goal in sales is pretty simple; converting as many prospects into customers as possible and then keeping them coming back as repeat customers.
To get to this end goal you need centralized information so you can create a consistent customer experience, engage all of your employees better so they are all singing from the same hymn book, and you need advanced reporting so that better decisions can be made. You've got to understand your customers are real humans with personal preferences and interests.
What makes them tick? What type of products most appeal to your target market? And What makes them want to buy now? Having a centralized POS system so all sales are captured, no matter where and how they are made, makes the data capturing process easy.
If your retail management systems are not optimized, you will miss opportunities. Maybe your marketing strategies are not hitting the mark because the data you could have gleaned from your POS was not reported on in a meaningful way. You need to measure the data in a better way so that you can make educated decisions for your sales and marketing system.
As a business, it is these statistics that matter most. For example, you can have thousands of visitors to your website or kiosk, but if you are failing to convert them into sales, you are failing to make a profit. Identifying leaks in your sales system and repairing the problem can be simple if you know where they are.
While you'd expect bootstrapped businesses to run sales and marketing in an ad-hoc manner, even large, mulit-location retailers could improve the way they use their data to optimize their sales system.
1] Identify your leaks by reviewing your sales system
The first step to fixing your leaking sales system is to identify the common steps customers make when coming to a buying decision. You're likely to have more than one avenue across your business so map out each pathway individually. For example, one avenue might run from your website's home page to your sales pages and then to individual products, through to the checkout page.
Another avenue could start with people walking in store, leading to checking out your products on offer. No matter what, a clear and consistent message should be communicated and backed up with a great buying experience right throught to the product being received, whether that be delivered or picked up.
2] Tracking and analysing data
Once you have your sales avenues mapped out, you need to start making sense of the data. If you don't have a fully integrated business management system that includes things like POS, CRM, HR, inventory management, accounting and marketing that all comes together with advanced reporting features, making sense of a mish-mash of information is going to be hard work.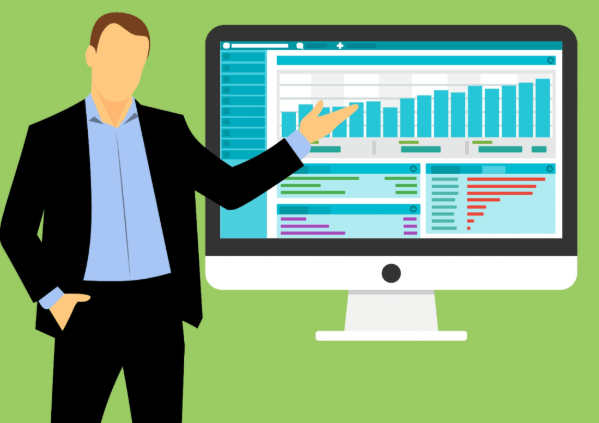 You can try to do this yourself using spreadsheets if you are a tiny business (solopreneur), however, when you are dealing with lots of data, you'll need a better system to manage it all. When you make the most of your data you can set up rules to streamline your business processes and produce the optimal result. For example, matching customers to accounts in your CRM can be a huge time saver and produce a far better outcome.
Every business has its own unique requirements and should set up rules to meet their own specific needs according to their goals and objectives. Once you have some data and systems in place to make the data meaningful, you can begin to identify where your sales system is leaking and work on ways to remedy the situation.
3] Dealing with leaks
It's great to identify that your sales system is leaking, but if you can't identify how to fix it, it's meaningless. Maybe you need to generate more demand, maybe your reporting tools are not giving you the insights you need, or maybe the sales team is letting you down.
There's always room for improvement across every part of your business. It's about working smarter, not harder. The key is to work on your low-hanging fruit first. What small tweaks can you make that may produce a far better outcome?
Good data will help you do this. Filter your data to show you key insights that can help clear up problems in your sales system.
Most retail businesses appreciate that a POS and Retail Management System is a must-have in business, however, it's the data and insights that they lack when working on their pipeline to revenue model. Wireless retail can be particularly challenging and that's where we can help!
Every business can benefit from improving their systems. By measuring key metrics you'll know where to invest your marketing budget to better align your sales and marketing processes.
By creating visibility in your processes, your marketing operations will be better positioned to report accurately and make decisions based on the insights the data shows.