Mahabharat is a historical television series aired in India based on the Hindu epic with the same name. This television series has a total of 94 episodes and it was originally run from the 2nd of October 1988 to the 24th of June, 1990 on the channel DD National.
B.R Chopra was the producer of the series and Ravi Chopra was the director who is also his son. Raj Kamal was the music composer and an Urdu poet, Rahi Masoon Raza, the Urdu poet wrote the script.
Mahabharat Serial 1988 Cast, Real Names and Details
This TV series was based on the story that is originally owned by Vyasa. Maganlal Dresswala was the official costume designer of the series.
60 minutes was the duration of each episode of Mahabharat and it started off with a title song that had 2 verses straight from the Bhagvad Gita and lyrical content. The title song was sung by the famous singer Mahendra Kapoor.
After the title song, it was followed by a verse on the personification of time by Harish Bhimani, the voice-artist belonging to India. This is touted to be the most popular Mahabharat series that has been ever produced on Indian television.
If you're locked down in India due to the Coronavirus pandemic crisis, you're lucky enough to be able to binge-watch this television series yet again on DD Bharati. Spend your lockdown days learning about the mythology of India.
1] Producing Mahabharat – Details
According to Kishore Malhotra, a member of the production team, 9 crore or $1.3 million is the total cost of producing Mahabharat. All the pivotal members, B.R Chopra, Ravi Chopra, Rahi Masoon Raza and Pandit Narendra Sharma together chose Nitish Bharadwaj to play the central character of Krishna.
He played the role when he was 25 years of age. Initially, this man was selected to play Vidur but later on B. R Chopra thought Bharadwaj to be too young for this character.
Firoz Khan was selected to play the role of Arjuna (which was later on accepted as his screen name) in spite of being rejected at the auditions time and again.
Mr. Praveen Kumar was chosen to play the role of Bhima as Chopra was desperately searching for someone who could give the robust look to the character.
The most surprising fact is that more than 6 actors were shortlisted for the character of Draupadi (including Juhi Chawla). Roopa Ganguly and Ramya Krishnan were the final actresses among which the former was chosen due to her adept skill in Hindi language.
2] Reception of the TV series
In an article in The Hindu, Lavanya Mohan wrote that the version made by B.R Chopra is undoubtedly the only one that has made a strong impact on her. Though it is true that the effects were comical and the sets pretty gaudy, yet the writing of the story had been done in such a manner that the series seemed way ahead of its time.
Just as the impact of Ramayan, in case of Mahabharat too, the streets became empty and people used to return from work earlier in order to watch the episodes.
When it was retelecast, it soon bagged the prize of the second-most watched TV series after Ramayan. Within the 13th week, it gained 145.9 million viewers over both the evening and morning slots on the channel DD Bharati.
3] Broadcast timing of Mahabharat
Mahabharat was shown in the UK by the BBC and very soon it gained around 5.1 million audiences. This is even the first programme that was ever broadcast on BBC2 after it was re-telecast in 1991. It is rather surprising that it was also shown on FBC TV in Fiji and also in Star Utsav.
Moreover, the dubbed versions were all aired in Malayalam, Telugu, and Tamil and in Indonesia. Due to demand from public and the Coronavirus pandemic lockdown in the country, it is now being telecast on DD National and DD Bharati from 28th March, 2020.
Is it available on Home Media?
Yes, Mahabharat was uploaded on the website named Rajshri.com with the dubbed Tamil version. Moreover, there is another Bengali-dubbed version that has been released by Heart Video and this is a perfect watch for Bengali-speaking viewers.
4] Mahabharat Cast, Crew and Characters
| Real Name | Role Name |
| --- | --- |
| Nitish Bharadwaj | Bhagwan Shri Krishna |
| Roopa Ganguly | Draupadi |
| Puneet Issar | Duryodhan |
| Mukesh Khanna | Bheeshma |
| Gajendra Chouhan | Yudhishter |
| Pankaj Dheer | Karna |
| Praveen Kumar | Bheem |
| Surendra Pal | Dronacharya |
| Gufi Paintlal | Shakuni |
| Arjun | Arjun |
| Kiran Juneja | Ganga |
| Raj Babbar | King Bharat |
| Girija Shankar | Dhritrashtra |
| Renuka Israni | Gandhari, Dhritarashtra's wife |
| Daara Singh | Hanuman |
| Harish Bhimani | Samay |
| Gufi Paintal | Shakuni |
| Praveen Kumar | Bheem |
| Surendra Pal | Dronacharya |
| Nazneen | Kunti |
| Virendra Razdan | Vidur |
| Vinod Kapoor | Dushashan |
| Sameer Chitre | Nakul |
| Sanjeev Chitre | Sahadev |
| Pradeep Singh Rawat | Ashwatthama |
| Tarakesh Chauhan | Pandu |
| Debashree Roy | Satyavati |
| Rishabh Shukla | Shantanu |
| Dharmesh Tiwari | Kripacharya |
| Pradeep Sharma | Drupad |
| Aloka Mukerjee | Subhadra |
| Arun Bakshi | Dhrishtadyumna |
| Sagar Salunke | Balram |
| Mayur Verma | Abhimanyu |
| Roma Manik | Madri |
| Paintal | Shikhandi |
| Varsha Usgaonkar | Uttara |
| Kapil Kumar | Shalya |
| Rajesh Vivek | Ved Vyas |
| Channa Ruparel | Rukmini |
| Parijat | Radha |
| Goga Kapoor | Kans |
| Sheela Sharma | Devaki |
| Sudesh Berry | Vichitravirya |
| Jahnavi | Amba |
| Manju Vyas | Yashoda |
| Rasik Dave | Nand |
| Meena Chakraborty | Ambika |
| Menaka Babbar | Ambalika |
| Lalit Tiwari | Sanjay |
| Razak Khan | Ghatotkach |
| Rana Jung Bahadur | Jarasandh |
| Deep Dhillon | Jayadratha |
| Ashok Sharma | King Virat |
| Samir Rajda | Uttar |
| Pawan Shukla | Shalv Kumar |
| Karunakar Pathak | Shishupala |
| Vikash Prasad | Eklavya |
| Daboo Malik | Young Bhishma |
| Dinesh Anand | Vikarna |
| Vishnu Sharma | Vasudev |
| Sharat Saxena | Kichak |
| Satish Kaul | Indra |
| Shavinder Mahal | Lord Shiva |
| Razzak Khan | Ghatokach |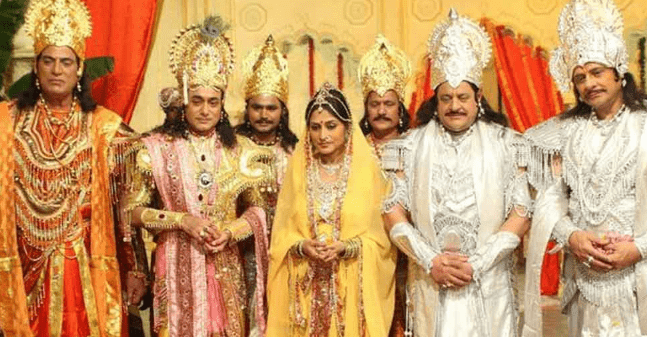 Channel: Doordarshan
Genre: Historical
Created by: B. R. Chopra
Based on: Mahabharata, Vishnu Purana.
Written by: Pandit Narendra Sharma, Dr. Rahi Masoom Raza.
Screenplay by: Dr. Rahi Masoom Raza.
Directed by: B. R. Chopra, Ravi Chopra.
Creative director: Yashwant Mahilwar.
Starring: Nitish Bharadwaj, Mukesh Khanna, Gajendra Chauhan, Praveen Kumar, Arjun, Nazneen, Puneet Issar, Pankaj Dheer, Roopa Ganguly.
Composer: Rajkamal
Narrated by: Harish Bhimani
Country of origin: India.
Original language: Hindi
No. of seasons: 1
No. of episodes: 94
Executive producer: D.H. Vengurlekar
Producer: B. R. Chopra
Cinematography: Dharam Chopra
Editors: Shailendra Doke, Bhirpal Singh.
Running time: 60 minutes.
Production company: B R Films
Original network: DD National
Picture format: 576i
Original release: 2 October 1988 – 24 June 1990.
Followed by: Mahabharat Katha.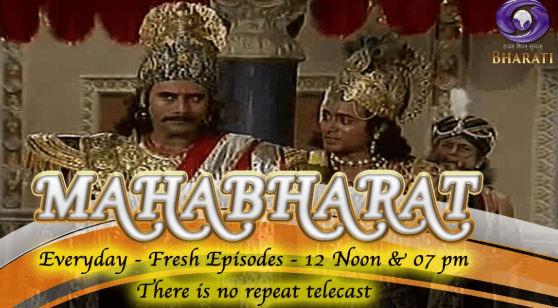 5] 31 years of Mahabharat – Few interesting facts
In terms of popularity, Mahabharat is touted to be the gold-standard as it left a massive impact on an entire generation. As per the Guardian report, Mahabharat TV series lured the attention of more than 5 million viewers on a single Saturday afternoon on BBC2. Here are few interesting facts on this TV series.
R Chopra always looked forward to having a narrator with a great voice for Mahabharat and he had meanwhile considered legends like NT Rama Rao and Dilip Kumar who could play the role.
Satish Bhatnagar, along with his entire team, did all the research that was required for educating oneself on the Mahabharat TV series. He ended up perusing through all sorts of books that were available on this epic.
Rahi Masoon Reza mentioned that he took on the challenge of writing this story as he was confident about connecting the past of India to the present.
It was in 1986 that the entire team of B.R Chopra submitted the final draft of the story of Mahabharat TV series to Doordarshan and then they included 104 episodes. This was later edited and cut to 94 episodes.
It was Ravi Chopra who nurtured this project with his father Mr. B.R Chopra. Dr. Reza complimented that he did a better job than his supremely talented father.
More than 15,000 people applied for various kinds of roles in this TV series. Later on the casting team shortlisted 1500 of them for screen tests.
Apart from Raj Babbar who played the character of King Bharat and Debashree Roy who played the character of Satyawati, all the other characters were newcomers.
So, now that you have all your time to watch such web series, why not start binge-watching this popular TV series all over again to brush up your mythological knowledge?
You may like.