Digital Marketing is a great area that helps you to monetize your content/ pages on the internet. Traffic to your website/ web pages is made better if the marketing for your pages reach the people in the most appropriate way possible. The most optimal and far by the best way is to market your content through native advertisements that will lead the viewers / readers direct on to your page.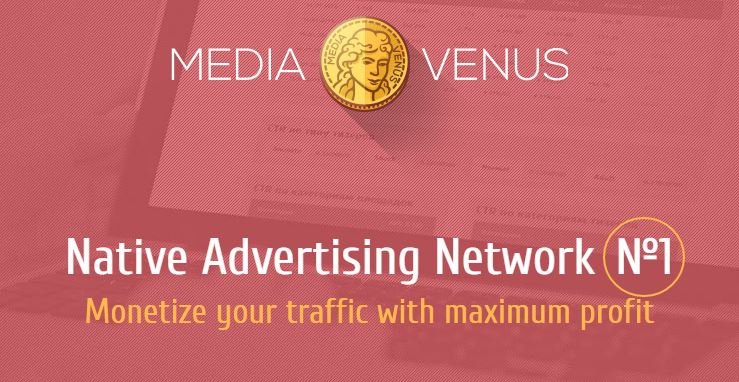 MediaVenus is a prime Native Advertising Network that has been aiding a lot of websites, blogging sites and content pages to monetize and benefit through the traffic that it generates through the native advertisements.
MediaVenus – Who they are?
A Native Advertising Network, MediaVenus has been in the digital marketing space since 2014. They are involved in high quality online advertising that is easily pluggable into a website so as to enrich customer experience as against forcing them to abandon their online visit to the page.
How does MediaVenus promote your content?
MediaVenus promotes your content through simple ways. Here are the possible initiatives-
Proper research on all of the prime sources of traffic, several websites, is conducted by the moderating team of MediaVenus.
As part of this research, all new ads and campaigns are also assessed by MediaVenus across various geographies and distinctive/ unique domains such as Beauty & Health, Electronics, Online Jobs / Earnings, Dating, etc.
Native Advertising widgets will be added on several of the popular websites. Each widget can be displayed of a wider area by choosing the width/ dimension of your choice and is displayed on the bottom of the screen. The pop up ads appear at the center of the page if chosen to be added.
Popular websites, that may be big publishing houses or media agencies and that generally have a lot of traffic are chosen by MediaVenus and hence is a certain source of monetizing the crowd visiting the advertisements.
MediaVenus works with the Real-Time-Bidding system for your advertising needs and hence the chances of your content being promoted for highly visited sites is quite high.
If you are seeking assistance to create your first advertisement or campaign, then MediaVenus aids you in the best way possible. They help you with a step-by-step assistance.
Your blog or webpage can load faster with the state of art technology implementations such as minified JS / CSS.
Webmasters seek the assistance of MediaVenus as content is approved faster compared to other advertising networks.
MediaVenus isn't just limited to Native Advertisements, you can choose to have banner ads on your landing pages or advertise through banner ads.
Benefits through MediaVenus' Advertising
There are quite a many benefits of choosing MediaVenus for your advertising needs. The comprehensive list below is sure to convince you of the benefits you will reap by native advertising through MediaVenus.
The wide network of business contacts and the domain experience of MediaVenus gives maximum benefits to publishers and advertisers.
Every advertiser/ publisher is handled through a personal manager who will attend to your advertising needs and you will receive the best guidance in the industry.
Do not worry on the language to communicate with MediaVenus – they offer multilingual support.
MediaVenus' CPC/ CPM rates are quite competitive in the market – a bright financial benefit that lets you choose them for your Native Advertisements.
If you are a publisher with a good network of people of similar interest of content publishing, then MediaVenus Advertising Network has a referral program. Through referrals, you get to earn a passive income of approximately 5% of your referrals earnings.
MediaVenus works with several payment modes such as PayPal, WebMoney, Paxum and Wire Transfer. There are no further commissions or charges that will be levied for the credits into your account.
MediaVenus Advertising is a great tool for monetization for most advertisers and publishers.
As a publisher, utilize your skills to choose the right advertisement that should go into your webpage so that the visitor who lands on to your site is able to correlate to what is being displayed.
Through MediaVenus, you can track the behavior of the visitors on all of your landing pages. Track your earnings through the My Account portion of MediaVenus. Just sign up and monetize your traffic!