Chocolates are not only a treat for our taste buds but are also known to help fight anxiety and depression. These delicious sweet treats are loved by one and all. Many brands in India offer mouth-watering chocolates.
Most Loved Chocolate Brands In India
In order to stay ahead of their competition, these brands keep coming up with unique chocolate flavours and shapes every now and then. So, there is a huge variety available in the market when it comes to chocolates.
Here is a look at some of the most popular chocolate brands in India.
Amul
Amul is India's very own brand. It was founded back in the year 1946 in the business hub of the country – Gujarat. Gujarati's are known to be ace businessmen and this brand is the biggest proof of the same.
Amul produces high quality milk and milk products including butter, ghee, cheese and chocolates to name a few. Its chocolates are lip smacking. Some of the popular chocolates produced by this brand include Amul Mystic Mocha and Amul Fruit n Nut.
Amul is not only selling chocolates successfully in the country but also exporting the same to around 200 countries across the world.
Cadbury
Cadbury brand was founded in the United Kingdom back in the year 1824. It made its way to India in the late 1950s and became an instant hit among the chocolate lovers. The brand has launched numerous types of chocolates in different price range. Dairy Milk is among the most popular chocolates this brand has ever offered.
Other popular chocolates by Cadbury include 5 Star, Nutties, Eclairs, Silk and Perk. All these are milk chocolates. The company also offers a range of dark chocolates that are equally delicious.
Nestle
This is a brand that finds its roots in Switzerland. It is one of the earliest chocolate brands to have entered the Indian market. It has been selling scrumptious chocolates in our country since 1860s. Nestle is known for manufacturing and selling several food products and chocolates are one of them.
Several types of milk and dark chocolate are available from this brand. Nestle chocolates are not only known for their delicious taste but also for their reasonable price. KitKat, Milky Bar, Munch and Bar-One are some of the most loved chocolates by Nestle.
Campco
This is a famous Indian brand that is known for producing delicious chocolates. It also deals in other products such as rubber, pepper arecanut and cocoa and has emerged as one of the largest producers of these products.
It's chocolates are readily available throughout the country. These are good in taste and reasonably priced. These factors have contributed to the popularity of the brand.
Hershey's
Hershey's is an American company that came into being in the year, 1894. The company is known to be one of the largest chocolate manufacturers in the world. Hershey's has successfully established itself in the Indian market.
It is known for producing delicious milk as well as dark chocolates. Some of the popular chocolates made available by this brand include Hershey's Kisses and Brookside. The main ingredient in their chocolates is cocoa that renders a unique taste.
Mars
Mars was established in 1911 in United States. The company is known to manufacture around 25 types of chocolates available in different price range. It also produces several other food products.
All its products are high in quality. Its chocolates are particularly loved by kids and adults alike. It has been selling chocolates in India since quite a few years. Its chocolates are gradually gaining popularity in our country. Snickers is one of the most popular chocolates by this brand.
Ghirardelli Chocolate Company
The company finds its roots in San Francisco. It has slowly become one of the most loved chocolate brands worldwide. It has successfully made its place in the Indian market too. Ghirardelli is known for producing delicious premium chocolates.
The company takes care of every single detail when it comes to chocolate production in order to provide the best quality product to its customers. Some of their popular chocolates include their Intense Dark chocolate and Prestige chocolate bars.
Picari Chocolate
This chocolate company was established in the year 2002. The brand originated in Quito, Ecuador. It is the first ever brand to have become certified biodynamic chocolate company. It is known for producing some of the most scrumptious chocolates worldwide.
The brand makes use of the best quality organic cacao to come up with its exotic range of chocolates. The brand is successfully selling chocolates in India since years.
Ferrero
None of the chocolate brands can beat the taste of the chocolates made available by this foreign brand. Ferrero was founded in the year 1946 in Italy. It has been selling chocolates successfully in India as well as several other countries worldwide. It has been rated as the world's third largest chocolate brand.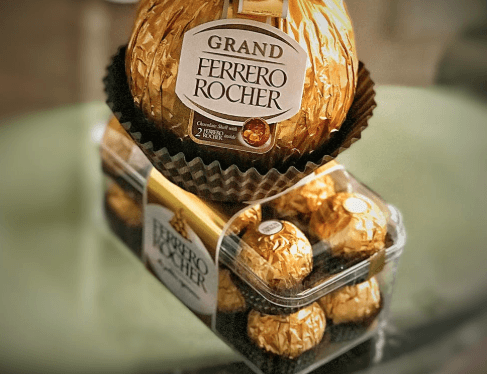 The most famous chocolate by this brand is Ferrero Rocher that just melts into the mouth and leaves you craving for more. Another popular chocolate product made available by the company is Kinder Joy.
Godiva
The brand came into being back in the 1940s in Belgium. It was started by the Daps family in Belgium who strived to produce high quality premium chocolates. Their chocolates were extremely delicious and soon became popular not only in the country but across the globe.
Chocolates by Godiva are available in India too. It is one of the best brands selling chocolates in the country. However, you wouldn't find them easily. Since the chocolates are quite expensive, you will find these only in high end shops.