Historically, India is called the land of spices. Since ancient times, traders from several countries have come to India to purchase all sorts of exotic spices. This tradition still remains intact till date. India is still the biggest producer of spices and exports them to every corner of the world.
Top Garam Masala Brands In India To Spicy Up Your Life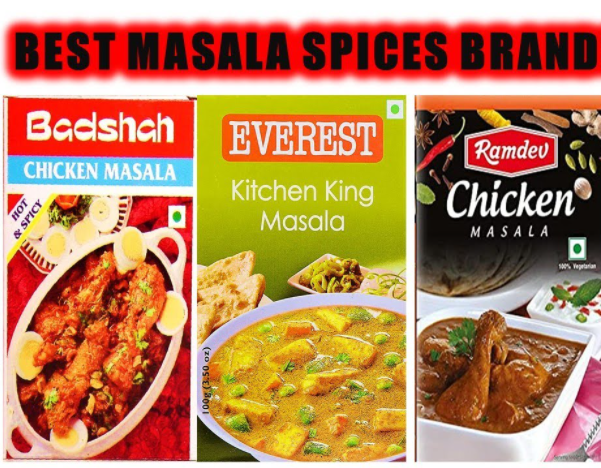 In fact, India is the largest producer, exporter and consumer of spices in the whole world. In the financial year 2019-2020, India exported around 11 lakh tones of spices, that were valued at more than INR 19,000 crores which is around $2.8 billion. By the end of 2020, this number has reached $3 billion.
The biggest importing countries of spices from India have doubled the sizes of their orders due to increased demand. The spices of India always have a reputation of boosting the immunity power of your body and this is why the demand of these products have rise.
The Spices Board of India predicts that the export numbers would cross $5 billion by 2025 and $10 billion by 2030. Let's check out the names of the best spice brands of India.
Everest Spices
This is deemed to be the biggest spice manufacturer of India. Everest Spices is also a happy recipient of FMCG Consumer Reaction Award.
They are a company that produces a wide array of spices (near about 45 varieties) and they have become synonymous with 'spices' in India. They have their largest spice factory at Umbergaon, Gujarat. This company is available in 60 countries of the world.
MDH Spices
MDH spices is yet another leading spice manufacturer of the world, with 62 types of products and 150 packages.
They get their raw materials from the best gardens of India and the world and utilize latest technology to produce and manufacture the exquisite ground blended spices and single spices. This is a 93 year old company and their products are available in all continents of the world.
Badshah Masala
For more than 6 decades, Badshah Masala has remained at the forefront as long as Indian spice producers are concerned. They make sure they deliver the best quality control and offer the best spices to consumers.
There are many kitchens both nationally and internationally that are all working to improve the taste of food that are prepared with the help of Badshah Masala.
Catch
Quality and purity are both synonymous with all the products that you get from Catch. Catch Masala is a part of the well known Dharampal Satyapal Group and they take enough pride in offering you the top-level spices to the kitchens of India for more than 3 long decades.
Their Catch spice masala products are rich in freshness and aroma and can improve the taste of any dish that is being cooked. Their packaging and production follows the latest technology.
Ramdev
Ramdev Masala was introduced in the year 1965 and since then they have aimed to enter the hearts of consumers through their taste buds. There is no doubt that the company has totally been successful.
Ramdev has made sure their spices are present in millions of homes across the globe and they have an aim of taking their spices to a whole new level.
Rajesh Spices
Rajesh Spices have been established in the year 1997 and it is a UP-based company that manufactures a wide array of both basic and formulated spices that have already become a part of several Indian kitchens. They are armed with the latest infrastructure for packaging their products.
Patanjali Masala
Yoga Guru, Baba Ramdev, began his business Patanjali many years back. Patanjali has a wide variety of products, including spices. They are also one of the biggest manufacturers of spices that can easily be used in cooking any type of dish that you want. You'll find their products in all the corners of the country.
Priya Masala
Priya Foods is a part of the multi-billion dollar Ramoji Group but they are not based in Hyderabad. It was for the last 38 years, has been manufacturing Indian spices and supplying them to countless Indian kitchens. Their spices are manufactured with the latest technology and their products pass several quality control tests.
MTR Foods
MTR started off in 1924 and almost a century later, MTR Foods has set its footprints even abroad. With a wide range of food items, it also manufactures different spices for all types of cuisine. They have the best chilli, turmeric, cumin and coriander powders.
Pushp Masale
Pushp is another endearing spice brand that is used in numerous Indian kitchens for a long time now. The customers have started associating it with reliability and quality. The products have stuck to the taste of conventional home-ground spices that are devoid of tastes and colors.
Goldiee Group
With more than 1000 distributors covering more than 3, 50,000 retail outlets. Goldiee Group makes sure that their premium quality spices are available at every corner of India. They produce a variety of blended spices that are used in regular dishes.
Golden Masala
Since 1967, Golden Masala has been instrumental in manufacturing some of the best quality spices that have already made numerous Indian cooks create few of the highly tasty dishes everyday. This is an ISO 9001:2008 certified company that puts in all the effort to make sure they give you the best quality spices for customers.
Cookme
The history of this company dates back to 170 years. They began as a humble company in Kolkata but later spread their wings. Cookme has been an integral part of several Indian kitchens.
Attitude Spices
Attitude Spices offer a wide range of products like spices, pickles, asafoetida, papads and spices. They are also one of the best manufacturers of Macaroni, Pasta, pickle, blended masala and sauces.
Nilon's
This company was established in 1962 by Shri Suresh B. Sanghavi. Nilon's became one of the biggest maker of simmered vermicelli, pickles and tooty fruity.
Nilon's happens to be the fastest developing company of spices in India and hence it occupies a well-deserving place in our list of the best masala brands of India. They have an experience of 50 years in this industry.