Toronto has been recently adding up feathers to its cap one after the other with its development and advancement across various fields. With becoming a focal hub in the modern setup of 2019, this global juncture has forged leaps and bounds with its growing dominance in pop culture, medical grounds, and education & research.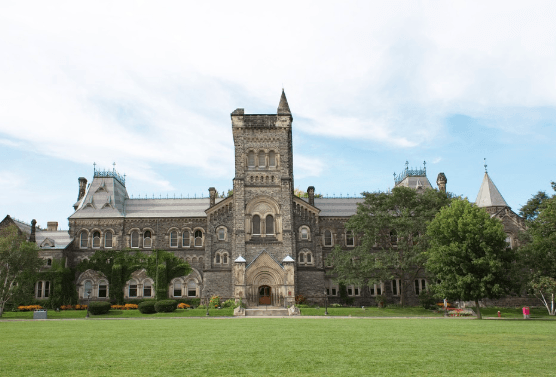 As per the recent circular issued by the U.S. News & World Report, the 2020 version depicts the promotion of the University of Toronto to the 18th position amongst the Best Global Universities with its achievements over academic research and influence.
The rankings have been analyzed among universities from 81 different countries on the basis of 13 indicators focussing on the global & local presence along with educational growth and performance.
With the ever-growing city being tipped to be at 15th position in terms of its hospitals and medical facilities, the U of T, globally, ranks 4th for Clinical Medicine and 6th for Arts & Humanities.
A combined score of 83.1, globally, is only going to benefit the University to shred its outreach to more number of international aspirants seeking options for their study from Foreign Universities.
Being the only University from Canada to feature in the list among the top 20, University of Toronto is ranked 1 in the entire nation with its only other fellow University of British Columbia to be featured among the top 50 in the list of Global Rankings, the latter sitting at number 30 in the dropdown.
A Graduate Program that helps to Give Back
An undergrad in biomedical communications, Alexander Young, quotes that the skill-set that he has acquired over the tenure of his course will not only benefit him of kickstarting his wonderful career but also help him to make useful contributions back towards his community.
Young features his presence with his work being recognized by the likes of 'Scientific American' magazine cover and his contributions toward animation and 3D modeling projects.
The city of Toronto and its neighborhood has constantly been ranked as one of the most dynamic and distinct urban hubs in North America. As a result, it attracts tons of great community events, businesses, restaurants, and entertainment centers.
This fact makes it such a nice place to stay and learn, especially for students coming from different cities or even countries. The warmth and gaiety with which you are welcomed often lets you feel just like home, in spite of the fact that you might being thousands of miles away from your hometown.
Home away from Home
An International Scholarship from Lester B. Pearson brought a lad from the northern border city of Amritsar to the U of T. Akshit Goyal, who is also a TEDxUofT volunteer who was initially as skeptical as a normal aspiring student from a different country with the thought of a foreign nation, its people and the University as a whole.
But with his first step, he claimed to feel just like home with his bunch of friends from the institute welcoming him just as someone among their own. Studying computer science with the prestigious scholarship, Akshit gets to do some research along with his professors who are always motivating and seeking to bring out the best out of every individual.
Similarly, Avani Singh who left her home in Jaipur with an unknown world of possibilities to attend her studies from the University of Toronto was filled with fear of the huge campus of U of T.
But she recollects, the moment she stepped in, she was a part of Step Up – the international transition program and met with her kind of gang that she was hoping to who all maintain more than a cordial relationship amongst each other, till date.
Specializing in management, Avani chose the Rotman Commerce Center hugely owing to its presence as one of the most recognized business programs in the entirety of North America.
A Study Program that imbibes Responsibility
Suleyman Demi, who is going to receive a Ph.D. in social justice from the Ontario Institute for Studies in Education, came to the University of Toronto keeping his home country – Ghana – close to his heart and mind.
His studies mainly circled around the impact of local farming on the future of the environment and food and the overall pattern of how the country fits itself into the duties and roles of its communities.
Demi is surely going to miss the kind of support system he has been receiving from his faculty over the course of his stay and is hugely grateful that this University has made him into an individual who thinks, can make a difference amongst the people back in Ghana.
The University has also tied up with the Toronto City Council to urge the federal government to contribute $300 million every year to counter the issue of Toronto's average mental health and addiction crises. With its development in certain sectors of education, the University is now expected to work closely and unitedly to fight serious issues prevailing amongst its citizens.
Canada is a wonderful and welcoming country that will definitely make you into a better and responsible individual. Even if you choose to pursue your studies from a foreign University like that of Toronto, it may feel scary, vast and a step into an unknown land, but it will feel like home after a while.
Other schools featuring in the list hail mainly from the United States and some from the UK and Europe with Harvard University retaining its No. 1 position, succeded by Massachusetts Institute of Technology at No. 2, Stanford University at 3, and the University of California-Berkley sitting at No. 4. The only institute to feature among the Top 5 is hailing from the UK with the hands of the University of Oxford.