Australia is a land of gorgeous nature and beautiful sunsets! The stunning country is simply too enormous to cover in one trip. After all, it is much bigger than all the European countries.
As a first-timer, you would feel as if flying to the other end of the world. Just book emirates air ticket to your favorite city in Australia and explore your top bucket-list destinations within the country.
Expert travel agents state that Australia has become the ultimate international destination for travelers. Tourism Australia reports that there are record visitors arriving even year to Australia, and the numbers are up from the previous year. Most of them prefer to book Singapore airlines ticket online because of the convenient connections and great deals.
A starter kit for the beginners who are all set to experience Australia.
1] Ask some questions
If you want to prepare an exciting travel plan for Australia, you need to ask some questions to yourself. Ask yourself as you why you want to go, how much time you can afford and what you would like to see. After all, Australia is huge, and if you do not plan well, you will end up wasting a lot more of your precious holiday time.
2] The right time to go
Well, you can travel to Australia anytime, as long as you are going to the spots in the right season. Just do some research and book early ss you should know that the best times are also the peak times and hence expect lots of crowds. It is a good idea to avoid the christens time, Easter nine, and New year.
3]
How many days
Australia is indeed unlimited for any time and budget, and thus, you need to be selective. Most itineraries are based on road trips, and that means you need to put away a couple of weeks to explore the amazing landscapes of Australia. It is a lot better to go to fewer places and explore them to the fullest and spend more time sightseeing.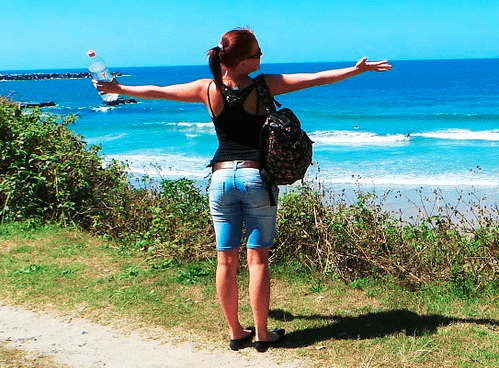 4] Keep your documents organized
As a first-time traveler, you might not be very particular about carrying all your documents like passport, travel insurance, driving license, credit cards, etc. Make a list of those documents as well as keep photocopies on them.
5] Holidaying can be expensive
The major chunk of your holiday budget would be spent on travel, lodging, and tickets to attractions. Hotels are definitely expensive, so look out for cheaper options like hostels and rooms for backpackers or dorms.
Domestic flights can be cheaper and a lot better than spending time and money on the roads on car rental, fuel, and accommodation.
6] Top attractions not to be missed
When in Australia, it is not easy to decide on what to see and what to miss out on. The climate, topography, and character of the vast country change fast. However, there are some highlights of the country that should not be missed out on.
The Great Barrier Reef – The 1,300 miles east coast is made of a coral reef system with thousands of separate reefs.
Yarra Valley – Take a Wine Tour to Yarra Valley while visiting Melbourne and learn about the thriving wine industry.
Kakadu National Park – Get aware of the world's oldest Aboriginal cultures and visit Kakadu National Park to look at the best examples of Australian rock art.
Sydney Harbour Bridge – Walk across the Sydney Harbour Bridge, enjoy fantastic harbor views and look at the skyscrapers of the city.
The Great Ocean Road – Take the spectacular Great Ocean Road alongside the Southern Ocean and get close with nature along this iconic road.
You may also like.