If you haven't ever been to Philippines, you'll not know that this is home to probably the best beaches and the most splendid islands of the world. With more than 7000 islands to choose from, each of them have stunning and unique landscape and diverse geographical location.
Once you're there, you'll love to take an excursion through the colorful coral gardens and laze around near the pristine beaches carrying a fruit juice in hand.
Best Philippines Beaches to Visit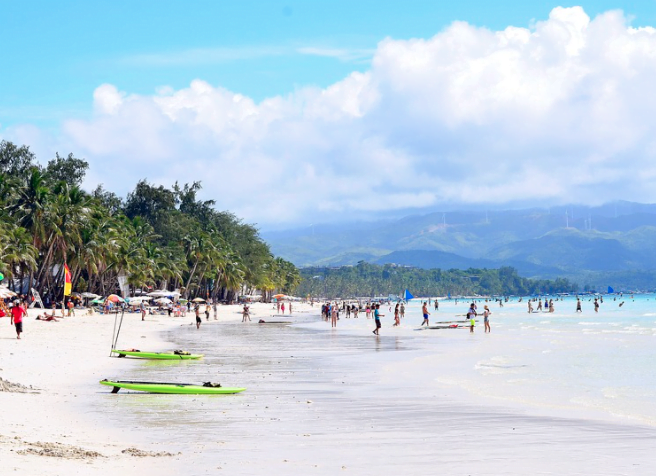 If you have to choose a favorite beach in Philippines, it is a tough choice as there are too many to choose from. This guide will give you a list of the best beaches in Philippines that you should run to.
White Beach, Boracay
Post 6 months of rehabilitation, Boracay is a place that reopened its doors to the tourists. It is undoubtedly one of the best beaches in the entire world.
When you see the white powdered sands, you'll feel like walking on it forever and never stop. You can walk for 100 meters from the shore into the ocean and still the water will be only waist-deep. This beach is a sight to behold for sure!
Puka Beach, Boracay
Do you feel like moving away from the mainstream beach of Boracay? If yes, this is definitely a great place to relax and stop. The Puka beach is an Instagram-ready beach that has pristine water and the sand is slightly rocky due to the abundance of crushed seashells.
This justifies its name, Puka. Though you'll be invited for a swim by the blue-turquoise water, keep in mind that the water is not too calm.
White Island, Camiguin
This island lies around 1.5 km from the coast of Mambajao which is the capitl of Camiguin Province, White Island. This is one of the most famous tourist spots of this province.
You'll simply enjoy the long stretch of this white sandbar that is in the shape of a boomerang, surrounded by sea grass and having a backdrop with the twin peaks – Mt. Vulcan and Mt. Hibok-Hobok.
Nacpan Beach, Palawan
If you're a beach lover, you're going to love this place due to the golden powdery sand. Yes, that is something you'll find in abundance in the Nacpan Beach.
You won't find any boats in sight, there are decent waves to entertain you, the beach is flawless and there is clear blue water to play in. Travelers usually love to spend a night in escaping the busy crowd of the town of El Nido.
White Beach, Puerto Galera
This is endowed with a colorful and stunning coral reef and a long stretch of white sand. White Beach in Puerto Galera is a haven for all those who wish to experience an interesting beach without having to take a plane ride from Manila. This is an extremely beautiful place for its snorkeling sites and exquisite diving beaches.
Kalanggaman Island, Leyte
You can easily chill out on this empty and pristine beach of Kalanggaman with its famed long white fine sand bar, the dramatic azure waters and swaying palm trees. The waters are so clear that you can almost see your image in it.
This is an eye-catching and captivating paradise that lies in the middle of the sea. The government has built basic amenities too for tourists.
Malapascua Island, Cebu
When you hear the word 'Malapascua', the first thing that will trigger in your mind is diving with the Threshar sharks.
This is a small island off the north coast of Cebu and it is not just known for being the best diving spots but also a place for shipwrecks, colorful reefs and for the clarity of waters. The locals dubbed it as 'a place like Boracay 20 years ago'.
Paliton Beach, Siquijor
When you visit this place, you will get to see nothing but the pureness of nature. The white sand is lined with palm trees along the turquoise water.
This is a sparsely populated place that is full of cascading waterfalls and stunning beaches. This island is undoubtedly getting more and more popular with tourists.
Apo Island, Dumaguete
This has already been declared as marine sanctuary and this island is regarded as one of the most successful instances of a community-based sanctuary. The coral and colorful gardens are all at their finest. You'll find sea turtles thriving everywhere and you'll find everything that you love in this island.
Alona Beach, Bohol
Bohol is not just known for its tarsiers and the Chocolate Hills but it is also known for its crystal clear waters and powdery and smooth sand of Alona Beach. The stretch of sand is backed by palm trees and posh restaurants that tourists simply love.
Siargao, Surigao del Norte
This is known as the Surfing Capital of Philippines and it is a laid back and quiet island with beautiful lagoons and azure crystal clear waters. This place has many islets and beaches to explore. Every spot that you visit here is sure to charm you.
Matinloc Beach, El Nido
Palawan is one of the most talked about islands in the entire world due to the presence of El Nido. The jagged carved limestones and islands with white sands that are backed by palm trees. This is an underrated island that is visited only for a lunch stop.
Laiya, Batangas
One more hidden gem that is just 4 hours away from Manila is Batangas which is said to be a go-to beach destination for the Filipinos. Laiya Beach is known for its strand of brown fine stretch of sand and turquoise waters.
Subic Laki, Sorsogon
As you step out of the mainstream beaches, you can indulge yourself in the fertile shores that have turquoise waters crashing into the pink sand of Subic Laki Sorsogon. This is indeed a hidden gem that is away from the modern beaches and it is extremely gorgeous yet simple.
Nagsasa Beach, Zambales
When you wish to have some alone time or recover from your daily stress, you'll wish to consider visiting Nagsasa Beach, Zambales. This is a gem of a place that demands you to be off the grid with no phone signal and whatsoever.