The RankActive rank tracker helps to understand what is happening with rankings in search engines, to see growth dynamics of site's positions and analyze how current SEO-efforts affect targeted keywords. When you have Rank Tracker, you can easily make fast decisions: correct or change your SEO strategy, track your competitors and analyze your current keywords performance.
All-In-One RankActive Toolkit- Best SEO Software Platform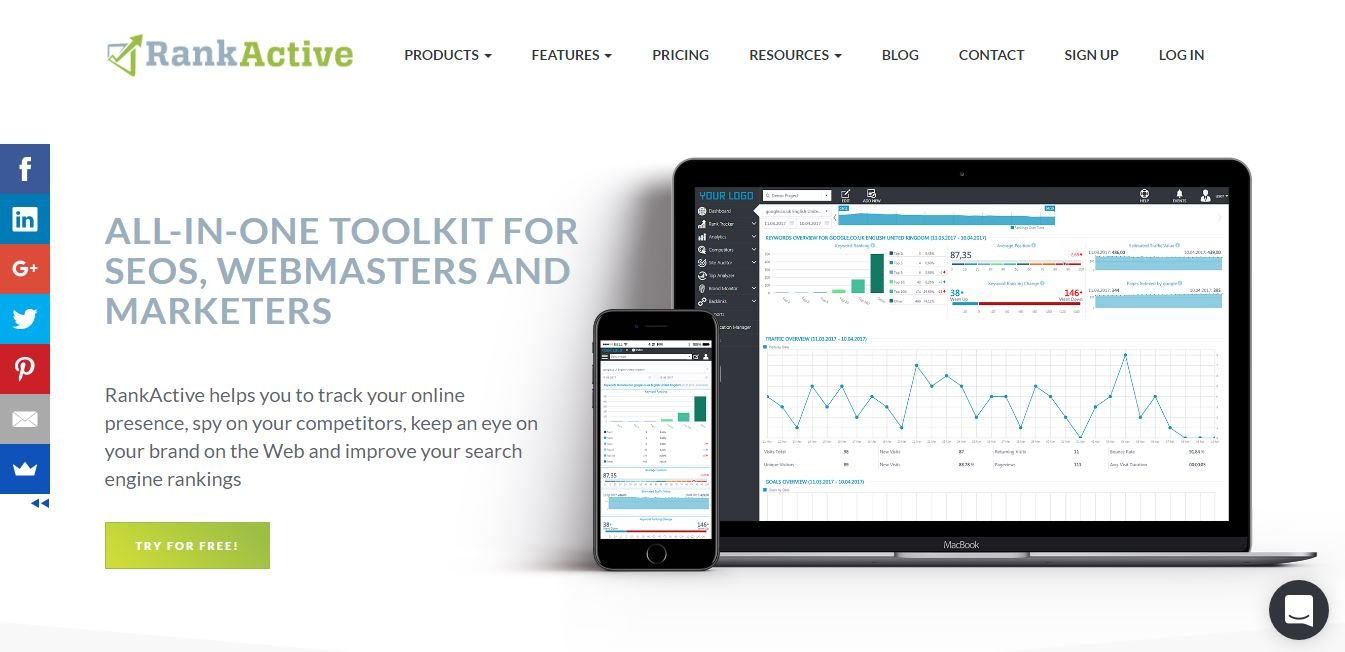 Features to Make You Succeed
• Any Search Engine – Google, Google Maps, Google Map Pack, Google Mobile.
• Local Rank Tracking – Google Rank checker tracks any location rankings: any city, any country and any language.
• Data Comparison – Ranking changes can be seen in your projects with comparison in data of two selected dates.
• Keyword Tags – You can group your keywords the way you wish.
• Daily Rank Tracking – Automatic daily updates, on all rankings.
• Fast and Powerful – 10 million keywords are tracked daily. RankActive can track 10,000 keywords in 60 seconds and stores 1 billion URLs which are unique and relevant in its database.
Who Can Use Rank Active?
Rank Active can be used for every website and by any business. Though, it is best for:
Inbound marketers.
SERM freelancers and agencies.
SEO agencies and experts.
Business owners
Other Features
1. White-label
The white-label feature is made to give you a chance to create Rank Tracker reports under your own brand. You can connect your sub-domain to your account, add your description and logo. With white-label, you'll get more loyalty from your customers.
Your description and logo are set in software interface with all reports. If you provide your clients with access to Rank Tracker, they will get to the login page specified by your sub-domain. RankActive pushes your company to the light and it steps back behind.
2. Account Access Management
Other people can be granted access to your projects by the account access management. This feature not only provides your customers and/or staff with an access but also has control over the level of admission.
When you have a team, who works with you or very demanding customers who want to see the progress of work, this RankActive feature is irreplaceable. No extra money and no additional accounts. Give an access, limit admission level and improve your business.
3. Notification Manager
Notification manager is made to create triggers and sends you notifications of the newest data changes. Your everyday tasks of SEO are simplified. You can select a rule for your trigger then get notifications after it fires. Choose an item, its parameter, compared period, different criteria, value and function that makes the created rule very accurate. You will get notification immediately after data changes occur or at the chosen time.
You will receive notifications directly to your inbox. There is a wide variety of settings which allows you to customize a trigger to have the most accurate answers. Selection of the exact time to receive the notification is available.
4. Report Centre
Report center enables your SEO work to be much easier. You can choose the kind of SEO report you need to get or send to clients. Select any periods to make a comparison.
Generate SEO reports on time, download them or arrange the receiving on schedule. Set the time and date in the RankActive reports in the most convenient way. 🙂