Are you looking for a sure-fire solution for your online marketing endeavors? If yes, you are not all alone; many marketers are struggling to register desired success online. The reality is online marketing is highly competitive. Despite putting sincere efforts, you could end up making minimal sales.
You need a tool that will blast your marketing campaigns and get desired leads and prospects. It is here software applications such as Leadpages and Clickfunnels come in handy to help you. However, you should check Leadpages vs Clickfunnels in accordance with your marketing needs to choose the right tool.
1] Leadpages
Essentially, it is a landing page building solution. The tool allows you to build appealing landing pages that will get you a lot of sign-ups to get targeted leads. Once captured, you can nurture and convert those leads into sales over time.
Leadpages Features
Aside from getting leads on your site, the software also aids you in gaining leads and subscribers through emails and text messages. In fact, the software is designed to get you leads from all possible points.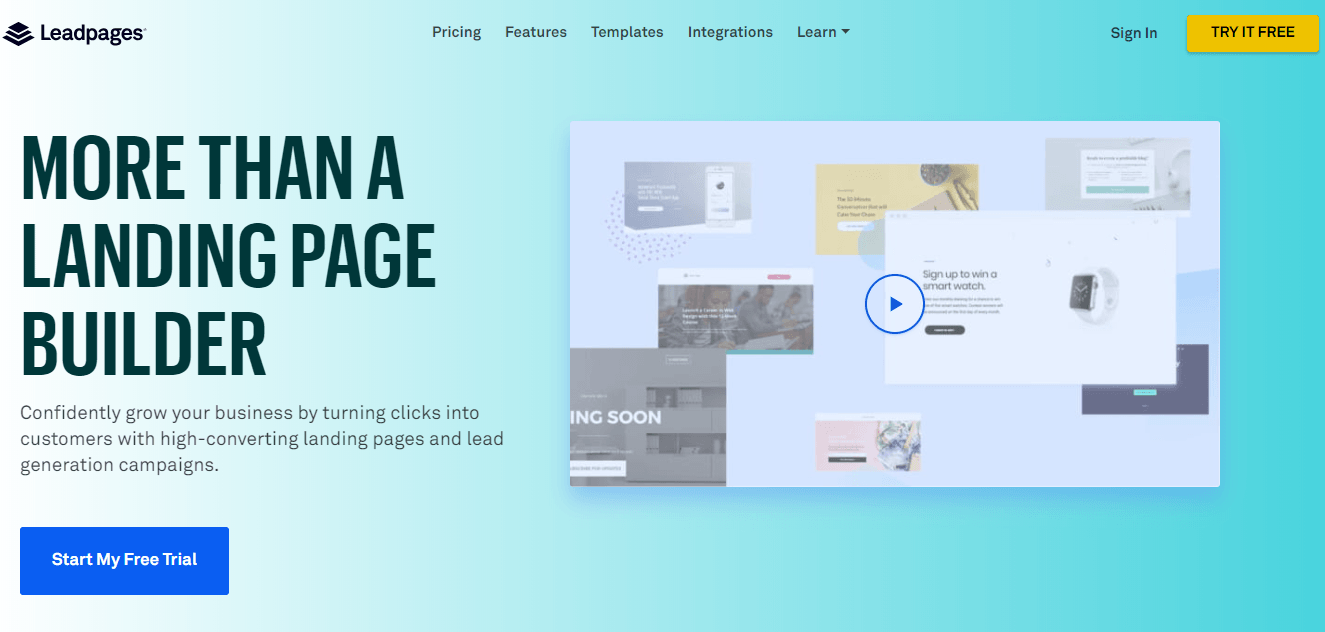 The best thing about this marketing solution is it is fairly easy to use. You don't need to be proficient in coding in order to use the application.
Even an average person can get started with Leadpages using its drag and drop feature. Just choose one of the pre-built landing page templates, change the text and some images; that's all.
You have just created a landing page in accordance with your business targets. You can also perform A/B testing of landing pages to check their performance before choosing the best one. Above all, the tool comes with an affordable price tag to suit budget and starter marketers.
Cons
The only downside is it lacks advanced marketing features. If you are an advanced marketer, you may need sales funnels to convert leads into prospects. This is just not an option with Leadpages.
2] Clickfunnels
Clickfunnels is a funnel building tool. You can create various funnel channels as well as landing pages with this cutting edge marketing software application. The software is really comprehensive and provides all solutions for your marketing endeavors in one roof.
Clickfunnels Features
Clickfunnels takes your marketing from scratch to making sales. In other words, it allows you to make intriguing landing pages to get leads. You can then channelize those leads through various funnels to attain your objectives including sales.
Using the application is pretty easy. With the simple drag and drop feature, anyone can get started with this marketing tool within minutes to create funnels.
This comprehensive marketing package includes hosting; you don't need separate hosting for managing your marketing campaigns. Just pick a custom domain and choose from pre-built templates to start making funnels and lead pages.
Since the tool works with leading email providers, you can make leads and funnels with no issues. Also, before making a final choice, you can perform A/B testing of pages to choose the right one.
Cons
The only drawback of this tool is it comes with a higher price tag. Small business owners and starter marketers may not find this application pocket-friendly. Other than that, the tool makes an ideal fit in the hands of any online entrepreneur.
Closing words
Making a successful venture on the net is the dream of any online entrepreneur. You can certainly accomplish your dreams by using a cutting edge marketing tool such as Leadpages or Clickfunnels.
Just check Leadpages and Clickfunnels in the light of your online marketing requirements to choose the right software. With an ideal marketing tool, you can get leads and prospects even in a highly competitive marketing environment.