In the age of instant fame, if you don't have an instant connection to upload your photos and videos, you will be left behind. Since everything has gone digital and the internet has made it easy to be in touch with people across the world, conducting business as well as becoming famous has also become extremely easy for people.
VideoProc: The Easiest 4K Video Editing Tool
At a time when many people have turned to entrepreneurship, the internet is used to propagate their ideas forward. Digital marketing gurus say that videos attract the client's attention more than any other form of marketing these days.
Thus, making a crisp and concise video and posting it on various websites offers a healthy chance of you succeeding in your endeavor. However, one of the major concern of people when it comes to video editors is which one to choose from the plethora of options available.
Considering the latest advances in the field of technology, everyone has the advantage of possessing high-resolution smartphones and cameras which make the creation of quality content quite easy. However, having an equally competent photo and video editor is the key to success.
You cannot expect to attract clients based on a rough cut of your video. Thus, there is a huge demand for quality 4k editing systems. Among the various options available VideoProc has emerged as the most popular choice for 4k video editing and processing.
The various advantages that have made it a popular choice among young entrepreneurs as well as established organizations who wish to propagate their courses or portfolio on the internet include:
1] Astounding support for input and output formats
Every new digital breakthrough product is probably having a newer version of the software which has compatibility issues with the software. Since it is not possible to keep purchasing new software if you wish to edit your videos, opting for VideoProc is probably for the best.
This video editor has a huge collection of supported input and output formats that you never have to worry about the source before editing.
Moreover, for people who are not that tech-savvy, the output pre-sets make it easy for you to edit videos. Editing videos from GoPro, DSLR, iPhone, camcorders or any other source has never been this easy before.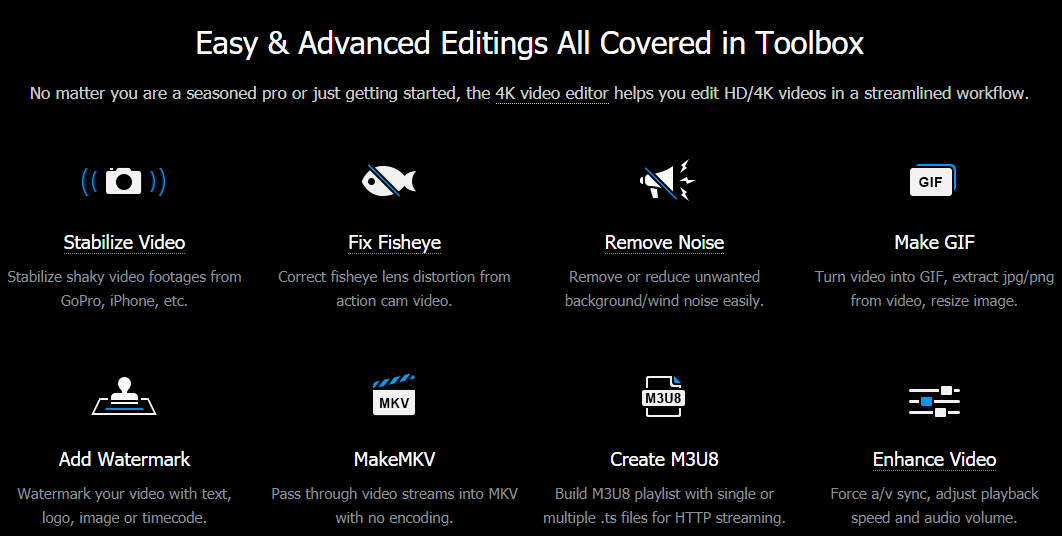 2] Cost-effective light-weight video editing solution
There isn't any dearth of video editing software in the market, however, unless you are a professional who is going to earn huge bucks from your edited video, spending loads of money on software is not ideal. For people who are small business owners or YouTube bloggers, the budget is extremely important.
Most video bloggers cannot afford to purchase expensive video editors and therefore VideoProc with its astounding features and budget-friendly rates is ideal. This 4k video editor is available for a nominal price of $30 per year or $43 for a lifetime license for one Mac or PC. What's more, you even get regular updates as well as technical support too.
3] Excellent user experience
The requirements of professionals are different from those of common people. This holds true for even software like video editors. VideoProc has garnered a huge client base as it offers a relatively simpler way to produce excellently edited videos.
With a simple and user-friendly interface, you can edit, cut, split and merge videos with ease. What's even more appealing is that you can compress the video file without causing any distortion to the quality of the video.
In fact, you could improve the GoPro footage quality with it. It also puts less stress on the CPU, thereby reducing overheated CPU problems.