It's a mobile app world, and we are living in it. The rapid adoption of technology and the increase in mobile users have caused a seismic shift across the globe. As mobile devices continue to affix users worldwide, the demand for custom mobile apps that offer value is increasing exponentially.
If you are looking for competitive advantage with an innovative and personalized app for your business, a custom mobile app development company in Dubai can help you put things into perspective.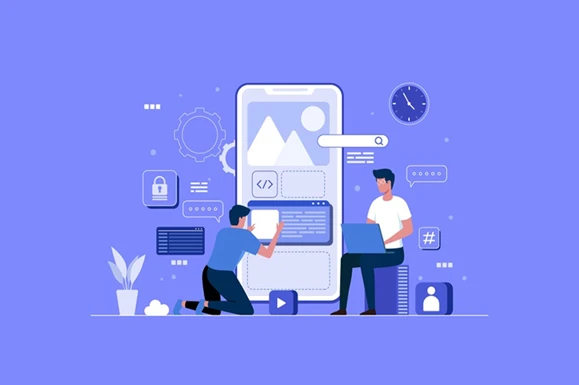 As per Statista, the custom mobile app development industry is expected to witness a market volume of $614.40 billion by 2026. In addition, the mobile app market is likely to observe an overall CAGR of 13.4% from 2022 to 2030.
Thus, now is the right time to jump on the bandwagon of custom application development for your business. This article will offer an in-depth guide on custom mobile app development and how incorporating this strategy can help your business dominate this cut-throat industry.
Comprehending Custom Mobile App Development
Custom mobile app development is creating mobile apps that resonate with the business niche. These apps are aligned with individual business requirements and are built on a customer-centric design. From offering an ideal user experience to instilling value in every business process, custom apps are tailored to the businesses user base.
Custom mobile apps can offer enhanced user experience while simultaneously making way for a unique online presence that is hard to compete with.
Since the custom apps require a dedicated platform such as iOS, Android, or Windows and should feature a highly interactive UI, a reliable mobile app development company in Dubai can help you instill value in them. Before choosing the right development company, here are the types of custom apps one should know about.
Native Apps
Native mobile applications are designed for a particular or single platform such as iOS, Android, or Windows. The developers must build these apps by writing the code from scratch and incorporating the latest technology. The time and cost required to build native apps are high compared to developing hybrid apps.
Hybrid Apps
These are the kind of apps that are built only once but can be deployed on multiple platforms. The cost and time required to make hybrid apps are relatively low, and most are designed using technology tools like Javascript, HTML, etc.
The overall performance of the hybrid apps is less than the native apps, but recent technological advancements have proven to eliminate the differences significantly.
Why Should Businesses Opt for Custom Mobile App Development?
Custom mobile apps are capable of addressing growing business needs while at the same time helping in scaling business processes.
They can stem your business's fundamental requirements if you want to offer a personalized user experience to your customer base and fasten business workflows. Here are some crucial reasons behind opting for custom mobile app development.
Increased Efficiency
Custom apps can increase overall business efficiency by streamlining business processes. Since the app is tailored to the organization's requirements, the productivity based on the single functionality is increased tenfold.
For instance, a custom food delivery app for your business can help you increase your overall incremental sales and revenue by allowing the users to order directly from your website.
The app can further support restaurant owners or delivery partners to smoothen their daily operations with the help of an interactive dashboard that supports multiple management features. Custom apps further ensure easy sales tracking as well as offers automated billing and reporting as compared to off-the-shelf solutions.
Increased Scalability
Custom mobile apps are designed keeping in mind the business expansion, making them capable of handling large volumes of data. The scalability of custom apps is one of the reasons why they are preferred over regular mobile apps.
Data Security
Custom mobile apps are usually designed with high-security norms and parameters compared to other software. Thus, the chances of data thefts, malware, identity fraud data tempering are reduced. A dedicated custom mobile app development company in Dubai that offers highly secured applications can help you shine the most.
For instance, custom payment mobile apps such as Venmo and PayPal are the most private and secure, all thanks to the features like Bug Bounty Program, Two-Factor Authentication, transaction lock, wrong payment protection, etc.
Improved Customer Relationships
An improved customer relationship is one of the most exquisite benefits of custom mobile app development. The app allows users to share their feedback about the business, its processes, and its functionalities, making way for personalized communication between the customer and the company. It is one of the most effective ways to solve issues while at the same time nurturing client relationships.
Some other benefits of custom app development include seamless software integrations, efficient data management, easy project management, and real-time synchronization.
Development Process of a Custom Mobile App Development Company in Dubai
Custom mobile app development is usually carried out as per client requirements. While some organizations prefer to get their hands on an MVP first, others go ahead with a complete custom app development per their business requirements.
Pre-Launch Stage
The pre-launch stage for a custom mobile app is responsible for creating customer demand via marketing channels. This stage allows the organizations to decide on the overall app budget and understand the probable customer acquisition cost.
Identifying the Target Audience
Understanding your right target audience is one of the most important criteria that will help define the app's success. The most popular ways to define the target audience include conducting thorough market research, identifying the audiences' demographics, building their user personas, and app advertising.
Building an MVP
After finalizing the development plan, the next step to custom app development is creating an MVP. It allows the organization to test the waters with minimum cost overhead and enter the market faster.
The basic functionality handled by the MVP will be getting the initial user feedback. After the app takes off and starts making profits, you can switch to a full-fledged custom app.
UI/UX Design
The next step of the app development stage is finalizing the UI/UX design. An interactive user interface that is easy to use and resonates with your brand's essence is essential for the overall app's success.
Apart from the design, the app development process also features integrating security protocols for increased data protection. Making sure the app stands out from the rest and features the best tech stack is one of the most vital steps of custom app development.
App Launch
Picking the best distribution model as per your target audience is the last stage of app development. You can launch the app on Google PlayStore or App Store. The developers are further recommended to heed App Store Optimization and the need for future upgrades.
A simple custom mobile app can cost around $5,000 to $90,000. The cost of the app may differ with the number of features, overall app complexity, the hourly rate of developers, the location of the developers, and more.
An experienced mobile app development company in Dubai can offer you the best-in-class solutions to help you find your USP and stand out amongst competitors.