As businesses grow and expand, it needs to raise capital and promoters of private limited companies have their own limitations on raising capital on their own and from banks and financial institutions which involve providing 1:1 security coverage, personal guarantees etc.
In such a scenario, an IPO is a way out for promoters of private limited businesses. IPOs cannot be issued overnight and requires meticulous planning and preparations on the part of the private limited company and its promoters.
An Initial Public Offering, popularly referred to as an IPO, is a private company proposing going public by issuing shares to the public for the very first time. Initial Public Offering is issued by companies looking to raise capital towards growth and expansion of the business.
Why do Companies go Public?
One of the primary reasons for a private company to go public is to raise finance for growth and expansion of

the business

.
Public companies offer a better rate of interest while raising debt due to the intense scrutiny required for public limited companies.
Open market trading translates into liquidity.
Public limited companies can adopt innovative tools to retain talent such as employee stock options.
What should Private Companies consider before going Public
Companies need to take certain considerations in mind before planning to go public and issuing an Initial Public Offering in India.
The company needs to have a strong historical financial record and a robust financial reporting system.
The Promoters reliability and past track record are also taken into consideration.
Existing business of the company and

business plan

post-initial public offering.
Strategic or technical collaborations with other firms.
Estimated projections of the business.
Risk Analysis
Building a Successful IPO in India
A successful IPO involves a long and complex journey which requires long-term planning, execution patience. Find below some steps private companies need to follow the procedure to ensure a successful IPO.
Preparing for an IPO
Before planning for an IPO, it is essential for a business to check whether is it ready for an IPO and analyse whether an IPO is a right strategy for the company.
The company needs to take several factors into account such as the current market conditions, current business performance, growth strategy of the company, assessment of internal controls in place, the presence of the qualified board of directors, internal and external communication plans, the timeline in place of launching an IPO etc.
Keeping Options Open
A business might have several alternatives to raise capital and reach its objectives apart from an IPO. The business needs to also be open to strategic sale vide mergers and acquisitions, private equity sale, private placement, refinancing options etc.
Timing the Market
A well planned and executed IPO can fail if launched at the wrong time. It is important to time the market before deciding when to launch the IPO. The company needs to evaluate market conditions, investor and market sentiments, investor confidence etc.
Being Prepared
Before launching an IPO, it is important for a company to implement and accept structural changes within the company. Changes in company culture might also be essential for a company before the launch of an IPO.
It is essential to building the right advisory and management team to lead the company, build business and financial reporting processes and infrastructure, the establishment of governance and corporate structure, management of investor relations and communications, delivery of an effective roadshow etc.
Build the right advisory and management structure
Before the launch of an IPO, it is essential to have a board of directors in place, an advisory board to lead the company in the future post the IPO.
Building and implementation of financial and business processes and infrastructure
The business processes, financial reporting, internal reporting processes, IT processes, MIS, regulatory compliance etc. which are were not required for a private limited company.
It is essential for the company to have financial accounting, tax, operational and IT processes, systems and controls in place before the launch of an IPO.
Establishment of Corporate Structure and Governance
It is essential for the company to ensure and analyse whether have they groomed or appointed a qualified board of directors and advisory board, can the directors improve the performance of the board, whether risk management controls are in place etc.
Management of Investor Relations and Communications
The company needs to ensure developing systems and protocols towards maintaining investor relations, communications, public relations etc.
It involves disclosure processes, maintaining relationships with financial backers, the release of financial statements, focus and attention of the on-going focus of the companies share price and performance on the stock market.
Delivery of an effective Roadshow
A roadshow is an excellent opportunity towards convincing potential investors to invest in the company towards subscribing to their company's shares. A robust roadshow must include meetings with potential investors, underwriters, institutional investors, etc.
Delivering Value
The last stage of an IPO involves post allocation of share price and share allocation of institutional investors. It involves attracting the right investors and analyst and delivering the promises made to the investors.
Advantages and Disadvantages of an IPO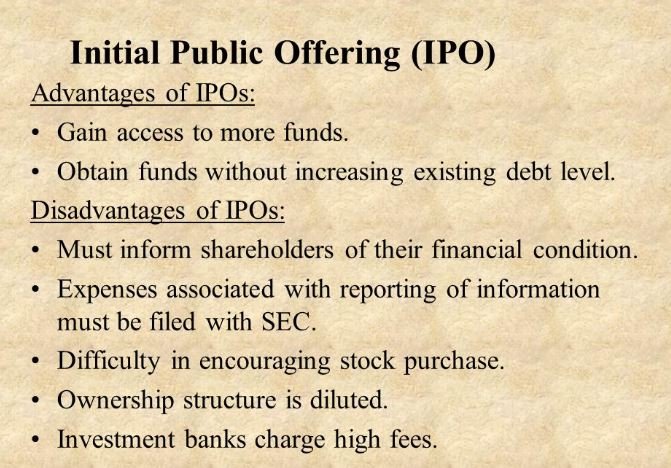 Advantages
Allows the company to build a stronger capital base.
Increases its future financing prospects.
Better suited for entering into mergers and acquisitions.
Diversifies ownership.
Introduction of Executive Compensation.
Increases the prestige of the company and its promoters.
Disadvantages
Puts short-term pressure for growth.
Increases requirements for disclosure at this moment reduces confidentiality.
High Cost involved in raising capital through the IPO route.
Additions of restrictions on the management.
Introduces loss of personal benefits of the promoters.
Trading Restrictions.
Initial Public Offering is an excellent opportunity for a company to raise finance and capital for the company. But once an IPO has been launched, the company is required to plan, execute and implement large-scale changes within the organisation.