Most of us have been entrapped in situations of our desktop or laptop failing us and crashing unexpectedly. In addition, our storage devices like USB drives and hard drives become irresponsive momentarily and put us in circumstances of panic.
How to Recover Deleted Files From USB
Several softwares, both free and paid versions have aided the users to recover data from the storage devices. The real fact around data recovery is understanding how efficiently a software can help you in such a situation along with assuring and enhanced data recovery results.
Disk Drill, formerly known as Pandora Recovery, is proven to be the most sought after software for data recovery. Here's how Disk Drill facilitates data recovery and is one of the widely used flash drive recovery software.
Great and user friendly experience of the software.
Utilizes modern algorithms that are endless and assures the most prominent data recovery functionality that has been originally in use with Pandora Recovery.
Delivers more concise results.
Possesses increased data recovery efficiency.
The above are the key features that make Disk Drill, a pioneer amongst many other free data recovery software.
There are two variants of the Disk Drill software offered to its users.
Free version – that can recover files up to 500 MB.
PRO version – for unlimited recovery of files.
1] Process of recovering the files
Working with Disk Drill software to recover deleted files on Windows or Mac is relatively simple. Most file systems keep a trace of the file or the folder that it deleted – ideally the filename is the only aspect that gets affected when the file/ folder gets corrupted or deleted.
Disk Drill's algorithm of data recovery scans the hard drive or any other storage device like flash drives, USBs, etc. and locates such deleted files and directories. In this scanning process, all data that is uncorrupted and existent is extracted fine. The deleted or lost data is marked for recovery and the fragmented file information is collated to be able to be processed for use.
A complete scan of the system under purview results in detailed information and the user now has complete control to processing it. The user can now decide upon the information or files that are to be recovered and where the recovered information can be stored.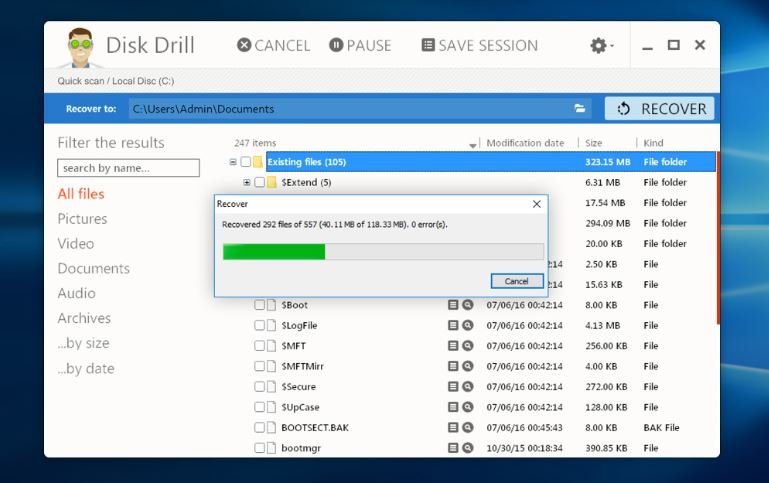 2] Value adds with Disk Drill
Is the recovery process as simple as it sounds and does Disk Drill just stop there? Definitely no – it will be advantageous to know about all the value adds that a user is bestowed with Disk Drill so that every user is convinced about Disk Drill's role in USB Flash Drive recovery for lost information.
Easy to use User Interface that guides a user for appropriate file recovery.
Support to several file formats (roughly over 300 types) inclusive of all audio, video and file formats.
Deep Scan Algorithm that is super-fast and can bring up archives, cache information too. Deep Scan algorithm is efficient in cases where files have been accidently overwritten!
Comprehensive filters that can be applied by the user to filter and retrieve information of his choice.Support to all file systems like NTFS, FAT, etc.
Read through all of the capabilities of Disk Drill from the product website at Pandorarecovery.com. The process to recover deleted files from flash drive or other types of external storage devices that are commonly used is also well detailed at Pandorarecovery.com/flash-drive-data-recovery.html.
Do not worry any more for lost files or accidentally deleted information from your USB drives – Disk Drill's recovery software will aid in finding them for you.