Point of sale financing solutions have been around for a long time. However, a newer version gaining popularity is "buy now, pay later" (BNPL). BNPL allows shoppers to pay for items in installments, often without interest (assuming they meet the payment schedule).
You may have seen it firsthand. You make a purchase online, and there are options to split the payment into a series of smaller installments. This option is common for larger ticket items, but is now becoming widely available for smaller purchases as well. When implemented correctly, BNPL helps businesses improve their conversion rate, increase their average order value, and ultimately generate more revenue.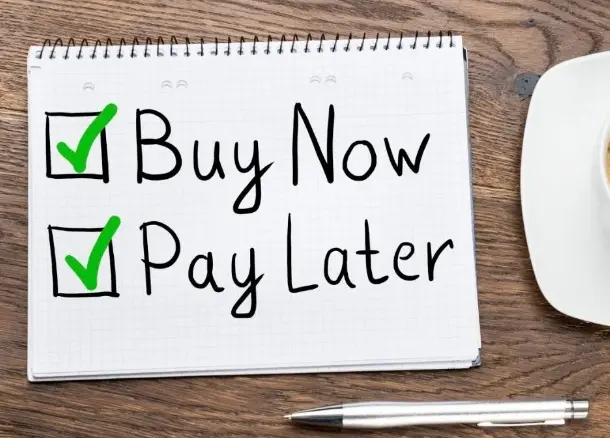 While almost every business now has some digital presence and knows how to accept payments online, implementing BNPL has additional needs. To simplify the implementation of BNPL, several solutions are now available to help businesses offer new payment plans.
Before we get into what you need to understand to implement BNPL, let's first break down what the benefits are in the first place.
Why offer buy now, pay later?
Every business wants to be paid in full at the time of the transaction. But there are significant advantages to making life easier for consumers and offering credit options such as BNPL. Shoppers nowadays want flexibility and ease of use when making purchases. BNPL allows them to manage their finances themselves, buying the goods they want when they want, even if that means taking on some short-term debt.
With low or interest-free credit, more and more young people are using BNPL over credit cards. BNPL means people can still make purchases when they don't have the funds on hand, but they avoid the potentially high levels of interest credit cards can bring.
Improving the customer experience and making life as simple as possible for shoppers significantly benefits businesses. Without having to pay the full total upfront, there's a higher likelihood customers will make a purchase (higher conversion rates) and a higher likelihood they will spend more (higher average order value). This ultimately adds up to more money coming through the doors of your business.
BNPL can also help sell high-value goods that may be too expensive for most customers to buy in a single purchase. Moreover, promoting BNPL as a payment method is a valuable marketing tool, bringing new customers to your store.
Best practices for maximizing the impact of BNPL
Sales tactics to consider when implementing BNPL include:
Informing customers as early as possible
Customers visiting your website should be able to quickly find out that BNPL options are available to them. People who clicked through to choose a payment method were likely already going to make a purchase. These are high-conversion consumers, and little value is added if they only find out about the BNPL options at the last click.
In contrast, customers visiting your homepage or browsing your store are low-conversion consumers, and BNPL will therefore have a more significant impact on their purchasing intent. Ideally, display information regarding your BNPL policies in several places, such as the home page, product pages, checkout, and marketing material.
Marketing BNPL
As we mentioned, BNPL can be a great marketing tool. Customers will be more willing to spend money on your site, knowing they can spread out the payment over a longer period. Make BNPL a part of your marketing strategy, including it in your banner ads, social media advertising, or wherever you advertise your company.
Offering seasonal promotions
The holidays are a time when consumers spend a lot of money. This kind of one-off event can significantly impact people's finances, with many going into debt to give their families the perfect holiday season. A low or interest-free BNPL scheme can help consumers spread out the cost of the holiday season, allowing them to wait until their January paycheck to cover all the costs.
Converting abandoned carts into purchases
Few things are more frustrating for eCommerce brands than abandoned carts. You get so close to closing a sale, only for it to be taken away at the last second. Nowadays, eCommerce platforms can link abandoned carts to the account and send follow-up marketing emails to try and rekindle the shopper's purchasing intent.
BNPL is the perfect tool to get returning customers. Maybe they weren't aware that BNPL was available, or perhaps you've implemented new, more favorable BNPL options since the cart was abandoned. Whatever the case, letting customers know that they can get the products they want without spending any money today is a fantastic way to convert abandoned carts into purchases.
Making the terms and conditions as straightforward as possible
No one likes having a surprise sprung on them. When offering BNPL, make sure the repayment terms are as clear as possible. This includes the payment schedule and any late charges, fees, or interest.
You may be able to get a single purchase out of someone using unfavorable BNPL terms and hidden fees. But in the long run, this can harm your reputation and prevent customers from returning to your store.
There is no need to come up with all this information yourself. Your BNPL provider should have relevant information that you can place on your website or forward to customers during sales.
Choosing a BNPL solution
A range of BNPL solutions are now available, helping companies offer this payment method. Each provider will have different payment terms, including various repayment options and transaction limits. Typically, this involves fewer installments and shorter repayment schedules for smaller transactions.
Make sure you select a BNPL solution that offers the most flexibility for your customers, given the industry you operate in and the typical transaction sizes you see. Other factors to consider are approval rates and how the solution will integrate with your existing payment infrastructure.
You want to find a BNPL provider that has high approval rates. If most customers are rejected from utilizing it, the solution has little effect on your bottom line. Additionally, a solution relying on existing payment methods is easier to implement on your website.
Growing your business with buy now, pay later
BNPL makes point of sale financing more accessible. Customers are free to make more and higher value purchases, knowing they can spread costs over an extended period. This opens the door to new revenue streams and helps businesses grow their market share.
Conversely, being the only business among your competitors to not offer BNPL leads to missed opportunities. Customers without cash will quickly find other options to let them walk away with the product they want and pay later.