To run a successful brand, it is important to engage with your customers, reward their loyalty, and be willing to give a little back, especially during the festive period. Traditionally, businesses of all stripes choose the holiday season to run their most ambitious and often their most generous campaigns, sales, and giveaways.
This can be the most important time of the year in which to attract new customers and remind your existing customers to spend their money with you in the coming weeks. However, running a successful seasonal campaign can be tricky to get right.
After all, you will be jostling for eyeball space with all of your competitors at this time of year, as well as pretty much every business on the planet. Nonetheless, these innovative brands showed us how to do it right in 2021.
Boots: curated shopping
We all know that Christmas shopping can be one of the most stress-inducing activities of the year, which is why UK retail giant Boots jump in and lend a hand.
With their incredibly detailed curated gift guides, featuring gift packages for pretty much any relation or type of friend that you can think of, Boots make Christmas shopping easier and give people a much-sought nudge towards their products.
Buzz Bingo: a freebie advent calendar
Christmas is the time for giving, which is why some brands decide to go all-out with the freebies in December. One example of how a digital business can master the art of the giveaway can be found within the online gambling industry.
Consider, for example, the popular platform on which you can play bingo online: Buzz Bingo. Buzz Bingo organizes an online advent calendar for all customers in which a different freebie is available every day of the month.
Free games, deposit bonuses, cashback, and more are all up for grabs, while also letting customers know they are appreciated.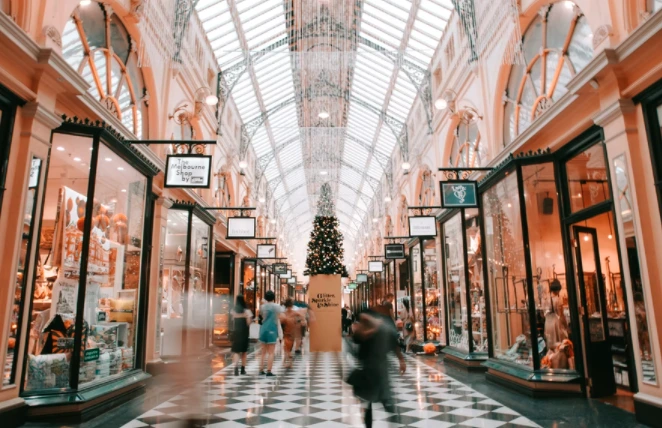 Oak: a creative Christmas giveaway
The boutique book retailer Oak has done some killer festive marketing campaigns over the years, but their most recent one might just top them all.
Oak launched a festive giveaway, where applicants could receive free, new and vintage books, delivered to their door in time for Christmas.
All they had to do was share their favourite Christmas story on Instagram and tag Oak in the post, something which undoubtedly boosted the reach of the brand considerably.
M&S: bring the products to life
One highly effective way to catch attention during the busy festive marketing period is to tell a story about your products. This is exactly what the UK department store behemoth Marks & Spencers has done with their touching and clearly high-budget Christmas markets.
Located up and down the country, these were markets designed to look and feel exactly like an outdoor European Christmas market, with the difference being that every single product was from the M&S shelves. This is brand storytelling done right.
The festive period might seem like one of stress and hustle, but if you can plan the perfect marketing campaign, the ROI will be worth the trouble.