Technology has been growing by leaps and bounds; it is very dynamic as well which has opened spaces for entrepreneurial instinct of every person. Online spaces have greater penetration and wider outreach as comparatively a to offline mode which is the reason why it is so popular.
Wider outreach, hassle free marketing opportunities, equal opportunities no matter your place and time have made it so popular platform. To this Shopify has revolutionized the way business is carried out by simplifying things for you.
No matter how bad you are at coding skills and tech skills, Shopify is there for you at your doorsteps just a click away. With FIFA fevers going crazy you can think of setting up your own sports items business by selecting various sports shopify themes easily.
Shopify has made easy for anyone who wants to venture into online spaces and that too at value for money prices without any hassle. You don't have to run around pillar to post searching your website developers and making them understand your requirement and for updates in your website.
Shopify gives you freedom from all such hassle it is a one stop e-commerce platform that offers you hundreds of templates to choose  from which can be customized as per the user requirement, like editing its checkout page as you can learn from this article of AfterSell.
It is very easy to use and helps in expanding your business. But as everything has its pros and cons Shopify does have its share of Pros & Cons that are discussed below:
Pros of using Shopify
Ease of use
Shopify is very easy and simple to use even for a layman who does not have much knowledge about coding or tech skills. It has various themes available to choose from which you can get keeping your requirements & needs in mind. It is one stop solution for all your e-commerce need.
Secure space at great speed
Shopify is integrated with payment portals where your customers can easily checkout using listed payment providers with our any hassle. It there reduces load time , it is reduced to minimum .It is therefore easy to navigate and use e-commerce platform effectively for getting your business reach at wider audience.
Multiple theme
Shopify lets you choose from hundreds of themes which are segregated depending on the different areas such as sports, food delivery business etc. It helps customer to decide easily as different sectors have different themes and user can decide among those themes what exactly they want and also can customize the themes as per their requirement.
For example if you want to start a food delivery business, you will straight go to the  food delivery shopify themes to select the one for your business.  It makes it easy to navigate through the webpage and you can make the best choices for you.
Flexibility
Shopify store  gives you flexibility to run your own online venture and it provides you flexibility to customize and change your website content as themes are available and at any time if you feel like changing something you can readily opt for the change using the customizable option available for you. It helps you to add feature to your store easily without much of the hassle.
Happiness of owning your own entrepreneurial venture
It gives you an opportunity to showcase your talent to the world be it handicraft or your culinary skills or your art and craft skills list is endless.
No matter in which corner of the world you are it lets you be independent and cash your talent at a worthy price. It is very useful for small business entrepreneurs who wish to mark their presence in the online spaces.
Cons of using Shopify
Cost matters
As shopify provide one stop solution and offers application etc  to make your website look more user friendly can raise costs abruptly  from very basic one.
So some people find it costly as well and feel it the premium that shopify charges from its customer for being a one stop shop.
Not Multilingual
It is also one of the drawback of shopify is that it is not available in multiple languages. Absence of multilingual feature in shopify is a major drawback and for this reason has most of the traffic of customers from North America and United Kingdom only.
Shopify has its own set of pros and cons but it has certainly set a standard in the market on being a single solution to business who wants to leave an impact on the virtual world also. It allows ease of use and customize options are also available readily.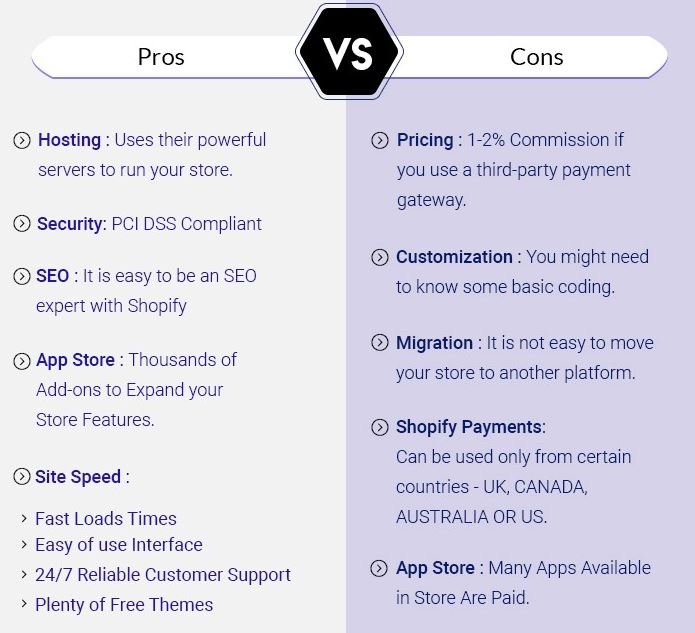 Shopify multiple themes cater customers of different domains and that too with variety of options available to choose from. Though it has certain cons  against pros  but it does not overshadows the advantages of shopify.