Established in the year 2004 as Hosting Media, Lithuania origin Hostinger has grown manifold and evolved as famous web hosting provider with over 29 million clients and offices across the globe. The website of the company doesn't gloss its services by speaking about budget or value. It talks straight Hostinger is all about cheap web hosting!
Hostinger Reviews : Get Cheap and Unlimited Website Hosting
And, yes the range commences with $2.15 per month. It provides you with 10 GB of drive space, one site and sub-domain, 100GB bandwidth per month and an email address. It is a quick and simple Website Builder and is easy to begin. You have a lot of single-click installers for apps and WordPress. The package is amazing for family websites.
However, for those who have bigger hosting ambitions, then the Premium Web Hosting package is a great idea. It is effectively priced and lifts limits from bandwidth, drive space, database, email accounts, sub-domains and gives you support of as many sites you want.
Then, comes the Business Web Hosting package. Along with the above mentioned leisure, it gives you a free SSL certification to mix apart from the daily backups, higher processing power and amazing live support.
If you're a demanding user, then the Hostinger's VPS plan is for you. Though the package cannot be tailor-made, but you have six to select from and so there is a good chance that anyone could work for you. Every plan enjoys a 30-day money back guarantee, so here's your benefit!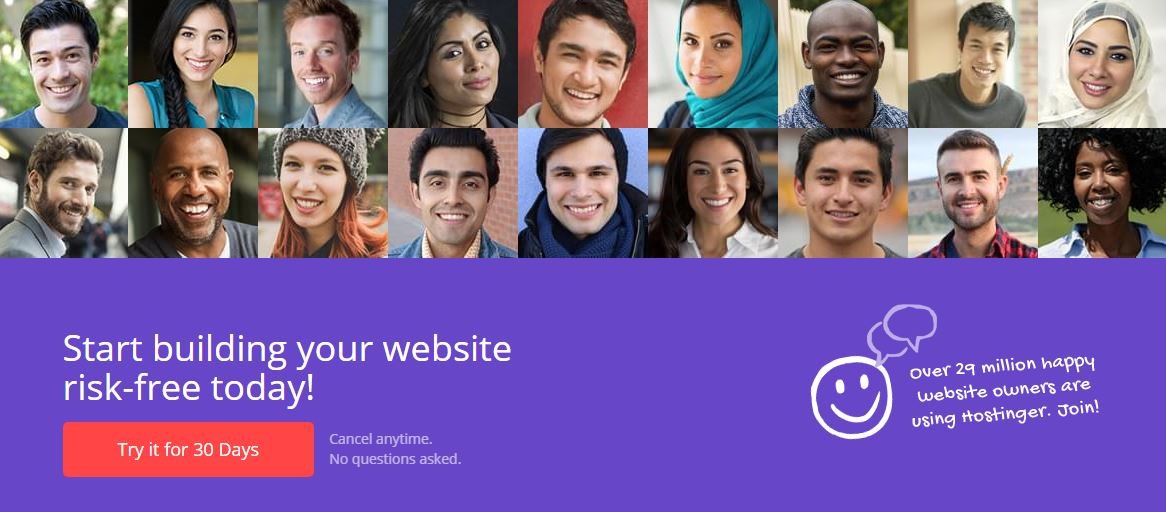 Hostinger.com has been marked as one of the best web hosting companies that has expanded globally in the hosting world with amazing dedicated support departments, development headquarters as well as server collocations in all the modern countries across the world. Hostinger Groups works as a part of ICANN accredited registrars' community.
Hostinger provides you with plethora of specifications and sturdy cPanel-based website management at a remarkable price. It is surely worth a try for intermediate users who require a little more than mere novice hosting.
Some of the amazing features of the company are mentioned below:
Reasonable and Reliable: It is just like a gold mine for bloggers who are in need of cost- effective services along with efficient functioning of the sites. It is an above satisfactory site hosting service and is available for lifetime.
SQL and PHP support: Usually web hosting services render a drag and drop site building service in their package and deprive you of SQL and PHP till you take a paid package and mostly it is offered in premium packages only. However, Hostinger renders free SQL and PHP support, which makes it ones of the best WordPress hosting service provider.
No banners and ads: WordPress (Auto Inc) doesn't allow you to advertise on the blog, if you buy web hosting services through them! On the other hand, WordPress will display their own chosen ads on your website and you will not get a single cent in consideration. While, Hostinger's free hosting package doesn't permit to show any types of ads or banners on your site.
Simple and inexpensive site builder: Hostinger is supported by Zyro site builder which permits you to design a 5-page site via drag and drop specification. It gives you the liberty to choose over 100 templates. A drag and drop website builder is a remarkable idea to design amazing sites in a very limited time period.
Easy and quick setup: Hostinger gives you a free sub-domain which permits you to set your account in fraction of a second. Accounts are immediately approved which means there is no waiting for anything to commence while you're using this free hosting.
Easy money: The web hosting service provider gives you the freedom to refer your friends and earn money. Every time a person purchases a premium service via your reference, you get your cut.
Pros of Hostinger
It's free domain and trial service has been the biggest highlight of the site and surely they've lived up to it.
No payment in the beginning.
10GB of disk space is present which is like unlimited storage for common bloggers.
Simple and easy setup.
Easy to understand and supports Zyro website building.
Simple navigation and personalization of your site.
Quick cPanel demonstration.

Hostinger black friday sale and Cyber Monday web hosting deals with discounts up to 75%! Grab this once in a year opportunity and save on website hosting today.