Starting a grocery store can be a daunting task, but it can also be an exciting and rewarding venture. To build a successful business that meets the needs of your community, you'll need the proper knowledge and resources, careful planning, hard work, and dedication. But before we jump right in, here are some interesting facts about the grocery industry: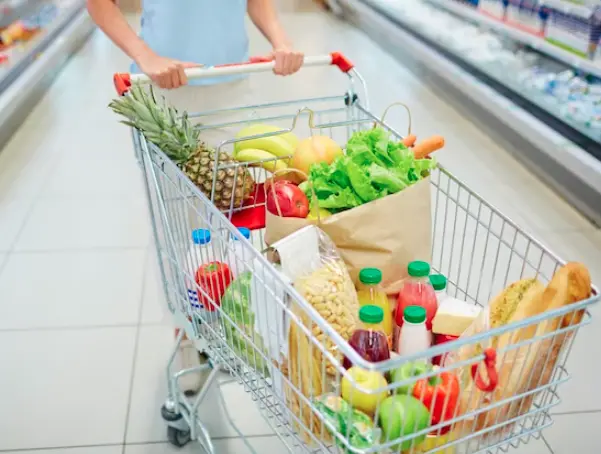 It is a $682 billion industry in the United States.
In 2020, the average American spent $4,643 on groceries.
The grocery industry is one of the most competitive, with profit margins typically ranging from 1% to 3%.
If you're considering starting a grocery store, here's a guide to help you get started.
Conduct Market Research
It's essential to conduct market research to determine the needs of your community and identify potential competitors. You'll also need to find a location easily accessible to your target audience. Consider the following factors:
Demographics: Look for a location with a high population density and high demand for grocery stores.
Competition: Consider the number of grocery stores in the area and the level of competition.
Accessibility: Ensure your store is easily accessible by car or public transportation.
Visibility: Choose a location visible from the road to attract customers.
Develop a Business Plan
This document serves as a roadmap for achieving your goals and provides a clear understanding of the financial projections and strategies you need to follow. Your business plan should outline your target market, marketing strategies, startup costs, and any challenges or risks you may encounter. By having a well-structured business plan, you can stay focused and organized throughout starting your grocery store and make informed decisions as your business grows.
Here are five steps to building a business plan:
Conducting market research will help you understand the industry, your target market, and your competition.
Define your business goals: Define your short-term and long-term goals. This includes revenue projections, target customer demographics, and growth plans.
Develop a marketing strategy:

Outline your marketing strategy

, including how you plan to reach your target audience, your brand messaging, and your advertising budget.
Outline your budget: It's essential to outline your budget, including startup costs and ongoing expenses, such as rent, salaries, and inventory.
Create an executive summary: It should be a brief, one-page overview of your entire business plan. It should highlight your key points, such as your target market, marketing strategy, and financial projections. This summary should be concise, compelling, and easy to understand.
Secure Financing
This process will require significant capital investment, so it's crucial to secure financing before starting your business. Consider options such as loans, grants, and partnerships.
Obtain Necessary Permits and Licenses
To operate a grocery store legally, you must obtain the necessary permits and licenses. These permits may include business licenses, food service permits, and health department permits. It's essential to research and comply with all local and state regulations.
Some permits you may require include the following:
Business License: Allows you to operate a business in your city or state.
Sales Tax Permit: You need a sales tax permit to collect sales tax from your customers.
Health Permit: Ensures your store meets the health and safety standards your state or local health department sets.
Food Safety Certification: Demonstrates that you have the knowledge and skills to handle and prepare food safely.
Liquor License: If you plan on selling alcohol, you must obtain a liquor license.
Licensing Opportunities
Licensing allows you to operate under an established brand name and take advantage of the brand's existing customer base and reputation. A grocery store business license offers an excellent chance for entrepreneurs who are interested in the grocery industry but need more resources to start a business from scratch.
These opportunities typically provide support services, including training, marketing, and ongoing operational support. These can help you navigate the challenges of starting and operating a grocery store, especially if you're new to the industry.
By partnering with an established brand and taking advantage of its licensing opportunities, you can increase your chances of success.
Additional Licensing Opportunities
In addition to the permits and licenses discussed above, there are other licensing opportunities you may want to consider when starting a grocery store. These licensing opportunities can help you expand your business and offer additional products and services to your customers.
Specialty Food Licenses: If you plan on selling specialty foods, like organic or gluten-free products.
Bakery License: If you plan on selling baked goods.
Catering License: If you plan on offering catering services.
Tobacco License: If you plan on selling tobacco products.
Build Your Inventory
Consider the products and services your community needs, and source them from reputable suppliers. You can also offer specialty items to differentiate your grocery store from competitors. Here are some tips for managing your inventory and suppliers:
Determine Your Target Market: Identify the types of customers you want to attract and tailor your inventory to their needs.
Choose the Right Suppliers: Look for suppliers who offer quality products at a reasonable price.
Negotiate Prices: Negotiate prices with your suppliers to ensure you get the best possible deal.
Stock a Variety of Products: Offer a wide range of products, including fresh produce, meat, dairy, and packaged goods, to meet the needs of your customers.
Manage Your Inventory: Use inventory management software to track inventory levels and reorder products when necessary.
Hire Staff
You'll need employees to help with inventory management, customer service, and other day-to-day operations. Consider hiring staff with experience in the grocery industry and committed to providing excellent customer service. They will also be the face of your store and will interact with customers daily.
Here are some staffing and training tips to consider:
Hire staff with experience working in the grocery industry and who are knowledgeable about food safety.
Provide proper training on customer service, food safety, and product knowledge.
Create a positive work environment encouraging teamwork, communication, and employee satisfaction.
Ensure you Have Repairs and Maintenance Covered
With the proper repairs and maintenance plan in place, you can keep your store running smoothly and ensure that you meet your customers' needs. One option is considering an industrial franchise opportunity such as a repair franchise.
By partnering with a repair franchise, you can ensure that your equipment is always in top condition and that any issues are addressed promptly. You can also provide staff training on how to properly use and maintain equipment, helping to reduce the risk of equipment breakdowns and ensuring a longer lifespan for your equipment.
By having repairs and maintenance covered, you can focus on growing your business and providing excellent customer service.
Develop a Marketing Strategy
To attract and retain customers, you'll need to:
Develop a unique brand that reflects your store's values and mission.
Use social media like

Facebook to promote

your store and engage with customers.
Create a website that showcases your products, store hours, and location.
Offer promotions like discounts and coupons to attract customers.
Attend local events like farmers markets and community festivals to promote your store.
Conclusion
Starting a grocery store is no small feat, but it's the challenges that can be rewarding and exciting. With the right approach and a passion for providing quality goods and services, you can build a retail franchise opportunity that benefits you and your community.
By following the tips and advice in this guide, you can take the necessary steps to achieve your goals and make your grocery store successful. So roll up your sleeves and prepare to take your first steps towards a profitable and fulfilling career in the grocery industry.