Blogging refers to much more than creating content and SEO rankings. Yet, a lot of bloggers don't seem to understand this issue. So, they dedicate all their mental capacity and creative thinking to their blog posts.
Ultimately, they neglect important aspects, such as social media, managing, email marketing, product development, or sales.
Known as blogger burnout, this problem may cause long-lasting consequences. So, as a blogger, you must find a way to avoid it. The ultimate solution is to balance your abilities to all aspects of your website. One way to do so is to create a content plan as a foundation for further development.
Reasons for Developing a Blog Content Strategy
You may be questioning why you need to develop a content strategy for your blog.
First of all, a blog content strategy can help you grow your blog more quickly. Having an agenda will motivate you to do more research to back your findings. Next, it will hold you accountable to post before the deadline. Also, you will be more organized, detail-oriented, and informed.
What's more, the content strategy gives a lot of insight. More specifically, you will be able to measure your blog's success. You can do this by comparing the posts and the relevant results from one period. Besides, the content strategy creates a schedule for your readers. They will know when to expect your next post, so you will have more visitors' engagement.
Finally, a content calendar provides space for potential collaborations or guest posts. Once you set up your agenda, you will have more time to reach out to other bloggers. Besides, they will be able to review the overall vision for your blog. Hence, they will create more fitting content.
Many bloggers misunderstand the concept of a content strategy, so they perceive it as strict and limiting. However, this is general guidance for what you will be writing. It is a flexible calendar that allows for changes. Thus, if there are new trends, breaking news, or you simply feel inspired to create, you may add this content to your plan.
How to Create a Content Strategy
Developing a content calendar takes a lot of time and effort. In continuance, you can find a step-by-step guide to facilitate your process.
Step 1: Plan your Resources
Before you start planning, you must think of your abilities and resources for your blog.
First of all, you need to determine how much time you can set aside to blog. Make sure to come up with a schedule that you can maintain. Remember that there is nothing worse than an inconsistent blogger. So, it is better to start with fewer blogs per month and increase the number with time.
Step 2: Set Goals and Objectives
Next, you should think of your main goals and objectives. More exactly, to determine what you are trying to achieve. Are you willing to attract more readers or get more ad income? You may also strive for brand recognition, email subscribers, or affiliate sales.
Each goal will direct your plan and blog posts in a different direction. For example, if you are focused on increasing your audience, you should focus on general, popular topics. On the other hand, if you strive for affiliate sales, you should focus on promotional, tutorial posts.
Step 3: Define Your Target Audience
If you are a beginner in the marketing field, you must understand the importance of the target audience. By focusing on the right crowd, you will be able to provide more relevant and valuable content. Thus, to realize more sales and conversions.
Step 4: Choose A CMS
A content management system (CMS) is the platform where you will create, manage, and publish your posts. The most popular CMS for blog posting is WordPress.
Certain web hosting providers, such as Verpex, are WordPress optimized. More specifically, they provide one-click installation, developer support, and website security.
It is important to choose a user-friendly web host, especially if you don't have extensive technological knowledge.
Step 5: Brainstorm Ideas
Once you have set up the structure for your content, you may focus on content ideas.
It is a great tactic to come up with several main keywords for your blog. This way your readers will connect your posts and topics to a general idea. The keywords should be the words people enter into the Google Search Bar.
By determining a niche for your blog, readers will perceive you as an expert in the field. Additionally, search engines will recognize your dedication and boost your posts more quickly. Finally, it will be easier to grow your blog because you will have the base for it.
When thinking of blog post ideas, you should focus on your readers and your competition. You can keep track of your readers' questions and answer them in your future blogs. You may also ask your site visitors by doing surveys or catch up on social media channels and news sites.
Step 6: Create a Blog Content Calendar
This step may be the most important of the whole process. There are several ways to create a calendar. You may choose to write it by hand or use digital tools, such as WordPress Calendar or Trello.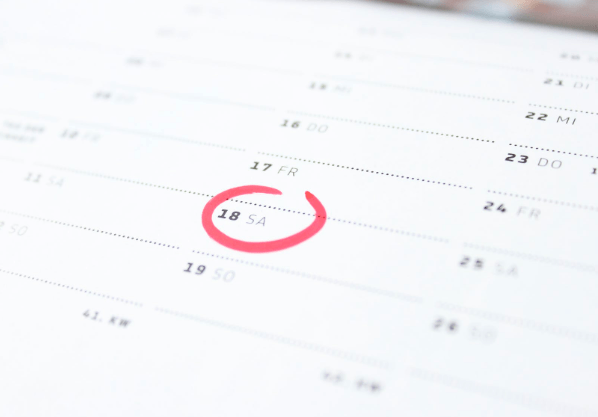 At this stage, you should simply match the dates and ideas for your posts. You have already generated this information in the previous steps.
Step 7: Publish and Manage your Posts
The last step in the process is to execute your plan. At this point, you may use an editorial and a social media content calendar to publish diverse and well-balanced content on all sites.
However, you should make sure to incorporate popular topics to generate additional traffic. It should be quite easy to provide quality content because you have organized your goals and ideas.
Conclusion
In the end, it all comes down to your audience and their preferences. So, you should make sure to keep your readers engaged at all times.
Remember to give your maximum and remain consistent. Yet, make sure to mix things up from time to time. Being unpredictable will keep your clients at their toes. Thus, it will bring you more traffic and sales.