"Content isn't the king" anymore! Marketing and promotion is. Do you really believe that without getting the right kind of audience and eye-balls, you can just pop on top of the Search results? Especially considering the competition these days?
SendPulse – Integrated Email, SMS, & Web Push Notifications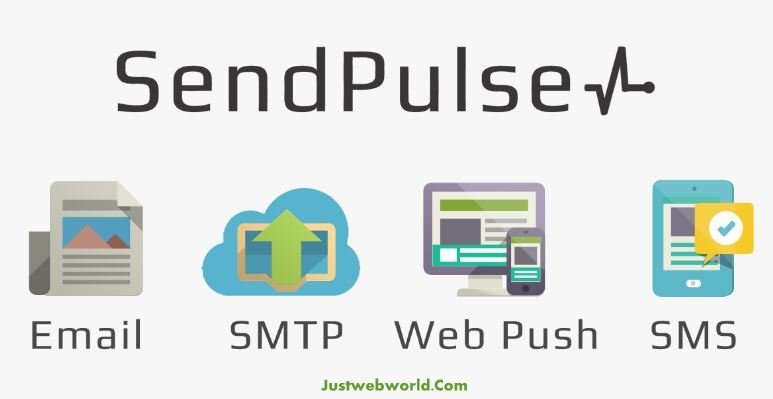 No, Nope, Nada. And well, even if you do rank on top, if you feel just Google is capable of feeding you those conversions and sales you've been wishing for, I don't know under which rock you've spent those last couple years of yours.
Because honestly, E-mail marketing, consumer analysis, and other promotional methods didn't just break out of their eggshells for nothing, they're here because the industry demands it.
How is that relevant to this article? Well it is; this being a SendPulse review. A platform which has flashed through the race and emerged on top in less than a year.
What is SendPulse?
If this is the first time you're hearing of SendPulse, let me take the liberty of getting you acquainted with your soon-to-be new best friend.
SendPulse is the platform which offers you almost all the promotional tools, tactics and strategies you'll need to maximize your click-through rates, open-rates and conversions, at a price that's on the edge of being almost free!
It offers:
Free Email Marketing tools.
Pre-Designed Email templates.
Drag and Drop

Email template builders

.
Easy Import/export of lists.
Detailed, Illustrated, Charted Reports.
Powered with AutoResponders.
Make Money just by using Push Notifications.
Exclusive A.I technology for predictive analysis and skyrocketing open as well as conversion rates!
And in addition to all those features, it offers exclusive A.I powered, predictive analysis that's just the next level tech and not available with any other tool in the market.
I believe those reasons are more than enough for you to keep reading this piece, aren't they?
SendPulse Review: Detailed Features Analysis
Ease of Creating Campaigns:
What's the primary purpose you'd want with any E-mail marketing tool? Creating E-mail campaigns, of course right?
The SendPulse team took good care of it. You can create campaigns with just couple clicks from the dashboard. There's a direct "create campaign" button on the top-left corner you can utilize, no mess to make.
Import List:
Before coming over to SendPulse, I was using MailChimp as my E-mail marketing tool of choice, so after the migration I was wondering about the list-migration process.
Well fortunately, they've got an "import list" option on the dashboard as well which lets us import lists directly from other platforms to SendPulse easily.
Detailed Reports:
You get detailed analytics of how your marketing campaign is performing out there in the real world!
AutoResponders:
SendPulse knows it's the age of automation! And that's why you get to choose three different kinds of autoresponders for your subscribers:
New Subscriber Alert.
Specific Date Based.
Event Based: Clicks, Opening E-mails etc.
A/B Tests:
A/B tests come in handy when you're determining which of your campaigns are doing better than the others.
Or maybe you can make slight changes to your campaign, a color combination or maybe the font and the whole game changes for you.
Well that's what you can unveil with A/B tests from SendPulse!
Pre-Designed Email Marketing Templates:
SendPulse has some beautifully designed E-mail templates pre-designed for you. All you've got to do is choose the ones which fit your audience and theme best!
Honestly, those plain-text E-mails don't cut it anymore! I mean it's the 21st century, people crave for something unique, something different, they won't even scroll down to the next paragraph if your mails are the same old boring "buy my product" thing.
The best part is you get the themes designed and categorized into specific categories, so doesn't matter if you need one for the Christmas or Black Friday, they've got one for everyone.
In fact this is the one edge they've got over companies like MailChimp. If you take a glance at the MailChimp templates, you'd notice they're purely "business" flavored, the tint of fun and attractiveness is clearly missing.
Design E-mail Templates Yourselves using Drag and Drop:
If you want to design your own templates or maybe modify the existing ones, that you can do with extreme ease just by dragging and dropping a number of elements from the sidebars to the workspace. No codes needed!
For eg. On the left sidebar there are quite a number of elements you can make use of.
And on the right there's a customization panel that lets you customize every single element of that template.
So grabbing some eyeballs won't be a problem that's for sure.
Push Notifications:
Push Notification are one of the trendiest and latest ways to reach your customers anytime, on any device.
They're more effective compared to E-mails as they don't need to "open" anything, and these pop up on the device corners by themselves.
Also, they're well equipped with a snippet image and just enough text to get themselves clicked.
Setting them up is a piece of cake, you just select your domain, select the subscription request type, add an image and you're good to go!
And guess what, it's completely free with SendPulse!
Get $5 for Free!
Now this is just unbeatable! Not only SendPulse offers you Push notifications for free, it pays you back $5 every month in credits if you get even 1 subscriber that month!
Free SMTP
In case you don't know, SMTP servers can be used to send bulk E-mails. Now you can either go out and empty your wallets with other profit-seeking companies, or you can just make use of the free SMTP servers SendPulse provides.
You get 12,000 free E-mails and 1000 MB of Bandwidth, which is more than enough for an average affiliate marketer (unless you want to spam your subscribers to death!)
And obviously you can also upgrade the plan if needs arise, and even their paid plan is so much more affordable and logical compared to the other industry leaders.
If those reasons aren't enough for you, I don't know what you're looking for.
SMS
As I mentioned in the initial paragraphs of this piece, you get to send bulk SMSs from SendPulse as well. Just write the text, select the recipients, and off you go!
There isn't a lot I can say in this regard except the fact that it's the only tools in the market I've crossed paths with which is offering bulk SMS feature along with all the other marketing automation tools in the industry.
Pricing Plans
Now let's have a look at what's SendPulse asking in return for all those marketing wizards! There are two primary things I love with it comes to "pricing" with SendPulse:-
Most of the features are available for free!
Custom Pricing: Every feature has its own pricing plan, so if you need an upgrade to your E-mail campaign and not the SMS's, you pay just for the E-mail package and not SMS!
Email Marketing:
First of all, they offer a "dynamic" pricing with their Email Campaigns package. Meaning you enter the number of subscriber's you're expecting ,and they'll display a custom package for you.
Pay as you go:
This is a feature where you get to select how many E-mails you'll be sending, so you pay only for what you use and not for subscribers!
And just have a look at the packages! 10K E-mails for $32! I can't imagine them getting any cheaper!
SMS Plans:
You get to choose your SMS plans according to the country you'll be sending those SMSs to. And let me tell you, they go as low as 0.012$/SMS!
A.I (Technically Free, Literally paid!)
This is the only feature which is exclusively for the premium plans, although apart from this all the other features can be tested and used without paying a penny.
The good news is, you can upgrade any of your packages, either the E-mail or the SMS Package and your AI analysis would get activated!
So bottom line is, it's almost free because you're paying for your E-mail package and this is just like the side-bonus you're getting!
Final Words:
If the devil doubt is still lurking around your biological northern hemisphere, let me tell you that SendPulse managed the Top 3 position in the "The Next Web Scale 2016" competition, and was recognized as one of the best 2016 startups!
So my final verdict? Hell I'm already in love with it, if you aren't just go over their website and try them out, mark my words they aren't easy to resist with all those magical spells and specially the pricing plan (which is almost free compared to other tools I've been with!) 🙂