Everyone's working remotely! Okay, maybe not everyone — but since the pandemic, companies and individuals have embraced the remote world much more than they ever used to.
If there's to be a number on it, a study revealed that remote work opportunities have increased by three times since the COVID pandemic, with 93% of previous full-time employees expressing their desires to go full or partially remote.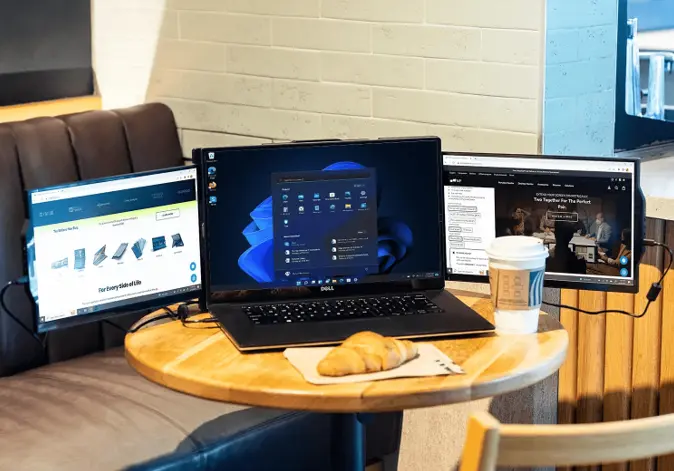 But if you want to be honest with yourself, you'll know that working remotely is a little trickier because you won't have an office desk to put your laptop on, a huge desk monitor, or even enough desk space. So what can you do?
Say hello to the Mobile Pixels Trio laptop screen extender, which gives you the feel of three laptops… on a laptop. Now, wait— before you jump out of this blog confused, this is not a trick nor a scam to make you buy or pay for anything. It is an eye-opener, which we hope will be useful to you in changing how you work at home and your productivity level.
That's why this guide fully explains how the triple monitor laptop setup can help you change your working environment from basic, small, and uncomfortable to triple-y spacious, convenient, and ultimately tech-savvy!
Let's discuss the triple monitor laptop setup.
Also referred to as a laptop screen extender, it helps you to increase your laptop screen from one to three! That way, you'll no longer be restricted to conventional single-screened laptops. With the extender, you can climb the ladder to increase the number of your screens to see more, do more, and (maybe, even) earn more!
But how does it work?
It's easy! With the Mobile Pixels laptop screen extender, all you have to do is follow the simple steps below:
Add adhesive stickers to your laptop's four edges using the Trio Mobile Pixel package guide.
Attach the device to the back of your laptop and open your computer as you would. This would allow the stand at the back of the extender to open up.
Slide out the two panels on each side of the device so that your laptop screen goes from one… to two… to three!
Finally, connect the device to your laptop with a single connectivity cable by attaching one to the right slide screen panel of the device and to your laptop's USB port.
Have fun using three screens.
Six reasons you need to start using the laptop screen extender for remote work.
Here are six impacts of the triple monitor laptop setup on remote work you thought you knew but didn't.
Flexibility
Sure, the conventional laptop is flexible. But have you ever thought of being able to carry around your desk monitor? That's how it would feel with this triple monitor setup. But instead of stuffing three monitors into your backpack, you'll be carrying around just your laptop and a device that weighs as light as half a pen. (More on the lightweight feature!)
Less cluttering
Speaking of stuffing, there's a common characteristic of all remote workers — multiple open tabs. If this is you, then you know how annoying it can be to open so many tabs that only the logos are displayed on top. Some people might prefer tab switching like that (clicking so many logos until reaching the jackpot), and others might open a separate window to split the tabs. But you'd still have to switch windows, right? The three-laptop screen setup gives you a side-by-side screen space to split your tabs and windows for better efficiency.
Better productivity
Did someone says 'efficiency?' With the three laptop screen setups, you can see more, do more simultaneously, and best of all, you can do all of these with no restrictions. Imagine having more than one screen right now… imagine all the great things you can accomplish simultaneously!
Collaboration is made easier
Another reason to consider the setup is that you can collaborate with your team members more quickly than ever. With the other setup modes of the device, you can have your team members collaborate with you on any project without the need for everyone to squeeze into a small space looking at a small screen.
Presentations on the go!
Also, if you ever need to present a project to a client, your professor, or your boss, you can now do it on the go — even if you met your investor randomly at the coffee shop! The best part is that you don't need to set up a slide show or anything like that. Simply tilt one of the two extended screens by 180o, and you've got yourself a personalized slide show monitor.
Portability
With all these great benefits, the device is also effortless to carry around. So if you're the type that moves around a lot, you won't have anything to worry about because the triple monitor screen extender weighs as light as half of a pen. Think about it!
Conclusion
Which of the six impacts stuck with you the most? How soon are you willing to move from small, conventional, single screens to the latest and more convenient three screens? If you're set, click the link at the top, which takes you to the Trio Mobile Pixels' site. You'd also want to hurry on your purchase because there's a limited discount ongoing on the Mobile Pixels' website.