Whether it is a love story or a family drama or a horror story, Indian TV shows have the power of serving the audience with almost nay genre. There are few TV-series that are fun and there are others that are quite interesting.
News channels also have the best TV and web series that are not only informative but also based on historical facts. One of them is the best Indian TV show Pradhanmantri.
Best Hindi (Indian) TV Series of All Time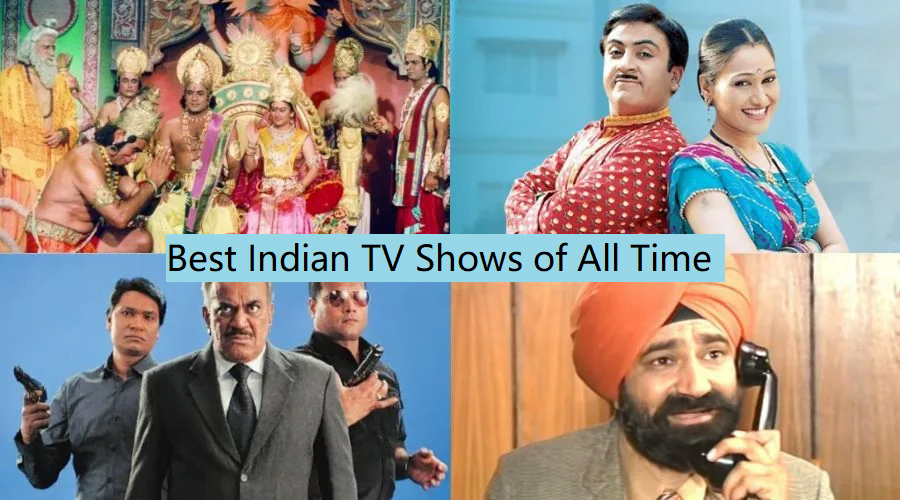 If you take an honest opinion of people all over India, there will be very few highly dramatic shows that would fall under the category of good ones. Nevertheless, here is a list of the 20 best Indian TV shows that have huge fan following.
Ramayana
Ramayana is an Indian mythological series that is based on the Indian Sanskrit epic with the same name. This show was made originally between 1987 and 1988 on DD National and was written and directed by Ramanand Sagar. It is a highly popular show on Indian Television.
Taarak Mehta Ka Ooltah Chashmah
Taarak Mehta Ka Ooltah Chashmah is another Indian Hindi language television sitcom that is based on the weekly column Duniya Ne Undha Chasma by Taarak Mehta in Chitralekha. This one is undoubtedly one of the longest running Indian television shows that is produced by Neela Tele Films. It was premiered on Sony SAB.
CID
This is a thrilling show that was started in the year 1998 and it is still telecasted on the Sony TV. It is an Indian Hindi language TV series about Mumbai's Crime Investigation Department made by B.P Singh for Sony Entertainment Television India. The location of the series is set in Mumbai, Maharashtra.
The original airing of this Sanskrit epic had a total of 94 episodes and it was broadcast from 2nd October, 1988 to 24th June, 1990 on Doordarshan. This TV series was produced by B.R Chopra and it was directed by his son, Ravi Chopra. The music of this TV series was composed by Raj Kamal.
Circus
Circus is a 1989 Indian television that was directed by Kundan Shah and Aziz Mirza. The storyline was set in a circus troupe that starred Shah Rukh Khan, Makarand Deshpande, Ashutosh Gowariker, Pawan Malhotra, Hyder Ali, Neeraj Vora and several other talented actors.
Byomkesh Bakshi
Byomkesh Bakshi is the first Hindi TV series based on the character of Byomkesh Bakshi created by Saradindu Bandyopadhyay. This series became critically acclaimed as the most celebrated adaptation of the character and for keeping it fresh since decades.
Malgudi Days
Malgudi Days is an Indian TV series that began in 1986 and was filmed both in English and in Hindi. This was based on the short story collection of the same name written by R.K. Narayan in 1943. Shankar Nag was the director of this TV series.
Ssshhh…Koi Hai
This one is an Indian horror thriller television series that was created by Cinevistaas Limited and Contiloe Entertainment for Star Plus. The first series was premiered in 2001 and it ran for 3 seasons that ended in 2010.
Bhabiji Ghar Par Hai
Bhabiji Ghar Par Hai is a Hindi language sitcom that was first premiered on March, 2nd 2015 on &TV. This series is produced by Binaifer Kohli under the banner Edit II Productions.
Chitrahaar
This was one of the best musical programmes that was aired on DD National. This show used to feature Bollywood songs and was one of the most popular shows of that time.
Office Office
Office Office is yet another Hindi language TV sitcom premiered on SAB TV on 3rd September, 2001. The show dealt with a satire on the current corruption in India. It starred Pankaj Kapur.
Sarabhai vs Sarabhai
This is an early comedy that starred Satish Shah, Ratna Pathak, Rupali Ganguly and Sumeet Raghavan. This is also one of the most loved shows on Indian television that started in 2004.
Flop Show
This is an Indian comic show named Jasal Bhatti's Flop Show and it is a satirical take on the life of common man. This is a farcical portrayal of every walk of life and each episode has something to learn.
Bharat Ek Khoj
This is an informative series about the interesting history of India that is directly based on Nehru Ji's most famous work, the Discovery of India. This show is loosely translated into Bharat Ek Khoj.
Shaktimaan
When did you finally realize that Gangadhar is only Shaktimaan? This show starred Mukesh Khanna and 'Hit' would be an understatement to describe its popularity.
Shakalaka Boom Boom
How many of you still wish to own the magic pencil that the little boy owned in Shakalaka Boom Boom? This was the most loved show among children and also teenagers.
Aahat
Aahat is one of the most popular thriller TV series of all time in India. This is also one of the longest-running horror series in India that had a total of 550 episodes over its lifespan. It was best known for its thrilling music.
Star Bestsellers
Star Bestsellers was in several ways a 'startup incubator' for directors and talented writers, many of whom have made it big in the Bollywood industry. The big names were Hansal Mehta, Imtiaz Ali, Anurag Kashyap, Tigmanshu Dhulia and Anurag Kashyap.
This Indian version of Who Wants to be a Millionaire caught the attention of the Indian audience like no other show. The legend of Bollywood, Amitabh Bachchan is the host of this show and it highlights the stories and struggles of the middle and lower section of the society. The show aired from 2000-2007 and again started in 2010.
One of the first Indian reality shows was Indian Idol that was premiered first in 2004. This show mirrored western presentations including a panel of 3 judges along with a knockout round that included the input of the audience.
There are several participants and winners of this show who later on became successful playback singers in Bollywood.
Therefore, if you're someone who has been looking for a list of the best Indian television shows that garnered huge momentum, you should take into account the above mentioned list of the best shows.