How To Get Famous On TikTok Fast
TikTok has gained immense popularity. It is a great source of entertainment. While most people create TikTok videos for fun others have made it a full-fledged profession.
Many people have become extremely famous by creating highly entertaining and creative TikTok videos. If you too wish to earn fame using this app then here is a complete guide to help you through.
How to Become Popular On TikTok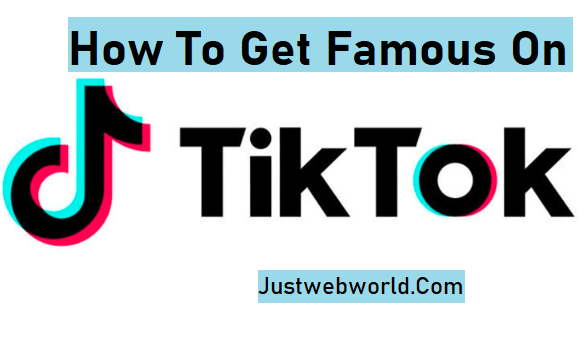 Read on to know how to get famous on TikTok.
Create an Attractive Profile
One of the best ways to draw attention towards your profile is by creating one that is attractive and interesting. Begin by uploading an attractive profile picture as this is the first thing that one notices about you on a platform like this.
If you manage to impress people by your profile picture, they will move forward to explore your profile further else they will move on to the next option.
So, take some time to choose a good display picture for your Tik Tok profile. It is recommended to use a good photo editing app to make your photo stand out. Also, add an interesting bio.
Post Content Regularly
Do not post a few video and go dormant for weeks ahead. Consistency is the key. You require posting content regularly if you really wish to stay in the game. Post as many videos as you can and post them regularly. It is a good idea to post the content at the same time every day.
Try posting at least a short gig every day to keep the users hooked to your profile. A small video every alternative day or few times a week also works but try to maintain a pattern.
Once you are able to use TikTok on whatever browser you want, optimize your account to start appearing on the For You page. For starters, you can take care of the aesthetic side of your account by choosing a cute profile picture and editing your username and bio. You can also buy TikTok views, likes, followers, or other services from third party social media platforms. When buying views or other packages, make sure to do so only from reputable websites, such as Jaynike or similar websites. This is to stay completely safe and secure while getting the engagement you need.
Stick to a Niche
"Jack of all trades, master of none" – this approach doesn't work here. It is best to stick to a niche rather than juggling between a variety of them. This helps in fetching more followers.
If you are good with two or more things, you may create multiple Tik Tok profiles but it is not recommended to upload gigs related to different domains on a single profile. While you must choose a niche you are good at, it is also suggested to consider what's popular while making the choice.
Be Innovative
Most of the videos uploaded on Tik Tok seem to be similar. Tik Tok users tend to pick up on things that have already garnered attention and keep re-creating content on the same. While this is a good way to increase your popularity, you can fetch more attention if you come up with something unique and innovative.
Even if you recreate the content make sure it doesn't look like a copy. Brainstorm to add creativity and come up with the best version of it.
Diversify Content
It is important to diversify your content to ensure that it doesn't become boring and monotonous. This is to say that you should not stick to just lip sync videos or dance videos or any other particular kind of video. Create different kinds of videos to increase the scope of creativity and offer variety to the audience to keep them entertained.
Participate in Different Challenges
TikTok keeps coming up with different challenges every now and then. Participating in such challenges is a good way to come into the limelight. Keep a tab on these challenges to be among the first to upload challenge videos.
Videos that are uploaded earlier on as the challenge begins garner a better response compared to the ones that follow. Attempt at creating the best piece you can to win the challenge. Also, do not get disheartened if your video doesn't get a good response. Keep participating in such challenges and you will improve with time.
Make the Most of Hashtags
Hashtags are a good way to gain popularity on social media. Make sure you use these as you upload your TikTok videos. Select the hashtag carefully. You may use few relevant hashtags in every video you upload.
However, do not over use these. Also, do not stick to the same set of hashtags. It is suggested to use a mix of popular and not so popular hashtags in your videos. It is best to include the ones that are trending.
Engage with Viewers
It is important to engage with the viewers in order to increase your popularity on TikTok. There are many ways to do this. One of these is by replying to their comments and feedback.
You may even comment on the content created by them. Many users who follow you and comment on your content regularly might be looking forward to work with you. You can invite them to collaborate with you. This is a good way to win over more users and increase popularity among the existing ones.
Use Different Social Media Platforms
It is highly recommended to use different social media platforms such as Instagram, Facebook and Twitter to promote your content. Post the link to your Tik Tok videos on all your social media accounts and ask your near and dear ones to do so too. This way you will be able to widen your audience base.
Partner with Popular Tik Tok Users
Reach out to popular Tik Tok users to partner with them. Collaborating with already established TikTok users is a great way to draw attention. As you feature in their videos, their fans will begin to recognize you too and this will help in boosting your number of followers. Such collaborations are mutually beneficial.
Of course, if you want instant fame, then you can always buy TikTok followers.