Breakfast is necessary if you are a morning person. It is the time of day that you must not miss. For a good reason, they often refer to breakfast as the day's most important meal. Breakfast, as its name implies, breaks the overnight fast.
It replaces your glucose supply to increase your alertness and energy and supplies you with other critical nutrients necessary for optimal health. Numerous studies have connected breakfast consumption to improved memory and focus, among other health benefits.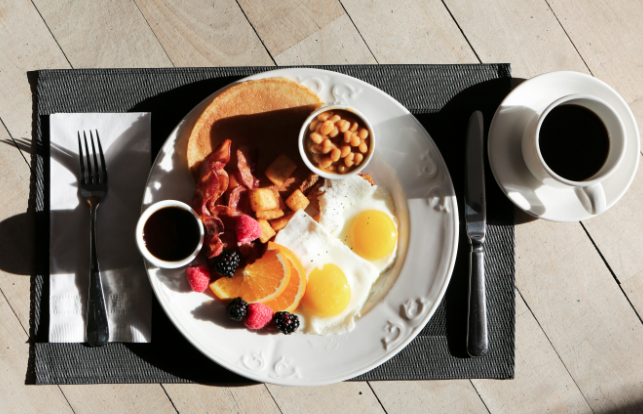 If you're searching for the finest breakfast options in the world, you've come to the right place. You will find many iconic breakfast ideas throughout the globe, and the American breakfast is just one of the many options worth trying. We could go on and on, but here are some of our favorites to get you started in the morning!
Calentado
Calentado is a typical Colombian breakfast originating in the country's Andean area. It is customary in this area to have beans and rice for supper every night. The next morning, the beans and rice are rewarmed and served with egg, chorizo, chicharrón, or grilled meat along with hot cocoa.
Calentado is a Spanish word that means "reheated." The popular breakfast meal Calentado distinguishes itself for two reasons. First, it embraces the notion of zero wasted food, and second, it symbolizes the traditional knowledge that everything tastes better the following day. Calentado is nourishment for a day of labor.
LongSiLog
Longsilog is a Filipino breakfast consisting of sweet pork (longanisa), salty eggs, and savory garlic rice! For Filipinos, sweetness is a source of comfort, which is why many dishes and meals, notably breakfast, have sweet flavors.
Even without seeing it, the aroma of longsilog floating through your house is enough to rouse even the most slumbering individual. Longanisa is a sweet sausage prepared with ground pork, hog fat, spices, and‌ sugar.
The name derives from the Spanish Longaniza, which found its way to the Philippines and became a staple of the traditional Filipino breakfast during the colonial period.
Facturas
If you are not into rice, then this Facturas is perfect for you. European influence is evident in the majority of Argentine culinary traditions. Immigrants from Italy and Spain in the early 20th century strongly influenced the typical breakfast menu, which comprises strong coffee and baked goods.
Facturas are among the most beautiful foods available in Argentina. Moreover, wheat, cream, and chocolate can never go wrong. Facturas exist in a variety of sizes and forms. Bakers from Argentina usually fill Facturas with custard, dulce de leche, or quince paste. They gave their Facturas names inspired by religious and military symbolism.
Baked Beans
Baked beans are essential when it comes to Irish breakfast. Full breakfast is well-known across the British Isles, including Ireland. The Full Irish Breakfast, back in the 14th century, was formerly considered a high-end treat.
The standard Irish breakfast consists of baked beans, fried eggs, bacon, sausages, buttered toast, and white pudding, among other items. Baked beans are, in fact, a legitimate breakfast option. It was initially a typical Native American cuisine that New Englanders changed by adding molasses and pig.
In terms of protein, baked beans rank high. Additionally, it is an excellent source of iron and provides fiber to aid digestion.
Churros Con Chocolate
You might think that churros for breakfast are inappropriate, but in Spain, it is part of their breakfast. If you want something sweet for breakfast, you should get Churros Con Chocolate. Churros with chocolate are a traditional Spanish dessert fashioned from choux pastry dough.
This dish combines crisp pastry with a warm liquid, in this instance molten chocolate, and we should savor slowly, savoring each mouthful. The meal is famous across the nation, particularly in the Spanish city of Barcelona, where hundreds of cafe-bakeries are family-owned.
As with so many classic meals, the precise origins of the Churro are unknown. Others credit the dish to Spanish peasants who fried a basic flour-water-salt dough as an alternative to bread.
Granita
We have another sweet option for breakfast. Granita, a breakfast custom dating back to the Middle Ages, originated on the Italian island of Sicily. Sicilian delicacy granita is a cold, sweet dessert that is never totally frozen, created from a mixture of water, sugar, and fruit.
Currently, most bars and cafés provide granitas in a variety of flavors. However, some establishments substitute syrups for natural fruit juice.
They ultimately replaced the crunchy bread they initially served with the granita with the traditional Sicilian brioscia. Coffee, strawberry, lemon, almond, strawberry, mixed berries, and pistachio are popular flavors.
Pho Bo
If you love soups for breakfast, Pho from Vietnam is the best option for that. Pho, which consists of herbs, rice noodles, and thinly sliced meats in a broth made from chicken or beef, is a popular morning food in this Southeast Asia country. It is unquestionably the most famous morning soup in the world.
People in Vietnam enjoy a modest pot of hot soup in the morning. They poured a ladle of boiling soup over rice noodles and chopped meat, often beef or chicken, upon request. They use fragrant "gao te" rice to make the fragrant "gao te" rice noodles that comprise a bowl of Pho. This food is something that you cannot resist.
Nasi Lemak
We have another Asian breakfast for you! The notorious 'Nasi Lemak' is among the most popular breakfast options for many individuals. In Malaysian cuisine, Nasi Lemak is a coconut milk-based rice dish flavored with Pandan. It has a vanilla-like aroma that is earthy and delicate.
Fresh cucumber, roasted peanuts, anchovies, and, since this is breakfast, a fried or boiled egg are all acceptable garnishes. Nasi lemak is an exceptionally substantial and fulfilling breakfast dish.
Nasi Lemak is available in all Malaysian markets, where they traditionally serve it on a banana leaf. But if you want to cook it yourself, you can easily find Nasi Lemak's ingredients.
Conclusion
Isn't breakfast so much more enjoyable when you eat something delicious? Having a nutritious breakfast is a no-brainer, and many people agree. These suggestions will satisfy your heart and stomach. We can add a lot of choices, but for now, enjoy these morning meals to get you started!